Elan Form Graphite case for iPad
Griffin Technologies
http://www.griffintechnology.com/products/elan-form-graphite-ipad
US $44.99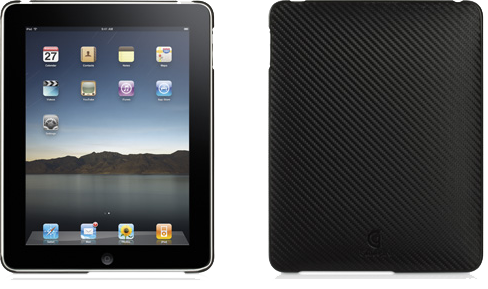 Elan Reveal
Griffin Technologies
http://www.griffintechnology.com/products/reveal-ipad
US $34.99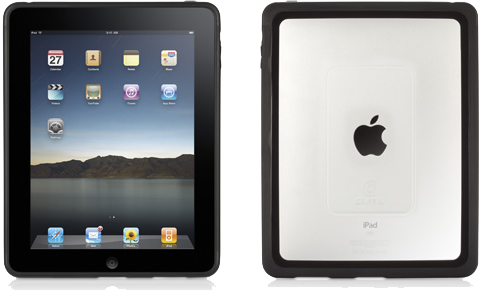 The Weeks Division of MyMac Labs received two iPad cases from Griffin Technologies. We took them both for short tours of duty using the wife's iPad.
These two cases are fundamentally similar: hard shells protecting the back and sides of your precious iPad.
The Graphite case is all black, with a textured back. It has cutouts for the various buttons, switches, and the Dock connector. The marketing blurb says that "the woven-look synthetic outer layer is bonded to an impact-resistant polycarbonate inner shell."
The marketing mavens should also have added that once attached, the Graphite case is almost permanently bonded to your iPad! After using the Graphite enclosed for a day, I tried to remove it. There's no way this will ever pop off, or inadvertently come loose. It took me 10 minutes, and careful use of a small screwdriver wrapped in a a soft cloth, to free the iPad from the Graphite's clutches.
I liked having cutouts for access to the various iPad controls. I found the case to be pleasantly grippy, and I never had qualms about it sliding out of my hands.
I was not so thrilled at the $44.95 price. While the Graphite is a nice bit of plastic, nearly half a C note is too much money.
MyMac review rating 7 out of 10
The Elan Reveal is also a hard case, but it has a clear plastic back, so you can still enjoy the brushed aluminum iPad back. The back has a rectangular molding to prevent the iPad curved back from rocking from side to side when placed on a flat surface. One nice touch the Reveal has (but not the Graphite) is that the Reveal's sides wrap slightly around the top. If you rest the Reveal-encased iPad face-down, it will rest on the Reveal, thus keeping the iPad screen from touching the surface.
I didn't care for the fact that the Reveal did not have cutouts for the volume and sleep buttons. You have to press a molded plastic bit covering each button, and I found that annoying. The Graphite's cutouts worked much better.
Like its sibling, I hard a difficult time removing the Reveal from the iPad.
The Reveal is more sensibly priced at $34.99, and it's a better bang for your iPad buck.
MyMac review rating 8 out of 10