Two Unusual iPad Case/Stands Reviewed by Jackie Richards, Guest Writer
PowerBack Battery Case with Kickstand and Dock
Kensington
$90 to $130 online
PowerBack is a combo iPad case, stand, and battery pack. A metal kick stand supports PowerBack in four different easel positions: two each portrait and landscape. The hard plastic shell case of robust construction has precise grid edges for aligning and sliding your iPad in and out.
A Micro-USB port on the bottom rear connects PowerBack to a computer or other USB charging source via an included cable. You may need an inexpensive Kensington or third party USB wall or car charger if you discharge all iPad and PowerBack juice while away from a computer. Blue lights flash to indicate incremental charging capacity: 20 – 40 – 60 – 80 battery fuel gauge, as Kensington calls it. The company claims up to five extra hours of power and our tests confirm that approximate range, depending on iPad activity.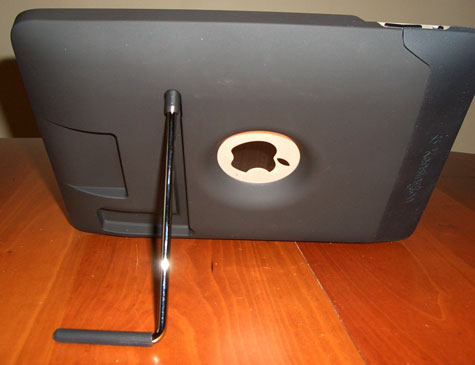 "I really like this stand, Nemo," says reviewer Jackie Richards. "Tell your readers it is gooooooood: pretty super duper. The feel of the case material is a lovely, pleasing, tactile experience on my fingers, and the matte black finish is gorgeous." She uses the words "protection, power, and style" when referring to PowerBack.
Sitting with PowerBack + iPad in your lap, you'll become accustomed to the extra 12 ounce (340 gram) weight and secure grip. All ports are completely accessible. Design and construction are stellar, including a rear view Apple.
Jackie awards Kensington's PowerBack a perfect MyMac Review Rating: 10 out of 10, for its "feel to the touch and substantial weight as an easel stand." The 4400 mAh Lithium Polymer battery charging and storage capability is a genuine bonus, she thinks, as is the two-year warranty, all justifying the hefty price tag. "It's one of the few accessories that is up to the quality of the iPad."
Questions from Jackie: What is the life span of PowerBack's battery, and how will users dispose of it and the plastic case, without damaging the environment?
Spend a few minutes here at PowerBack's official web site. Read all about it, and watch the splendid promotional videos, which are two of the best ever.
* * * * * * * * * * * * * * * *
Vario Stand and Case for iPad (and iPhone)
Zero Chroma
$70 (and $45)
Vario by Zero Chroma has two remarkable features: a variable stand and a terrific web site demo. The hard shell rear-only case is not exceptional, but the multi-position built-in stand is clever. Look at the web site animation here.
The Vario case pops in very easily with a "perfect snap," says reviewer Jackie Richards. Access to an iPad's ports is one hundred percent. When the back stand is closed the metal rear of the iPad is completely protected. Vario adds some weight to your iPad, but nothing onerous.
It's an "easy in and out" for your iPad insertion and removal, which is a plus. At first it's tricky to release the closed back support. Once it's open Vario's ratchet is stiff for a good reason.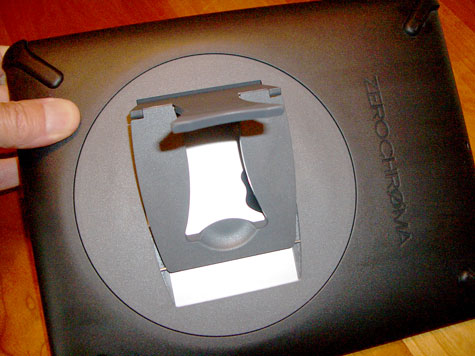 Until you are familiar with the ratchet's tension, it's "a little daunting to open," says Jackie, because you are not sure how much pressure to use. Vario appears to be flimsy, but it is not. "I'm comfortable with it holding my iPad secure and steady; surprisingly so."
Positioning Vario + iPad to stand up high in portrait easel mode gives Jackie "a feeling of confidence." Vario can rotate infinitely in both vertical and horizontal modes. Stability and positioning options are very good, but are not perfect when most upright. "I give them a 90 percent on this one."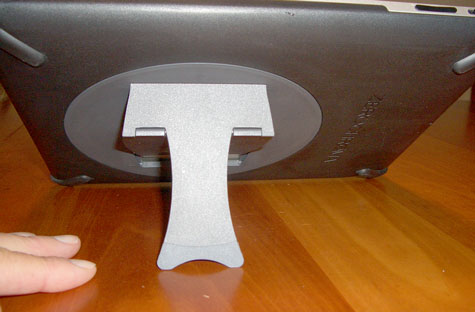 Vario is "not for travel; it's a table or desk stand only. It's as stable as can be in many positions."
Zero Chroma's full retail price is too high, according to Jackie. "If it was priced around $30 it would receive a higher score." Ditto for the iPhone version, which is functionally identical except for being easier to ratchet into position.
MyMac Review Rating: 7 out of 10.
Info on the company web site: Reversible Screen-Shield Mode: Pop the case off, flip it, and snap it on the screen – then throw it in your bag and relax. Wrist Strap Included With Online Orders.