MOO specializes in a variety of cards, using an online process. The company has a small family of cards and accessories. Read Mark Rudd's review of MOO here.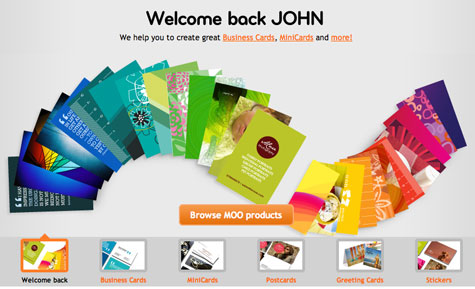 MOO originates from England. The company now delivers to over 180 countries, and it has regional printing facilities for faster turnaround time. Web and live help are available in German, English, Spanish, French, and Italian. MOO's USA English blog has a folksy feel to it. The company's web site is easy to navigate and use, with one exception, described below.
MOO's customer service is extraordinary. When my first order of mini-cards was slightly imperfect at their USA printing plant, I instantly received an email explaining the problem and the solution. MOO shipped my slightly imperfect mini-cards the same day at no charge, and followed two days later with the corrected set. Email notifications were frequent and to the point.
Paper stock is excellent, as are the packaging and presentation. Mini cards are junior size business cards. They arrive in a cute, tiny box that is perfect for the purpose.
I ordered 100 MiniCards as five each of twenty different photos. It is a great bonus to be able to decide how many of any given photo will go on how many individual cards. I copied my twenty JPGs to a folder on my Mac's Desktop. Uploading my photos took twenty seconds per megabite.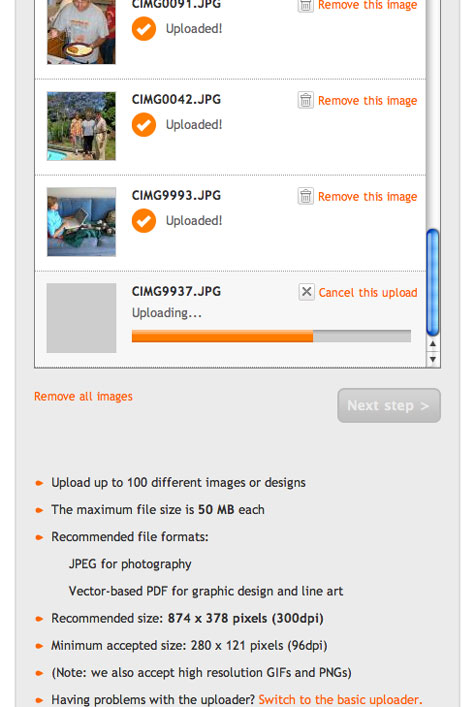 I selected a variety of vacation and local photos with a huge range of visual differences. MOO's online template makes it easy to rotate and reposition images to conform to MiniCards' long, narrow shape. Adding customized text to the rear of the card and aligning the thumbnail image that is on all 100 cards was my only difficulty. My inexperience was fixed by MOO in that second order, without me having to do any corrections on the web site.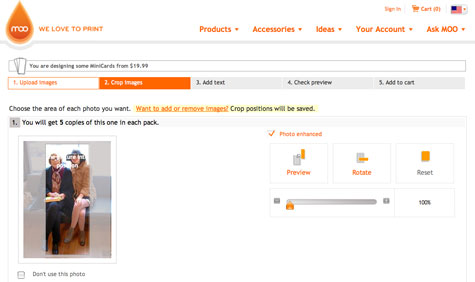 I could have created my image layout myself, but I used MOO's template wizard. In the preview and check list screens I thought I did everything perfectly, but I was mistaken.
Alterations can be made at any step in the creative workflow, as appropriate. Customers have two hours to change or cancel an order after placing it.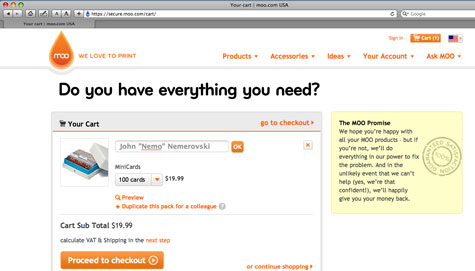 Pricing is reasonable, and everything at MOO is fully guaranteed. Rush printing and other delivery options are available. The ordering process and account setup are straightforward. Users can sign up for a newsletter.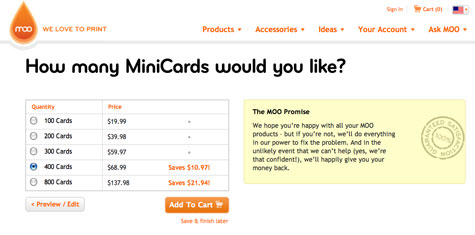 My MOO MiniCards look great in bright Arizona sunlight, but the images are too dark when viewed indoors. I had this problem with the books Apple prints from iPhoto, and I now compensate by making every image much brighter before uploading it. MyMac suggests you do the same thing prior to ordering MOO MiniCards.
My second MOO order, for twenty postcards, originated with a variety of image exposures.. The postcards were much improved over my darker MiniCards.
MOO uses different paper stock for different products. Mini cards are printed on heavy weight matte paper that contributes to the brightness problem. The MiniCards are splendid in good lighting. MyMac recommends MOO, because the company is first class. I predict that soon the problems I had will be fixed.
Other products by MOO include Business Cards, Greeting Cards, StickerBooks, and a Mosaic Frame that fits 20 MiniCards to display in the frame. Here is the U.S. MOO price list.