STM Bags Micro Shoulder Bag for iPad
Company: STM Bags
Price: $45.00 USD MSRP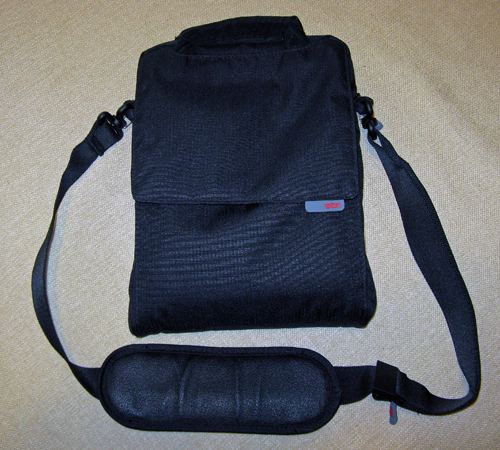 In the search for a bag to carry around my iPad, I wanted something that would carry the iPad and a few other items without going overboard. STM Bags has designed and produced the Micro Shoulder Bag for iPad that does this and does this very well. If you are looking for a bag to carry your iPad, I would recommend that you check out this bag.
The Micro Extra Small, as I'll call if for the remainder of the review, is a nicely designed and stylish shoulder bag for the iPad that does it all, without overdoing it. The outer shell is 300D water resistant micro ripstop polyester and the interior lining is 210D water resistant nylon, with foam padding in between the two layers. For comparison purposes, 300D micro ripstop polyester is engineered to deliver premium durability and toughness and 210D nylon is a lightweight, flexible, high count nylon fabric used in numerous heavy use products.
The Micro Extra Small is a vertically positioned bag that has twin carrying handles on the top of the bag that can be tucked away if you wish and also comes with a easy on – easy off removable padded shoulder strap. On the back side of the bag is a small, open pocket that you can insert some paperwork, like an airplane boarding pass, just like the STM Jacket for the iPad. The area for the iPad is capable of holding an iPad, with or without a case. I've had an iPad with the Commuter case on it and an iPad with a Brenthaven 5-in-1 case on it, with absolutely no problem at all getting the iPad in or out of the pocket.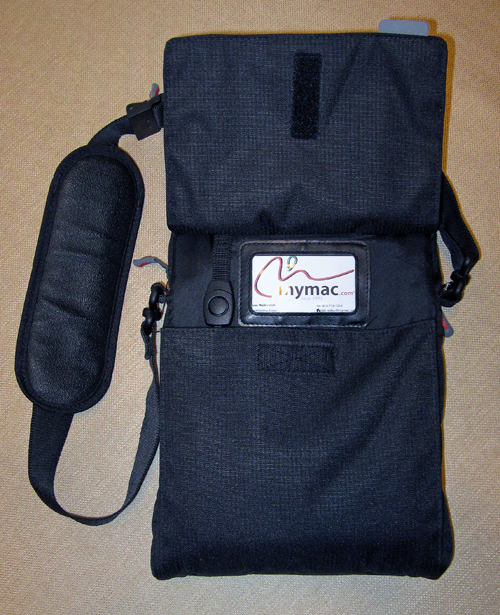 On the front of the bag is a flap that covers the power cord storage and organizer pocket; a nylon webbing pocket, a space designed for three pens, your iPad power cord, your iPad camera connection kit, and even a removable key clip. One of the first things I did was place a micro fiber cloth in this area, plus a couple of pens, just in case I actually need to use pen and paper. There is even a slot to place a business card(s) inside to identify the bag as belonging to you. The flap is held in place by a velcro fastener strip, so you don't have to worry about something falling out.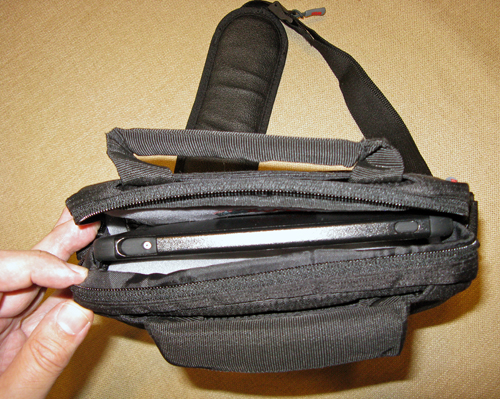 I have used the bag to and from work, I have taken it on a flight and find it a pleasure to use. As an aside, I had to stop at the doctor's office after work and while checking in at the front desk, the receptionist complemented me on the "Man Bag" that I had with me, stating how it just fit with the business suit I was wearing. The look on her face when I pulled the iPad out, explaining what it really was used for, and her interest in both the iPad and the bag was intriguing. I have been using STM Bags for several years now, particularly carrying my Macbook on trips, so I have always been pleased with the quality and workmanship in the products. I can tell you that STM has continued to produce excellent products, as I have seen in both the Jacket and the Micro Extra Small  Shoulder Bag for the iPad.
If you are looking for a bag that does what it was designed for, carrying an iPad in a protective case, doing so with style and quality workmanship, then you really need to consider STM Bags Micro Extra Small Shoulder Bag for the iPad. I don't think that you will be disappointed at all and very much impressed.
Specs:  iPad space is 10.6 x 7.6 x 1.4″inches, the bag dimensions overall are 11.2 x 8.3 x 1.6, weight .80 pound. The Micro Extra Small iPad Shoulder BaG comes in  Black with a Grey interior.
All in all, I give the STM Micro Extra Small iPad Shoulder Bag for iPad a My Mac rating of 10 out of a possible 10.