Commuter 2.0 Messenger Bag
Company: Rickshaw Bagworks
Price: $150.00
http://www.rickshawbags.com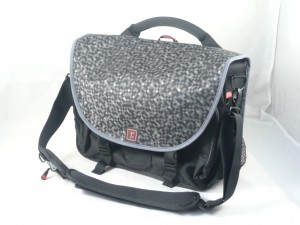 I took my custom Rickshaw Bagworks' Commuter 2.0 Messenger Bag for a extended travel spin into Canada recently. I tested the previous incarnation of this bag exactly 3 years ago, (see that review here with LOTS of pictures) and liked it so much it became my every day bag, replacing my much loved and well worn-out Timbuk2 bag. The first incarnation of Rickshaw's messenger bag was excellent, but still had a few issues I thought. But now, this bag is nearly perfect…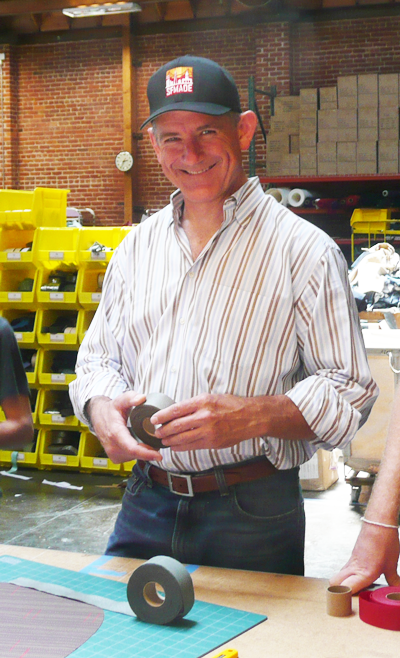 Lucky for me, Mark Dwight, CEO and founder of Rickshaw Bagworks (who also designed that Timbuk2 bag) loves feedback from his users, and with version 2.0 of this bag, it is obvious he listens.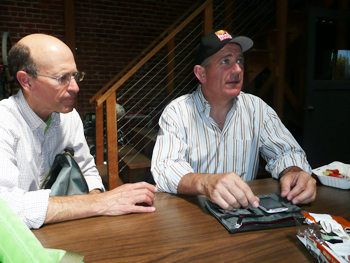 In fact, he loves to talk about his bags, and ideas for new products. Here he discusses some ideas with our own John Nemo, and I am sure John will tell us more about those when he tests their next new product. Right John?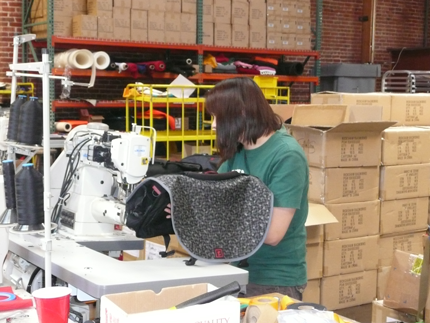 Construction is fairly similar to the previous bag, with the back of the bag (the black part) still built in Asia to keep costs down, and the final construction and the front flap constructed in their "plant" in the Dogpatch area of San Francisco to allow for customization. If you happen to be lucky enough to go to his shop on the right day and time (call ahead), you may even be able to design a custom bag unique to you, creating something unlike any other bag in the world. How cool is that?
For my previous bag, I went with a boring basic black on black bag. (Mark insisted it must have some color, so we added a bright blue binding.) This time, just to push a bit outside of my comfort zone, I picked a checkered pattern for the front and a green-gray binding to match. To top it off, Mark allowed me to take the fabric I choose and rotate it 45 degrees, completely changing the look, giving it a more "digital" feel. OK, it is still only shades of gray, but one baby step at a time.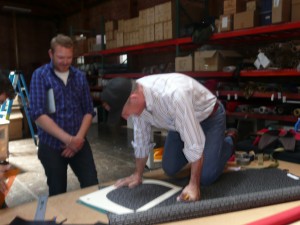 Normally, the fabric piece for the front flap is cut on a very high tech, automatic laser cutter, which cuts out the flap faster than an 18 year-old in his father's Porsche. But because the bag was still so new, and I was turning the fabric 45 degrees, Mark did it by hand. Yep, that is the CEO of this company cutting out a fabric flap by hand. He really gets involved. You gotta love that!
As I have said before, Mark "gets it" when it comes to designing bags, and those designs are evident even in the smallest details that make up this bag. The large zippered pouch on the back is right under the securely attached large carrying handle, which could add stress to the zipper. But Mark reinforced the handle with two straps running down the inside of the pocket. This prevents stress across the zipper when lifting, which means the zipper easily works, even when lifting a fully loaded bag with this handle. Mark has also improved all the connecting hardware for the straps, now made of sturdy black anodized metal.
Inside this back pocket, big enough to easily handle multiple file folders, are six pen holding spaces (seriously, we need six pens?), and one larger pocket in the middle for cards or a maybe a check book. The back side of this pocket still has the Moleskine journal pouch as before, but now it is deeper, going all the way to the bottom of the pocket.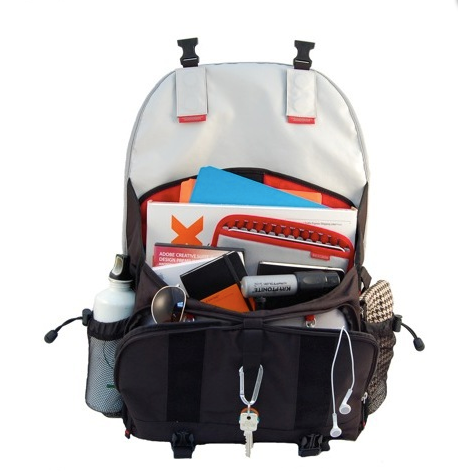 And this bag holds a lot of stuff. The large front flap covers the entire front of the bag, keeping the insides dry in the rain. That flap hides two large front zippered pouches as before, but now they too are deeper, meaning they also run to the bottom of the bag, not cut short as before, so they hold a lot more. Each pouch has two smaller pockets, a larger center pocket, and a lanyard for keys. The flap still has the plastic snapping buckles to hold it securely closed, as well as a silent magnetic latching system that keeps the flap in place when unbuckled. If you prefer a Velcro latching system, the magnets, which are attached to pieces of Velcro, can be removed, revealing the Velcro, which will now hold the front flap closed. But the magnets are much more quiet, and I have yet to erase anything because of them.
Behind the front pockets are two large open-top pockets for papers, files, books, or what ever else you need to carry. Behind that is the new and improved padded, removable computer sleeve, available in 13″ and 15″ sizes. A 17″ computer will fit in this bag, but only if you remove the computer sleeve, so this is not really for the big MacBook Pro. One of the biggest problems with the last bag was the material used inside the computer sleeve, which tended to bind to the computer, making it difficult to remove or insert. This new sleeve is now lined with a red plush material which lets the computer slip easily in and out. Much better.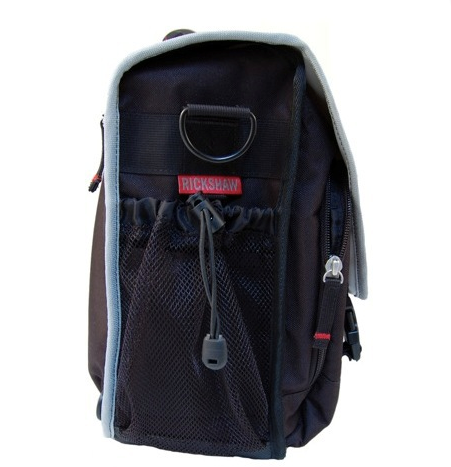 And to satisfy one of my biggest gripes from the last bag, this new design finally has mesh pockets on each side, large enough to hold a water bottle or sun glasses case, and is complete with an elastic closing strap on the top to help hold items securely. Behind each mesh pocket is another smaller open top pocket that can hold a phone, business cards, or anything small. It is JUST wide enough to hold a wallet, but sadly, not very securely and not easily accessible if you put something in mesh area.
Even crammed full of stuff, the size is perfect, and easily fits "under the seat in front of you" when flying, and still leaves room for your feet.
Lastly, this bag comes with an incredible strap, one of the most comfortable I have used on any bag. The strap is basic black material with black anodized metal assemblies on each end which clip to two large D-rings on the bag. And the strap connectors rotate, which means it is easy to keep this strap turned the right way. A large, Velcro attached pad slides along the strap and sits very comfortably across the shoulder so the strap does not dig in. There is also a quick adjust sliding buckle which lets you adjust the strap length while wearing the bag (a great design.) And to make it even more comfortable, this adjusting buckle is also protected by a small pad to keep it from digging into your shoulder
Overall, this bag is a huge improvement over the previous version, which was already a great bag. Top this all off with Richshaw's belief that as much as possible be recyclable, or made from recyclable materials, and this is one excellent bag. That said, there are still a few issues, or maybe nitpicks is a better word, on this bag.
Nitpick 1: The back pocket has waaay too many pen holders now, and lacks pockets. The previous incarnation had several larger pockets inside the back pocket, a place to hold credit cards, business cards, a checkbook, and the like. Now I can store six pens! Seriously, six pens?
Nitpick 2: I would love to see an option for several outside pockets on the front flap. When traveling, quick access to items like your cell phone, wallet, passport, airline boarding card, ID, and maybe a credit card or two would be a great option. On this bag, unless you want to trust those items to those open pockets on the side, you need to put them inside, meaning unclipping and unzipping to get to these items. Given that the front flap is custom, I think an add on charge to add pockets would be a great addition.
Nitpick 3: I like to attach this bag to the top of my rolling bag when traveling. The large handle on the top-back works perfectly for this, but unfortunately there is nothing lower on the back of the bag to stabilize it on the roller bag. Several times, rounding corners, the bag would swing off the top of my bag, hanging off the side by its handle. Now, there are two smaller D-rings on the back for a stabilizing strap. Mark said he may consider an accessory strap for these hooks to better hold it in place. That would be great.
Nitpick 4: The divider splitting the inside of the bag into two pockets should be removed. When this bag is full of stuff, this front pocket becomes mostly useless, as it gets pushed closed from both the back and the front. One larger pocket here would be much more useful.
But these few minor issues aside, this is one excellent messenger bag, well constructed, customizable, made from mostly recycled materials, and compared to other bags of this quality, priced reasonably well.
MyMac rating: 10 out of 10. OK, only 99% perfect, but my nitpicks are small, and I rounded up.