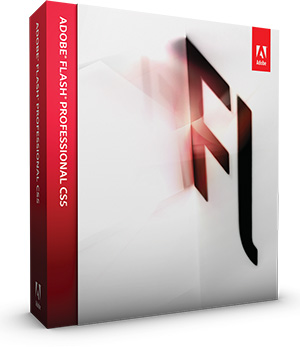 Adobe Flash Professional CS5
Company: Adobe
Price: New user $699, Upgrade $199
Note: This review is from the artist/animator point of view, which is what I use Flash for (when I use it). I am not a programmer and do not use Flash for web design and do not know programming used in flash and web design. I also do not do complex coding in Flash.
As an artist and teacher who occasionally needs to create a short animation I have always turned to Flash as my go to program. WIth all of the animation programs I have tested and reviewed for MyMac, it has always been one of the easiest to create an animation in, and it still is. Just opening the program presents you with a ton of templates to get you started on your project.
While most of the new features in CS5 are code and programming related (a full description of new features can be found here: http://www.adobe.com/products/flash/whatsnew/) there are a few features that are for the basic animator. Since I am not a programmer, I am going to focus on the features that more effect my use of Flash.
With that said I do want to mention the new Code Snippets. These are time saving actions that are preprogrammed. You just take the action and apply it to objects in your scene.
While creating animation in Flash is pretty easy, getting to the actual screen is cumbersome. I had to tell the program what type of file I am creating and while that may seem easy, the list is so long that I found it complicated to figure out what to pick. I just want to say "File-New" and get a new workspace without jumping through hoops. I see the purpose of the templates, but if I don't want to got that route I don't think I should have to. That should be an option.
With that out of the way, onto the tools.

One of the cooler new features is Spring. Spring is a control for animating objects with bones. Bones are a term in animation that allow you to segment your objects into bones so the animate and move more realistically based on the joints. Spring allows you to put, well spring, into the objects. Another term you might use is more boing. It is really cool and easy to figure out and use. In fact, bones are easy to use. This is my first version of Flash with bones and I figured it out in less than one minute. It is really easy and really cool. A great implementation of something I have used in other animation programs, but not this easy.
The other interesting tool is the Deco Brush. The deco brush is what I consider a way to quickly insert objects into your scene, like buildings and flowers, just by painting. Kind of like clip art or the image hose in Painter. Some of the brushes are animation brushes. like the fire. As you paint with the brush keyframes are added to your animation as the fire moves. The way the brush paints is very cool and animated. It would be nice if there was a way for every brush to become animated in a keyframe as it grows with your strokes.
Another great tool that may not appear in much animation work, but is nice is the new text engine. The new text engine is great for those that use Flash for web development. It allows for more text layout control and gives a more page layout program (ie. InDesign) type of feel. This will be a great time saver.
Of course, I can't write a review about the new Flash without mentioning the ability to create iPhone apps in it. When Flash CS5 was first released this was one of the big features that I was looking forward to. I could take my knowledge of Flash and make a simple game that could be sold in the App Store. Then Apple dropped the new rules saying Flash apps would not be allowed. Eventually, and happily, Apple then reversed that decision and you can now make an app in Flash. It isn't as simple as it sounds, and I have yet to create my app that will let me retire (one day…), however, I am glad it is an option.
If you do choose to make an app in Flash CS5 this is where the templates really come in handy.You choose an "iPhone OS" document when starting and Flash presents you with a workspace created for the iPhone app size and the publish settings are preset for the iPhone/iPod Touch. Hopefully, these features will continue to grow since these apps are once again allowed in the App Store.
As I said earlier, there are a lot more additions to Flash CS5 that involve programming, which is not my cup of tea. However, the few features I mention above might make this new version something you want to upgrade too. I definitely think it is worth the upgrade if you are using a version that is several versions old.
I don't know that I would call this a must have upgrade, but it is something that is definitely worth considering.
MyMac.com Rating 8 out of 10