PlainText
Company: Hog Bay Software
Price: Free
Devices: iPad, iPhone, iPod Touch, requires iOS 3.0+
Product page
iTunes link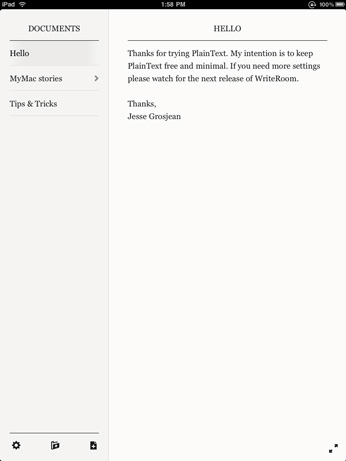 The iOS devices come with a Notes app, which is good for quickly jotting down items, like a shopping list or a gift idea. But what if you want a little more? Maybe you need to take notes at a meeting, or you have an idea for the next great American novel. PlainText might be just what you're looking for.
As the name implies, PlainText is a simple, no-frills text editor that does one thing: it creates plain text files. There's virtually no learning curve with this app; a Tips & Tricks document that explains how to use PlainText is included but many people won't need it.
PlainText does not accept images, nor can documents be formatted. Fonts cannot be changed or resized. But that's what is so great about PlainText: it's strictly for writing, getting ideas and thoughts on paper. The interface is clean and simple, nothing to distract you from the task at hand.
One huge advantage of using PlainText over Notes is the ability to create folders. In fact, folders can be nested inside other folders.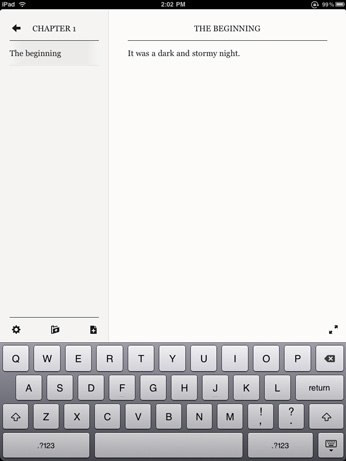 PlainText can be used in either landscape or portrait mode. The left third of the screen shows your folder/document list; the right two-thirds of the screen is the writing area. If you want the entire screen for writing, click on the out-facing arrows in the lower right corner. To get back to the folder/writing screen, click the arrows again, which this time will be facing inward.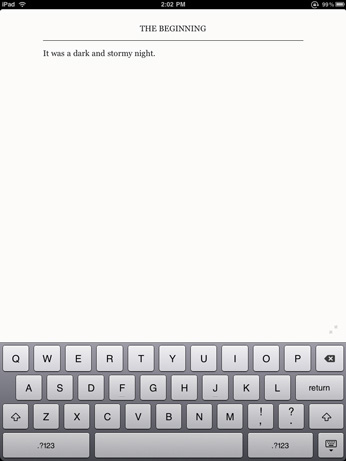 The best part of PlainText is its integration with DropBox, another free app, and TextExpander. Once you've synced PlainText with DropBox, your documents are automatically synced. And the syncing works in reverse: add a document to your PlainText folder in DropBox and that document will appear in your PlainText app.
If you don't use DropBox, PlainText documents can be transferred to your computer through iTunes syncing, where they can then be formatted if needed.
When I write reviews for MyMac.com, I take my notes with pen and paper. For this review I used PlainText. What a difference! My notes are more organized, easier to read, and accessible from my iPad, iPhone and MacBook. Plus, with DropBox syncing all my notes are in one place for future reference.
There are a few missing features in PlainText, including emailing documents and searching, but overall, this is a very powerful, yet simple app that has already made my writing life a little easier. And at the low. low cost of FREE, everyone should give PlainText a try.
MyMac.com rating: 9 out of 10.