Social Media Marketing All-In-One For Dummies
by Jan Zimmerman and Doug Sahlin
Wiley Publishing
More info
ISBN: 978-0-470-58468-2
818 pages
$29.99 US, $35.99 CN, £21.99 UK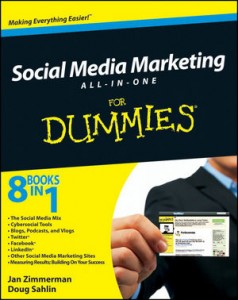 Almost everyone is now active in the social media arena. Who doesn't have a Facebook page to keep in touch with family and friends? How often are you making your thoughts known 140 characters at a time on Twitter? Do you listen to podcasts on your favorite topics during your daily commute? Facebook, Twitter and podcasts are all forms of social media, but can they also be used for social media marketing?
In their book, Social Media Marketing All-In-One For Dummies, Jan Zimmerman and Doug Sahlin go into great detail about how to use social media to market your business or service. The tome is divided into eight books, each addressing a different aspect of social media.
Book I discusses the Social Media Mix. Basically, this book talks about how and why you should use social media, how social media is a tool in your overall marketing plan, how to prepare for your social media campaign, and how to engage your audience. Using social media can be a free, or very low-cost way to get your message out to consumers.
Book II, Cybersocial Tools, goes a little deeper into search engine optimization and social bookmarks. Never heard of social bookmarks? If you use Delicious or StumpleUpon, for example, to get recommendations of web sites you may enjoy, or to share your favorite web sites with others, then you're using social bookmarks. Wondering how it could help your particular business: read Book II, Chapter 3.
Book III is where the real meat and potatoes begin. If you ever wanted to know how to create a blog, podcast or vlog, this is the book to read. While there are other books and resources that go into more depth, just reading Book III of Social Media Marketing All-In-One For Dummies is enough to get your brand new podcast up on iTunes in a matter of days. If you'd rather skip the podcast and go right to blogging, everything you need to know, from finding a blog host to handling comments can be found in Book III.
Books IV-VI talk about the kings of social media: Facebook, Twitter, and LinkedIn. How will Twitter help your business? Should you have a Facebook page for your business, and should it be linked to your personal Facebook account? Are there risks involved? Is LinkedIn worth it? Using Facebook and Twitter as marketing tools is a bit different from using them on a personal level. Zimmerman and Sahlin talk about these social media applications in a conversational way, making them a little less scary for those who are new to social media, and informative to those more experienced users. Did you know that using LinkedIn will help you meet people in businesses similar to yours, and can connect you to business professionals in nearly every industry?
Book VII, Other Social Media Marketing Sites, covers lesser known or used sites, including Flickr, Ning and MySpace. Just because they're not as popular as Facebook or Twitter doesn't mean they couldn't have a place in your marketing strategy. The authors help you decide if these sites are right for your business, and if so, how to use them to their fullest potential.
Finally, in Book VIII, Measuring Your Results; Building On Your Success, the authors explain how to analyze if all your hard work is paying off. Here the concepts of metrics, analytics, integration, tracking, and social mapping are introduced and discussed. If your social media campaign isn't giving you the expected results, Book VIII, Chapter 4 describes what steps to take to fix problems.
Social Media Marketing All-In-One For Dummies is an excellent book for people who want to expand their businesses by entering the social realm, or for people who are just curious about what social media is all about. The authors include links for resources based on each chapter: everything from social media dashboards to web hosting to Twitter metrics. A very nice feature of this book is the generous use of real-life examples of businesses successfully using social media. Read how luxury footwear company "Omelle" markets their products strictly through social media outlets, or how social bookmarking helped laptop sleeve/creator "Barry's Farm" increase their business and online presence.
The Dummies series of books have always been a favorite of mine. They're easy to read, well organized, and contain loads of information. This book is no exception.
MyMac.com rating: 10 out of 10