Arctic Sound P311 Bluetooth Headphones
Company: Arctic Cooling
http://www.arctic-cooling.com
Price: $37.95 US
Our listening and evaluation team for these headphones included Devon (age 22), Mike (age 51), and Jackie (age 70+). Each panel member tested Arctic's new behind-head Bluetooth headphones using a different model of smartphone, plus an iPad. We agreed that wireless P311 provides exceptional value for most music and phone situations.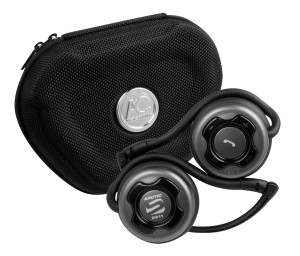 These folding headphones are packaged with a rugged, stylish zippered carrying case and a USB charging cable. Experienced Bluetooth users will have no problem with the brief instructions. If you are confused by the diagrams on this two page manual, ask a tech-savvy young friend or family member to help you understand it.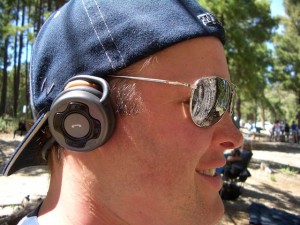 For music playback, Devon and Mike felt the headphones were lacking in bass, but the other two of us disagreed. In Mike's words, "bass was a little thin but very good for headphones in the perceived price range." Being younger, Devon is more accustomed to mega bass response. P311 is A2DP compatible, which is the latest technology for smartphone music signals. Audio presence is strong and clear, but is not audiophile quality.
Coordination between earpiece controls and smartphones is good, but is not perfect, especially when using an iPhone. Depending upon which phone you are using, you may manually have to tell your phone to answer an incoming call while listing to music. The same caveat applies to moving forward and backward in your playlists, as is mentioned in the manual.
Devon explains further about the phone call situation:
All calls have to be manually answered; the issue with us was that, after answering, we would have to go on our phone and switch the call to go through the headset. This should be stressed as a downside because the last thing people want to do when driving is look around on their phone to have the audio of the call go into the headset. Some users can avoid this by answering the call on the headset and not the phone, which isn't immediately intuitive, but Mike's Blackberry had issues. Some features are specifically incompatible with the iPhone, even though it is listed as one of the four intended cell phones, although the manual does mention the incompatibility.
Phone usage of P311 becomes routine after a few calls. All our panel members were overjoyed to learn these headphones work for phone calls in addition to music playback. The earpiece controls are not immediately intuitive, but soon you will be accustomed to where to press, and for how many seconds, as well as the LED indicators.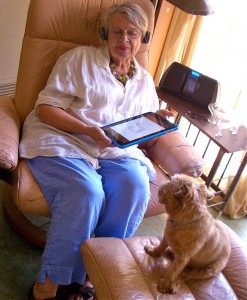 The physical folding headphones are comfortable and well-constructed. Limited noise blocking ambient sound isolation is provided, which is a good thing from our experience. Very little annoying sound bleeds into a quiet room. Stereo separation is pleasant.
USB charging and battery charge duration are on a par with other similar products we have tested at MyMac. Bluetooth connectivity to a smartphone is effortless, but Bluetooth audio response from a computer can be hindered by iTunes equalizer settings.
Our three testers were stunned to learn the under-$40 U.S. retail price for these behind-head Bluetooth music/voice headphones. They expected the cost to be upward of $80. The consensus MyMac Review Rating for these Arctic Sound headphones is a hearty 8 out of 10 recommendation. At this price, they agreed, you should buy two units and keep one in reserve or give it as a gift.
During the weeks we were evaluating the P311 headphones several reviews were posted on the Internet. We didn't read any of them until after our testing and rating were complete. Below are links to the most helpful reviews, some of which have more in-depth comments and photos than here at MyMac. Nice job, fellow reviewers, especially in pointing out how Arctic's low pricing does not indicate low quality.
This review is particularly lucid: http://www.chipchick.com
Additional favorable comments are here: http://www.tweaktown.com
This review is spread over three linked pages: http://www.bcchardware.com
Another review draws heavily from company photos and the written manual: http://hardwarebistro.com
This writer emphasizes Arctic's outstanding value for money: http://www.geardiary.com
This article is short and sweet: http://www.whatsoniphone.com