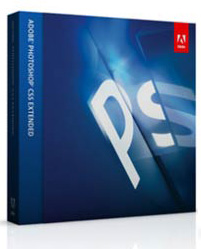 Photoshop CS5 Extended
Company:Â Adobe
Price: $999 upgrade $349 (education pricing also available)
Last week you read (or should have read) part one of my Photoshop CS5 review. This week you get part two which includes more new features discussed and my conclusion. Is it worth the price of upgrading? Read on to find out!
Improved Selection Tools:
One of the hardest things to do in Photoshop or any image editing program is get a perfect selection. In CS5 the selection tools have been improved, especially with the refine edge tool. The refine edge tool allows you to make your selection even more precise and exact and is very easy to use. In order to use it you have to start with a selection using one of the selections tools, and the better your initial selection is the easier it is to refine it.
One personal gripe is that the icon for quick select has changed from what I'm used to in CS3 (I don't know what it looked liked in CS4). I know it looked too much like the Magic Wand, but I don't like the change and the new icon tool doesn't make much sense.
Painting Effects
Painting Effects are suppose to add more natural media painting options to Photoshop. I didn't think they were great back in June and I feel the same way now. There seems to be a big push to keep you in a specific program and to try and make that program be the catch-all for everything you need. In Photoshop's case it is trying to be more like Painter and keep you from needing Painter. Painter did the same thing in its last release in having more Photoshop-like tools in it to keep you from having to switch to Photoshop for certain techniques. I have used both and both should stick to what they are best at and stop trying to cram so much into the program. Painting Effects in Photoshop is nothing special, in my opinion.
Repousse
Repousse is a 3D rendering tool for Photoshop. Again, trying to make Photoshop more than what it is best at. However, unlike Painting Effects, Repousse does a good job at bringing some basic 3D effects to your 2D images.
While it works farely well, you do need a powerful machine for the best results. My iMac is an 2.66ghx Core 2 Duo machine with 4gb of RAM and the better graphics card. When using this tool on a 300 DPI image I had to wait 10 seconds between clicking settings for each to take effect and for me to move on. As I mentioned in the "First Look" my white Macbook from work couldn't even use the tool due to processor power.

For basic 3D in a low quality image it is great (i.e.. Extruding a shape or text), but for heavy duty 3D modeling I would say go for a program that is made exclusively for that.
One related and odd problem I had when using the text tool in Photoshop CS5 is that it would crash as soon as I tried typing something with it. I narrowed the problem down to a faulty font file. However, what I found odd about the crash was the same font or fonts caused no issues in Adobe Illustrator or Photoshop CS3.
Multiple Undos?
One more thing on what is not a new feature, but I am still waiting for it. Where is a true multiple undo system for Photoshop? Why can't it have a real multiple undo system like Illustrator and every other art program out there? I know it has step backward, but that is extremely annoying and almost painful when compared to just hitting "Command+Z" multiple times. Isn't it about time we get a real undo system? I teach with Photoshop and even my students find this a major annoyance.
Conclusion
These are just what I would call the "main" new features to Photoshop CS5. There are several more new features or improved features to the software. The entire breakdown can be found here.
So is it worth the price of upgrading? I'd say that depends on your situation. Content Aware Fill and Puppet Warp are two great new tools and I would think anyone would want to have them in your arsenal of tools. The improved selection tools also are great time savers. For me these make the upgrade worth the price.
However, if you don't think they are useful for you you have to judge and weigh the benefits of the other new features. On the other hand, if you have not upgraded Photoshop in several versions, this might be the time to do so thanks to the new features.
The upgrade question really depends on the user and how you use Photoshop. Hopefully, these two articles have helped with making the decision. If you want to see for yourself try the downloadable demo found here.
MyMac.com Rating 8 out of 10