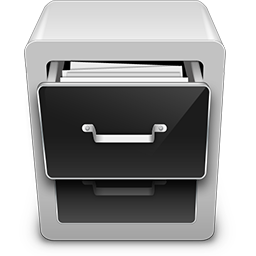 Interarchy 10
Price:
(1-4 users) $49.95
Site Licenses: 5-9 $44.95
10+ $39.95
Upgrade from previous versions of Interarchy: $29.95
Nolobe Software Pty Ltd
Interarchy has a venerable history. It was first released in 1993 and can claim to have been the leading FTP client ever since, enabling (as the site of its current developers, Nolobe, says) "hundreds of thousands of Mac users to upload, download and transfer files across the Internet."
There really aren't many variations on the transfer process that can be built into a self-standing GUI-based application as a front-end for the Unix command line operation of File Transfer Protocol, or FTP. Other than to make it as secure as possible. This usually means full support for the 'sftp' protocol of 'ssh' (secure shell). And to make it versatile and easy to use; in this case that means to make it as close to the metaphor of Mac-like file handling as appropriate.
In these two respects Interarchy 10 is state-of-the-art. This version, 10, does contain new functionality, though; it also builds on the solid base that was inherited when Nolobe (a privately held Australian company based in Pokolbin, New South Wales, Australia) took it over from long time developer Stairways software.
Plug-ins
Chief amongst these new features is the new plug-in architecture, which allows you to construct command sequences of your own to run directly on the server. These might include scripting, compression and archiving — even restarting if you have the necessary privileges. The commands are written in Perl and can accept input and display results. They need the iFTP (Interarchy File Transfer Protocol), which is built on top of ssh. The scripts show up in Interarchy's menu once installed (in ~/Library/Application Support/Interarchy/Plug-ins).
Although a number of plug-ins is included with Interarchy 10 (half a dozen Apache-specific server operations; eight compression/archiving routines; six generic command line scripting examples), Nolobe hopes that a community of plugins will develop enabling users to write and share them. In fact, Interarchy 10.1 (to be released soon) will make sharing and downloading plug-ins much easier. There's a default template for plug-ins which can be downloaded from Nolobe's website which is simply a Perl subroutine into which you put your own command line code.
There is a thorough step-by-step tutorial on how to do this (e.g. at http://nolobe.com/interarchy/dev/tutorial/helloworld). While it's straightforward for anyone familiar with Perl and the Unix command line, it might be a little intimidating to those who stay within the Desktop. But then such users would be unlikely to want to write plugins anyway. In common with the other (new) features in Interarchy 10, this worked well in testing.
iFTP
This lies at the heart of Interarchy 10's innovations. It claims to be fast, powerful and secure and seems to be aiming to make "tired old protocols" (the Nolobe site again) like FTP, WebDAV and SFTP obsolete. At the same time, Interarchy 10 does offer support for over a dozen (such) protocols, including regular FTP, FTP/SSL-TLS, SFTP, SCP, SSH, iFTP, WebDAV, WebDAVS; as well as Google Storage, Rackspace Cloud Files, iDisk, Amazon S3, HTTP and HTTPS. At least one independent report (and indeed the findings assembled for this review) confirm the advantage that Interarchy 10 has in speed: http://apple.it-enquirer.com/2010/08/19/lightning-speed-interarchy-10/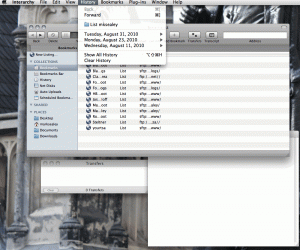 The Cloud (virtual and immediate storage on-line which appears local, like Apple's MobileMe) has become too popular for the developers of Interarchy not to want to include cloud functionality in the product. And so they did with the last release. Now it's extended to transparent cloud transfer to and from three of the major cloud storage services; Amazon S3, Google Storage, and Rackspace Cloud.
In similar vein, this version of Interarchy has strengthened Net Disks. Remote servers can be mounted and files located there can be read from, written to and edited/saved right on the OS X Desktop. A drop box allows (automatic) synching between Macs.
Look, No download!
From an aesthetic point of view, Interarchy 10 has introduced previewing of remote files using Quick Look and Cover Flow. This is a boon if you know, for example, that you have something stored remotely but want to avoid having to download multiple files to identify it. You can now see files' contents in ways made familiar in iTunes and the OS X finder.
Interarchy has long claimed to be the quickest file transfer engine on the Mac. Nolobe has pushed the limits even further with this release. Up to 80 MB/second over gigabit ethernet is now asserted, which is over 4.8 GB/minute and means hard drive speed is likely to be slower than transfer itself. In testing it certainly seemed faster.
Interarchy Menu
Lastly, Interarchy 10 is now available from any application via an Interarchy menu. This means that you can upload changes to your website from other text editors.
Conclusions
These are all worthy and useful additions and enhancements. Those developers and "heavy" users who spend half their days connected to servers and/or moving files around remote locations probably have a need seamlessly to synchronize files. They are engaged on work such as web development where instant transfer is such an integrated part of the cycle that it needs to be fault-free, quick and intuitive. For these the changes and enhancements introduced in Interarchy 10 will be welcome. Particularly when you have routines which you have to keep hopping onto the server to perform before and after transfer. Interarchy 10's plugins will save time and effort. Similarly Quick Look and Cover Flow are pluses. But in order to decide whether you should buy Interarchy 10 or pay the slightly overpriced upgrade cost if you've always been happy with an earlier version, you need to assess just how important these extra features are.
There are other very viable FTP suites available. Chief amongst them are Cyberduck (http://cyberduck.ch; free/donationware) and Transmit 4 (http://panic.com/transmit; $34, $19 upgrade from Transmit 3). So Interarchy is relatively competitively-priced when compared with the latter (its high upgrade cost reflects the exchange rates between Australian and US (presumably its main market) dollars). Interarchy is more fully featured when compared with Cyberduck — particularly, now, thanks to the Plug-ins. Although Cyberduck has a host of features it's not so easy to use — so downright intuitive is Interarchy 10.
Bottom line: if the work patterns of Interarchy 9 are in your blood, if you need either to automate some post-processes and/or if a Desktop-like feel is important to you when using a Cloud system or NetDisk, then Interarchy 10 is probably for you. It does carry a high price; if your requirements are more modest or you are an infrequent ftp'er, then Cyberduck is likely to do the job just as well.

Pros: the plug-ins; stability and speed; integration with Cloud systems; the interface and Desktop metaphor; Net Disk
Cons: the price — there are cheaper, indeed virtually free, ftp applications that are almost as fully-featured, and work as well; somewhat patchy technical support
MyMac Review Rating: 8 out of 10