Guest review by Suzé Gilbert
Book Review: The Photoshop CS5 Pocket Guide
By Brie Glyncild
Peachpit Press
$14.99 US, $17.99 CN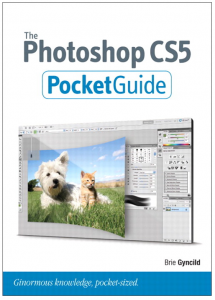 I recently upgraded to Photoshop CS5 and came across Brie Glyncild's new book, The Photoshop CS5 Pocket Guide. The book's 5" x 7" size makes it convenient to keep near the computer. This volume contains black and white photos and illustrations, and its chapters are interspersed with the author's quick tips.
Brie Glyncild states "…that this is a pocket guide to Photoshop, not a photography primer," and her description is apt. She begins with a simplistic and brief explanation of the tools and workspace. Subsequent chapters discuss resolution, layers, masks, resizing, tonal corrections, editing in RAW, painting, effects, preparing images for the web, printing, working in Bridge, and actions. A lot of information is in a very small book.
Most of the content is presented for readers with a familiarity with Photoshop. Many of the explanations are brief and succinct, which is appropriate, as The Photoshop CS5 Pocket Guide seems to be more like a Photoshop refresher course.
I did find myself wishing the author had a separate chapter on what is exclusively new to CS5: primarily content aware fill, puppet warp, auto lens correction, and painting effects. It also would have been helpful to have more explanation regarding the HDR (high dynamic range) function, as she glosses over this feature. It was a bit frustrating that some of the illustrations had extremely small fonts, so my middle-aged eyes needed magnifiers to be able to decipher the text.
In conclusion, if you have some Photoshop experience and want a quick explanation of the powerful software's inherent features, then this would be a good choice to have near your workspace. The book guides the reader through the complexities in an organized manner. If you are just beginning with Photoshop CS5 and need detailed guidance or are an advanced user then this book may not satisfy your needs.
ISBN: 978-0-321-71432-9, 225 pages, small format