Book Review:Â Take Control of Apple Mail in Snow Leopard (Ebook version)
By Joe Kissell
Take Control Ebooks
$15.00 US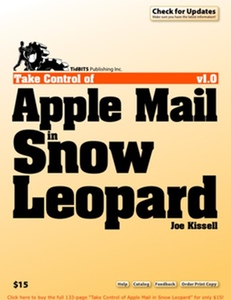 Apple Mail is a free product that comes with every Mac and OS X operating system disc. This is both a strength and a weakness. Apple Mail is a fairly simple email client, which means that it is easy to use in most respects. On the other hand, it has some idiosyncrasies that can make it feel limiting and frustrating at times. The ebook Take Control of Apple Mail in Snow Leopard by Take Control Ebooks from Tidbits Publishing, Inc., by author Joe Kissell, can help make using Apple Mail both easy and productive.
Take Control of Apple Mail in Snow Leopard is 133 pages, and covers every conceivable aspect of Apple's Mail application. The book walks you through setting up accounts, reading and searching messages, address and contact handling, sending email, encryption and signed email options, managing mailboxes, synchronizing mail across multiple devices, and many more Mail related topics.
This book is very helpful in showing how to set up IMAP and Gmail accounts in Apple Mail, both of which are relevant and can have some hidden gotchas with relation to Apple Mail. For example, in setting up a Gmail account in Apple Mail using the IMAP protocol to keep messages synchronized on the Gmail server and in Apple Mail, there are differences in Apple Mail's use of folders, and Gmail's use of labels. There are also some simple, but non-obvious steps in setting up the right folders in Apple Mail to use as the Junk Mail, Sent Mail, and Trash mailboxes in order to keep Apple Mail and the Gmail server in happy sync with each other. This book covers those topics very clearly.
One thing I did note was that the instructions for setting up a Gmail account worked perfectly for a standard "whoever@gmail.com" type Gmail account, but for accounts that use Gmail but have a custom domain, during setup you will have to manually enter imap.gmail.com and smtp.gmail.com as the incoming and outgoing servers, respectively. I didn't see this detail mentioned in the book, but it also will affect only a small subset of Gmail users (I am one such person). When you are adding a standard Gmail account to Apple Mail, you simply have to enter your email address and password, and Apple Mail does the rest for you, and this is the process described in the book.
I had a chance to test this section of the book while setting up my dad's email to use IMAP instead of POP, and as I walked through the section on setting up Gmail with IMAP in Apple Mail, I found it to be concise and clear.
For those wondering what the advantage of IMAP over POP is, or why my Pop should not use POP, the reason is that it is much easier to manage email on multiple machines using IMAP. The POP protocol downloads local copies and makes keeping different systems synchronized with the same email messages very difficult. IMAP keeps copies on the server and synchronizes with the local copies on the Mac, iPhone, iPad, iPod Touch, or whatever other device is being used to access the email account using IMAP. As a result, each system has access to all the same messages and mailboxes automatically.
The book is concise and clear on every other covered topic as well. Explaining how and why to sign and encrypt your email messages could become a confusing book in its own right, but the book stays focused and provides the necessary information without adding complexity or needless confusing details that don't help the user get the job done. Similarly, the chapters on searching email, synchronizing data, and automating Mail with rules are all informative and to the point.
If you feel that Apple Mail is a program that needs no manual, you're partially right. It is easy to use in most respects, and for many people, a book such as this Take Control title will not be necessary. However, for many other people, the difference between being frustrated and being productive is the information contained in Take Control of Apple Mail in Snow Leopard. This book would be perfect for my Dad, and I learned new things about Apple Mail as well.
I recommend this book for anyone new to the Mac and Apple Mail who wants to become very productive with the application quickly, as well as anyone who needs to use Apple Mail in conjunction with an IMAP server and/or Gmail.