Review: You Gotta See This
Company: Boinx Software
Price: $1.99
You Gotta See This. That is not only the name of the product, but what I said to others when I saw this. If you have an iPhone 4 (it does not run on anything but the iPhone 4), for only $1.99 you can get one of the coolest photo products I have seen in a long time, especially on a cell phone.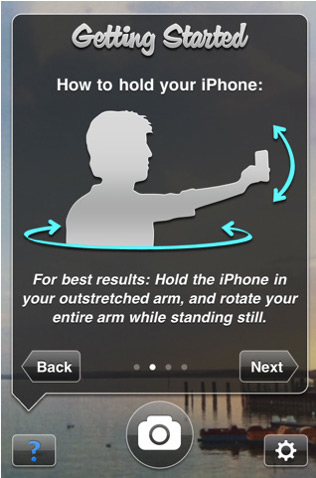 You launch the app, hold your phone out at arms length, press the camera start button, and slowly move the phone about, up, down, left and right, in a big or small arc.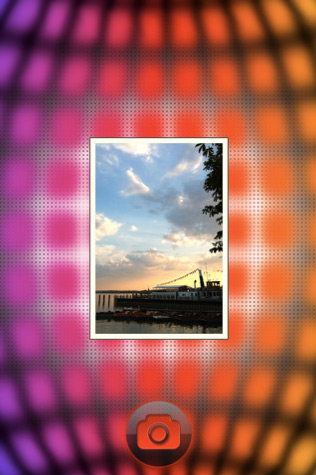 One of the first apps to use the "gyro" in the iPhone 4, it senses your motion as you move and snaps multiple pictures to create a panorama of what you are scanning. You will see a small white square showing what the camera is seeing. Move too fast, and the box changes from white to yellow to red to warn you to slow down. When you think you have enough, press the red camera button. Note you can take your pictures at any angle!
When complete, you will be presented with one of 6 different layouts for the photos just snapped. You can pick from: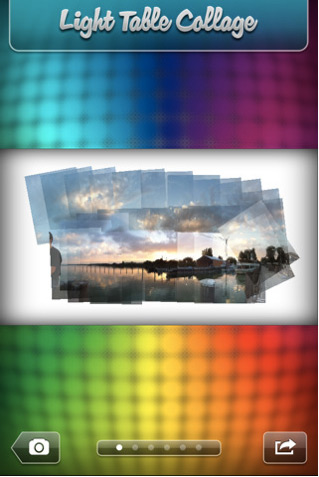 1). "Light Table Collage," which places all the photos over each other, in proper location, as if you were viewing transparent images on a bright light table.
2). "Polaroid Stone," tosses a number of images, overlapping but not transparent, on a stone tablet. Not sure I see a value of this one, as it is hard to see all the images.
3). "Dark Table Collage," looks like Light Table, but with a black background. This is my favorite.
4). "Vintage Fabric" places enough images around the scene on a cloth  background, not overlapping, to see everything you scanned.
5). "Magic Light" looks a lot like Light Table, but on a 60's psychedelic background.
6). Lastly there is "Wall of Tiles," much like Vintage fabric, but on a black background.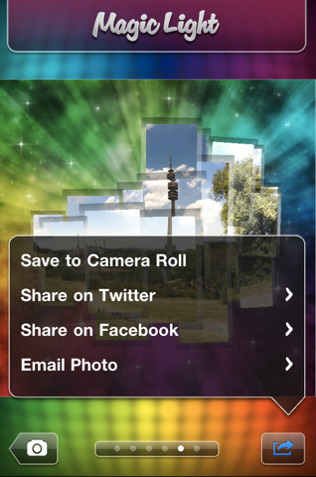 Once you pick a layout, pressing continue offers you the option to save the image to the Camera Roll, share it on Twitter or Facebook, or email the photo.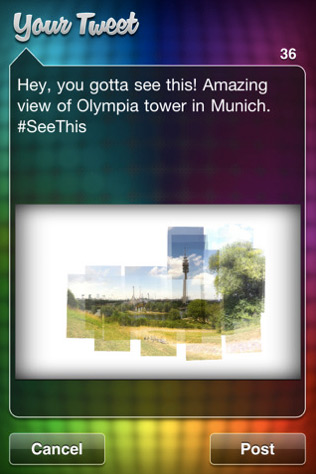 This is nowhere near as good as some of the more "professional" stitching programs you can get for you digital camera for Mac and PC which take multiple images, stitch them carefully together, and present you with a high grade panorama image. If that is what you are expecting, you may be disappointed. This program simply lays the picture over each other where they were taken. You will see picture edges, and overlaps, but it still works.
What you do get is the ability to quickly scan the area around you, and share it with others with just a few pushes of a few buttons right from your iPhone. The overlapping pictures are not great, but your friends will get the idea. And then you can say, "You gotta see this" with a cool set of photos.
What Didn't Work
There are a few bugs in version 1, but remember, this app was JUST introduced. I noted that after I took one picture, going back to the camera mode did not display any image, but only a white hue on the background. Pressing the photo button displayed a white box with no image, but strangely it was actually taking pictures. Fully quitting the app using the app switcher and then relaunching usually solved the problem.
I also think the stitching could be a little better. Sure, this is not supposed to compete with stitching programs, but if the new Sony cameras can do a better job, surely the new iPhone can as well. Maybe we will see some improvements here in future updates.
What Does Work
When you just need to share a cool scene with your friends, this is a great little app. You can show so much more than a single picture, and having Twitter, Facebook, and email built right in is great.