MP300 Plus Multimedia Speaker System
Company: Edifier
Price: $99.95 (search for them, I have seen them for as low as $75)
Company Website
Product Page
This company keeps winning awards for their odd shaped speaker systems, and when you hear them, you will know why. These MP300 Plus speakers won the 2009
Red Dot Design award
for best product design, and now in 2010, they won a 2010 Innovations honors at CES for a different set of speakers.
The MP300 Plus Speakers have been out for a while, and are an update to a previous MP300 which looks similar. To be honest, I first saw these at Macworld in San Francisco earlier this year. I was surprised to hear this amazing sound coming from a stark, totally white booth at Macworld as I walked by. It made me stop and drew me in. I asked what was playing the sound, and he pointed to these tiny little spheres. "Seriously" I asked?
The design is rather unique for computer speakers, almost funky. An 11″ long, 2″ diameter tube contains the power supply and a 15-Watt powered sub-woofer, while two, 2″ diameter spherical speakers handle everything else with 3.5-Watts per channel. The two small speakers connect into the tube via a proprietary connector, and the tube plugs into the wall (with a small power supply) and into your audio out jack on the device making sound, be it a laptop, MacBook, PC, or music player. The right speaker contains up/down volume buttons which control the volume of the sound (not your device or computer volume) so you can adjust volume without having to reach for your mouse or pick up the player all the time. Â There is no USB power sadly, as the power needed by the sub-woofer exceeds what a USB can supply.
These are actually a quite sophisticated and cost-effective audio solution, and deliver exceptionally high quality sound for their size and price. The mid/high spherical speakers have an impressive frequency range of 230 Hz to 20 kHz, offering crisp and clean mid-range and highs, and the sub-woofer handles 45Hz to 200 Hz, adding that great bass response often missing from small speakers. The sound is crisp and clear, although some people might find it too crisp, as the highs tend to stand out considerably more than other small speakers I have tested. Lost is the tinny sound often heard in speakers for your computer. Â The sub-woofer is a 2″ magnetically shielded 4-Ohm driver, and the spheres are 1.5″ magnetically shielded 4-Ohm drivers each, so they are safe near your computer. Both are heat treated paper voice coils.
This system plugs into any computer, MacBook, or portable music player that support the standard sized 3.5 mm earphone sized plug (like on an iPhone), and easily provides a great, near-field listening experience. I say near field, because these small speakers truly have a sweet zone for listening (directly in front of them and close up), and as you move away from them, they do not sound quite as good as both highs and the sub-woofer sound drop away quickly. Â However, they can be turned up fairly loud without (much) distortion, so they will still fill a bedroom or small room just fine. Just set them up so you stay in front of the speakers, and you should be happy. There is actually a small microcomputer inside as well, and these speakers have Edifiers patented E.I.D.C. (Edifier Intelligent Distortion Control) which automatically adjusts and protects the system from input overload and distortion.
Strange
On the box and their web site, they do call these a portable speaker system. And given their size and weight, they should be easy enough to carry about, but strangely, there was no included carrying case in the box. Even though the website says it should be included, the box does not mention it. Given that this is 3 parts for the speakers, the power supply, and wires, this is an odd omission, as they will not be so easy to carry without some kind of case. Strange!
The website also says they have volume up/down AND on/off controls, but I could not find any on/off controls anywhere. Even more strange!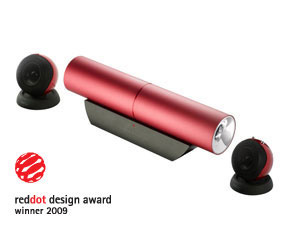 Lastly, the website shows them in a brushed red  (see above) as well, but so far, I can find no place to order them in that color, and their documentation does not list that as an available color. Even more strange.
For those who care, here are the specs:
Right / Left: 3.5 W RMS x 2, THD = 10%
Sub-Woofer: 15 W RMS, THD = 10%
Signal to noise ratio (amplifier): Â >= 85 dBA
Universal Power Supply: 100V to 220V, 50/60 Hz.
Net weight: 2.2 pounds (1.0 Kg)
Dimensions:
Subwoofer: 11″x3.4″x2.3″(280x87x59mm) WxHxD
Spheres: 2.3″x2.6″x2.3″(59x67x59mm) WxHxD
Available in black and brushed silver (both have black speaker grills.)
Conclusion
For the price and size, these are a definite winner for me, especially if you are going to use them close up. You might not find these in stores however, as this Canadian company does not have great distribution in the US yet. But if you are curious, they can be found on the web with a Google search.
What I like
Inexpensive for the quality.
Very good sound, especially close up.
Light weight.
Small footprint.
What I do not like
They do not sound so good as you move away.
No carrying case included.
The wires that connect the spheres to the tube are not long enough, and cannot be user changed.