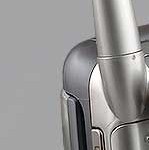 I don't own an iPhone, never have, and probably never will. When it comes to this antenna issue I can't say that I know what iPhone owners who have the issue are going through. Wait a minute! Yes I can!
You see I own a cell phone and the last two phones I have owned have had stickers on them clearly stating if the phone is held in "this specific place" reception could drop. In fact it did drop and I lost calls every time I held the phone in that spot. On my previous phone I had to train myself not to hold the phone a specific way than I was used to holding it.
I didn't get a free case for either phone, I didn't even get an apology from the company. I didn't return the phones either. I kept them because I liked them and I learned to deal with it.
So, when Steve Jobs says all phones have these issues. He is right. They don't even have to be a complex smartphone. My phones have been little slider or flip phones, that I don't even text on.
Should the little slot on the iPhone been in another location to prevent it from being easily touched? Perhaps, but it isn't.
If I had an iPhone and had these issues I would either return the phone if it really annoyed me, or get a case. I'd probably already have a case to protect the phone anyway.
To tell you the truth the reception issue didn't bother me at all with my old phone. What drove me crazy was the fact that the phone would start making phone calls in my pocket when I sat the wrong way! Now that is annoying! How about a fix for that???