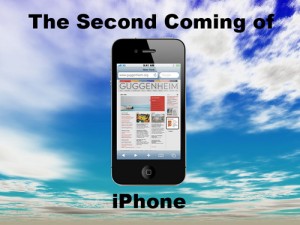 As a longtime iPhone and Apple customer, I have been a fan of the design choices Apple has made to bring me a mobile phone that intelligently balances hardware, software, and industrial design. I was blown away by the revolution that was the original iPhone. After spending some quality time with the new iPhone 4, I feel like it is, The Second Coming of iPhone.
STARTING OUT ON THE LEFT FOOT
It was June 15th at 5:00AM. I thought I would get up early and try and get the jump, so to speak, on ordering my iPhone 4. Immediately I ran into issue after issue. Each time I would make it past the initial Apple order screen, my hopes would be dashed by the reality that AT&T once again was not up to the task. One would have thought that they (AT&T) had never been present for one of these Apple rollouts. Yet, this was the fourth such rollout in the past four years. How much of a stretch would it have been to assume one million pre-orders and build your capacity accordingly?
At one point, I was trying to pre-order online while trying to call in to Apple for a voice order. It turned out that everyone else was trying to do the same thing. No luck on either front. At the end of the day, it seems that the account verification portion of the process (accessing AT&T servers) was the bottleneck in the process. In AT&T's defense… wait, on second thought, there is no defense for AT&T. I remain convinced that AT&T could have and should have directed enough resources to avoid what will go down in silicone history as The iPhone 4 Pre-order Day Massacre.
Finally, at around 4:30PM, I was able to get through and pre-order my iPhone 4 for delivery on June 24, 2010. Indeed, I was one of the lucky ones, for not long after that moment the pre-order ship date was moved to July. After all I had been through, I actually felt lucky, almost elated. Wow, how twisted is that?
CHRISTMAS IN JUNE
Before I delve into the proverbial nuts and bolts of the iPhone 4, I must take a few moments and convey what, to me, is a very big deal. Many, in a heated rush to demonize Apple over reception issues, long lines, or maybe still the pre-order debacle, have failed to celebrate the fact that Apple, did something very special for their devoted customers who didn't quit on the pre-order process and stayed loyal to Apple and the iPhone these past four years.
Go back in iPhone lore for a bit and you will remember that Apple has gone to great lengths to make sure that no one received their iPhone before the official release date. I can remember with my 3G and 3Gs, how the package would be held by the carrier until the day of the delivery was at hand. The same thing happened with my iPad. Hey, it was/is Apple's right to control and deliver the product on the day established by the big guy upon high. We agreed to that date when we ordered it. So, indeed, Apple fulfilled their commitment by delivering the product on the day promised.
So there I was in Buena Park, CA, at Disneyland waiting in line for a FastPass ticket to the new attraction World of Color (Google this attraction, it is worth the price of admission). I had set my pre-order up to deliver my new iPhone 4 to the hotel where I would be staying on launch day. As I was checking my email while in one of the many lines I would stand in that day, I noticed a message from Apple. It stated that my iPhone would be delivered one day early on Wednesday instead of Thursday (the official release day). I immediately dismissed this email as either a misunderstanding on my part or some other misunderstanding for I knew Apple did not allow their products into the hands of their millions of adoring customers until launch day.
I have to admit, just thinking of the possibility that maybe, possibly, Apple could really allow some of its long-suffering and oh so faithful customers who have endured so much over the last four years, to receive such a special gift, kind of made me a little euphoric (yes, oxymoronic, but the iPhone faithful will undoubtedly understand the sentiment). This was a non-by the book move by a very by the book (in terms of their shipping practices) company. Could this be another (like answering questions via email) indicator of a kinder gentler Steve who has seemingly had a, "It's A Wonderful Life" moment? This all seemed surreal to me and I was at the "Happiest Place on Earth." There is a metaphor in there somewhere, oh well, I will think of that tomorrow.
As one might imagine, the remainder of my Day O Disney, was filled with refreshing the FedEx tracking screen on my iPhone. Attempt after attempted only yielded an early morning departure for the local station from which the item would ultimately be delivered. I had been down this road before. Even if it showed up there, that didn't guarantee that I would read those three words which have so thoroughly dominated my thoughts and dreams over the years, "Out For Delivery."
It was then the afternoon and I was ready to take a break from all the "fun" (translation, my children wore me out). As we prepared to return to the hotel for a break in the action, I refreshed the FedEx screen once more. There it was, "Out For Delivery." "Could it be?" I thought. "Was I really going to get this little slice of Apple heaven early," I wondered. Back at the hotel, I received a call from the front desk that a package had arrived. I hurriedly retrieved the package and opened the box to find my beautiful new iPhone 4. I looked at the calendar. It indicated the date to be June 23rd, but it felt like December 25th. Steve and company were in no way required to allow this most magnanimous of overtures. I would have been happy to receive my iPhone 4 on launch day as promised. Grace is defined as unmerited favor. I am so pleased and grateful for this gift of grace. I want to thank Steve and the rest of the team. This act of grace has meant so much to me.
This fact was driven home for me as I walked through the South Coast Plaza mall on launch day. There were long lines extending in both directions outside of the Apple store front doors. As I was in the Fossil store directly across from the Apple store, a man came in who had just received his iPhone 4. I asked him how long he had been in the line, his reply was, "seven hours." I didn't have the heart to go up to the people in the line and show them my iPhone 4 which I had been enjoying since the day before, but I did think to myself, "Thanks, Steve."
WHAT A PACKAGE!
Looking at the new iPhone, I feel like I am at Harry Winston's and the jeweler has just pulled their finest display out for me to gaze upon. The black glass surrounded by brushed aluminum is very elegant, like a finely crafted time piece. Every component fits perfectly and together the harmony and symmetry are obvious. As with every Apple product, beauty and precision were not sacrificed for functionality. This is without a doubt the most beautiful iPhone to date.
Once you actually pick up this museum piece, the first words that come to mind are solid, sexy, svelte. For those who have ever owned and appreciated a Movado Sapphire, or a German engineered car, you will understand my initial reaction and continued attraction to the industrial design of this beautiful piece of hardware. The weight is substantial yet the iPhone 4 feels very narrow and thin in the hand. The feeling is quite intoxicating really. If you have used a 3Gs, you will notice the smaller overall size right away. The phone fits more comfortably in one hand and can be more easily used with one hand. One-handed usage was possible with the 3Gs, the new size and shape of the iPhone 4, make one-handed usage both practical and productive.
BEAUTY BEHIND THE GLASS
Setting the look and feel of the iPhone 4 aside for a moment, the real magic of this device happens when one presses the power button. I had read a great deal regarding the new Retina Display of iPhone 4. All who were lucky enough to spend a little time with the iPhone 4 at WWDC, seem to be blown away by this new display. I won't bore you with all of the science and specs which you have, by this time, heard and or read many times over.
I will put my very un-scientific test of the Retina Display in the simplest of terms. I am visually impaired and the Retina Display aids my visual impairment. For me, there is no greater endorsement for this new device. With earlier iPhone displays, I needed to magnify the text significantly in order to read it. With the Retina Display, I haven't had to magnify the text as often. Astonishing!
MY NEW POINT & SHOOT
Before the iPhone 4, Apple had made modest improvements and tweaks to the iPhone camera system. The most notable improvement came with the 3Gs. With improved resolution, the ability to tap and focus, and standard definition video the camera system on the 3Gs was reaching a passable level.
With iPhone 4, Apple was clearly on a mission to upgrade the lagging camera system. So far, I have been impressed with the camera's capabilities. The front facing camera is great for those quick portraits with family or friends. There is a marked improvement in the quality of the pictures taken with the rear-facing camera. As a photographer, It can be a pain to carry one of my heavy and expensive DSLRs around for that non-paying photo op. Recently, I was in the market for a high-end point and shoot that would allow me to take some quality pictures without the bulk of a DSLR. I have now decided to hold off on that purchase and use the iPhone 4. As they say, "the best camera is the one you have with you."
The video capabilities have been substantially upgraded within iPhone 4. With the ability to shoot HD quality video (720p @ 30fps) and the addition of Apple's Tap to Focus technology (which also allows one to change the focus point while recording), Apple has given budding videographers some useful tools to use. Add to this improved tool set, iMovie for iPhone 4, and the possibilities become very interesting.
MUCH ADO ABOUT SOMETHING
There has been a great deal of negative electronic ink directed toward Apple because people can hold the iPhone 4 in such a way as to degrade the cellular signal. The issue seems to be caused when one uses his or her finger to bridge the lower left seem in the outer metal band.
My reception experience with the iPhone 4 has been nothing short of stellar. Not only am I noticing better cellular reception in places where my 3Gs failed to receive even one bar, but my WiFi reception has improved as well. I have not been able to replicate the problem that some have experienced. However, I do know that every previous cell phone, both Apple and non-Apple, has had reception issues of one sort or another. Some were based upon how one held the device, some were just poor antenna design and implementation. If the beautiful design and better reception mean holding the caseless iPhone in a certain way or displaying my iPhone in a case or bumper, so be it. Seems like a small price to pay for beauty and great reception, IMO.
PUTTING IT ALL TOGETHER
As a veteran iPhone user, I have to say, this is the second coming of the iPhone for me. The first iPhone was beautiful and revolutionary. None of the subsequent incarnations have wowed me. They have been incremental in their advancements and pretty much held to the original design ethos. The iPhone 4 has, like its great grandfather, set a new bar for the rest of the world to aspire toward. Yes, there are phones on the market that have more hardware features and larger screens, however, none of them have been able to beautifully and intelligently harmonize the hardware, software, and industrial design. In short, none of them measures up to an Apple iPhone.