Skinny Sleeve & Slick Case – iPad
Company: Acme Made
Price: $29.99, $39.99
Product Page
Acme Made is a relative newcomer to the crowed case market. It is easy to understand why they would want to jump on the iPad bandwagon. Read on and discover if their products are for you.
DESIGN
The Skinny Sleeve and the Slick Case are well made and are of a quality commensurate with their price point.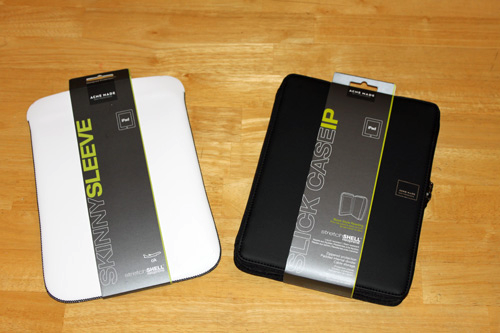 The Skinny Sleeve: This is a very thin sleeve. It will definitely not add much to the already thin iPad. Acme has used a material it calls, "StretchShell" neoprene which is water and stain resistant while adding minimal bulk.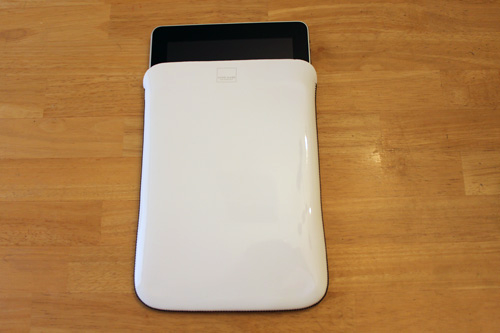 The material does indeed stretch to fit the iPad and seems to be very hardy. The outside of the sleeve has been given a gloss finish. Like the gloss screen of most new Apple devices, you either like or you don't. I found the gloss finish to be a nice touch. Jump to the product page for more information.
The Slick Case: The Slick is intended to be the iPad case of choice for the road warrior.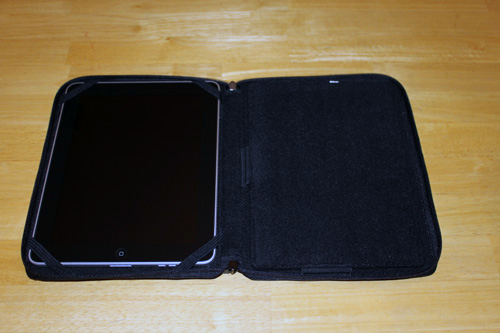 The zippered folio-styled case includes a cable compartment to hold your charger and a few other small accessories. It is designed to keep the accessories securely in the compartment and thus be, "scratch-proof". Like the Skinny Sleeve, the Slick Case uses Acme Made's "StretchShell" neoprene for optimal protection and fit. Jump to the product page for more information.
USABILITY
I found both the Skinny Sleeve and the Slick Case to work fine and provide the iPad with reasonable protection. In terms of Swag-appeal, neither case really stands out among the sea of iPad cases currently flooding the market. If you want a well made case that will protect your iPad and get you from point A to point B, either case from Acme Made would be a good choice.
MyMac.com Review Rating:
The Skinny Sleeve and Slick Case from Acme Made, are well made protective cases for the iPad. In terms of design and pricing, they fall right about in the middle of just about every other protective case for the iPad. You will not standout from the crowd by using this product, but how many people really want to standout? I am awarding these cases from Acme Made an above average rating of 6 out of 10 in our MyMac.com Rating System.