TuneFan
Company: Macally
Price: Under $80 online
http://www.macally.com
Note: This item was recently discussed in three MyMac Podcasts — numbers 288, 289, and 290, FYI.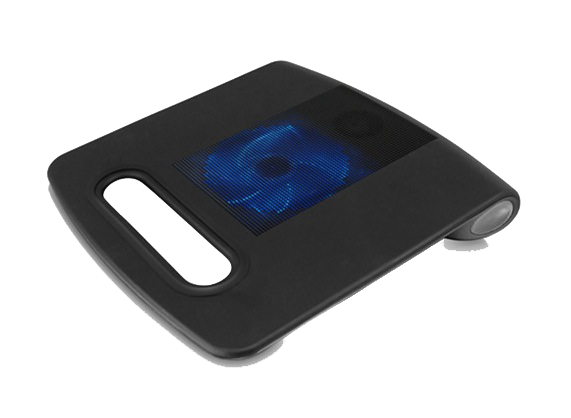 TuneFan is my favorite idiosyncratic computer accessory for 2010. It is a USB-powered laptop cooling fan with a an efficient built in stereo speaker, plus a totally pointless blue glow. The fan is quiet enough to blend into the ambient noise of an office or classroom. A 2.1 speaker delivers spatial stereo to left and right of your laptop computer (any make and model), with bonus bass sensations between your thighs when TuneFan is resting on your lap.
Compared to most laptop computer fans, this product is physically larger and less attractive at first glance. Five minutes using it as a musical lap desk changes that impression forever. It is comfortable on the thighs, and has perfect pitch for typing. Speaking of pitch, TuneFan's native sound output is bass-heavy. The iTunes Equalizer easily allows users to boost midrange and treble for better overall music playback.
Volume is controlled from the source device, which can connect via USB or mini-audio plug. In iTunes, the Equalizer has a Preamp boost slider that can crank up a TuneFan's top volume to really annoy your neighbors, or rock a house party, without any distortion.
TuneFan doesn't deplete a laptop computer's battery excessively quickly when used with USB power. When AC power is available, use it worry-free with the included plug from Macally.
I tested TuneFan's speaker quietly in my living room one evening to make sure it worked. The next day, without comment to my house guests, I started playing music on it from my MacBook Pro, sitting outside on the patio. I gradually raised the volume until they stopped talking, looked at me, and asked where that LOUD music was coming from – certainly not the computer's pathetic speakers!
TuneFan is the only computer accessory that actually gets a seal of approval from my skeptical spouse. She thinks it is hilarious, very clever, and really useful. I'm going to try to take it on our driving vacation this summer. My MacBook Pro will stay cool whether I'm playing cool jazz or hot rock. Hearty recommendation, with a MyMac Review Rating of 9 out of 10.
email – MyMac Magazine – Twitter – Advertise – Reviews Archive – Podcast