3-in-1 Battery Charger
Company: Macally
Price: $49.99
http://www.macally.com
The Macally 3-in-1 battery charger gives you three ways to recharge electronic devices in a playfully designed gadget. My first impression was of an electronic Rubic's Cube or something made from a Lego set. But it's not as frustrating as a Rubic's Cube and although its purpose is simple, it is far more sophisticated than a bucket of Legos.
Any of us can buy separate devices to recharge an iPhone or iPod from an outlet in the house. You can also get yourself a separate gizmo to recharge the battery in a digital camera or laptop from a car's cigarette lighter socket. But the Macally does both things and throws in a third feature that can be very handy.
The 3-in-1 comes with a built-in rechargeable battery. It will recharge itself from your cigarette lighter as you drive – lots of gizmos do that – but it can also be detached from the main unit and plugged into an outlet in your house. In other words, recharge on the go or recharge at home while you're doing others things.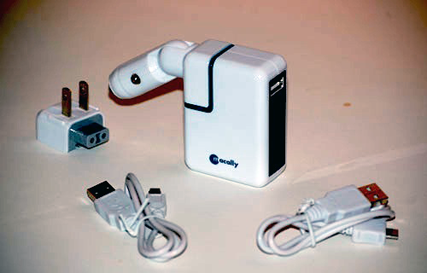 The device comes with two cables, one for USB Mini-B devices and another for Micro USB connections. There's also a handy status button which, when pressed, will tell you how much juice is left in the battery or, if the gadget is plugged into an AC outlet, what the status is of the recharging.
The charger worked well and I liked the whimsical quality in its design, but I balked at the price. It's listed at $49.99 on Macally's website but is advertised for $12 less at Amazon.
Is it worth it? It depends. My needs are such that with a minimum amount of planning, I can charge my phone, digital camera, laptop and iPod for a lot less than that. On the other hand, I have to admit there are times I've resented the amount of electronic spaghetti I had to gather and sort through before getting on a plane.
If you travel a lot and don't want to carry along three or four different cables for every device you own and then try to remember what goes with what, you may well find the Macally 3-in-1 Charger refreshingly convenient. So the choice is yours. Either get organized and practice self discipline or pony up the $50 and let Macally do the heavy lifting.
MyMac Review Rating: 8 out 10

email – MyMac Magazine – Twitter – Advertise – Reviews Archive – Podcast