InDesign CS5 First Look
Company: Adobe
Price: $699.00
http://www.adobe.com/products/indesign/
TRACK TEXT CHANGES
In this modern era of publishing, the arduous task of sending manuscript revisions via e-mail, or worse, USPS, has brought, in many cases, the whole publishing process to a crawl. The development of many different editorial collaboration solutions has helped to improve the overall process. However, the holy grail of editorial collaboration has been the need to have real time collaboration within the actual page layout program. With the advent of Track Text Changes within Adobe InDesign CS5, (cue the angelic sounding choir in the background) that holy grail has become a reality.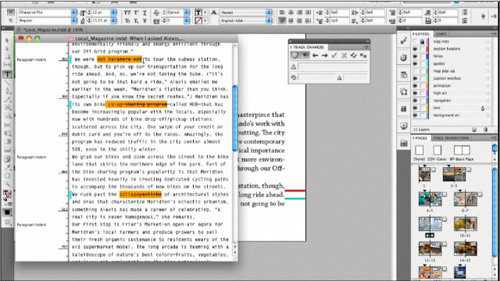 Track Text Changes establishes a close collaborative relationship between author, editor, and printer thereby allowing the whole publication process to become simplified, intuitive, and eminently more productive. For more information of this new feature, jump here.
THE NEW AND IMPROVED LAYERS PANEL
The ability to work with layers has always been a nice feature within InDesign, but it has traditionally come up a little short of having the usefulness of Layers within the Adobe design powerhouse, Illustrator. Adobe has worked very hard to remedy this shortfall by completely reworking the Layers Panel within InDesign CS5. The ability to control and alter individual items within a layer via the disclosure triangle provides a new level of access and configurability within each layer of a document. Easily moving items in and out of grouped items is another time saving feature within the new Layers Panel. For more information of this new feature, jump here.
SPAN AND SPLIT COLUMNS
If you have used InDesign for any length of time, you understand how tedious it can be to work with multiple text blocks on a single page. The headlines, subheads, and body texts never seem to want to play nicely together. Well, thanks to the software elves behind InDesign CS5, you will never have to slave over those text blocks again. With the new Span and Split Columns feature within InDesign CS5, you can change the attributes of your columns without having to create new text blocks and then rearrange those text blocks into something fluid and aesthetically pleasing. Simply select the way you want your headline and text to flow and InDesign does all the heavy lifting. This will save precious time allowing you to focus on other more important processes within the design and production process. For more information of this new feature, jump here.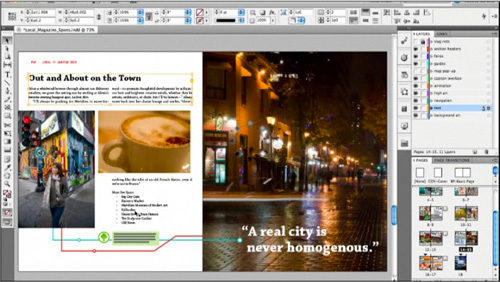 MINI BRIDGE PANEL
Have you ever been working on an InDesign project and wanted to use some other assets from Photoshop, Illustrator, or one of the other content creation programs from Adobe, only to find that you had to jump through hoops to get that asset into InDesign? I have great news! Those days are over! Using the Adobe Bridge content management metaphor, Adobe has developed the Mini Bridge which now resides within the entire Creative Suite 5 suite of programs. Simply expose the Mini Bridge panel and drag your assets right into your InDesign project. For more information of this new feature, jump here.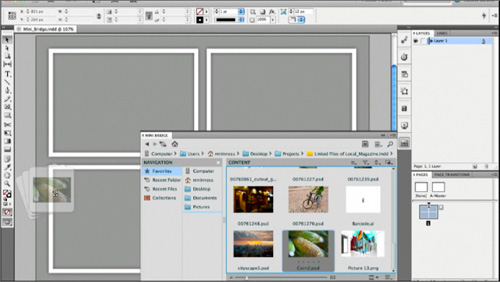 FEATURES O PLENTY
There are many new features within this new version of InDesign, too many to cover in this First Look. With this in mind, I encourage you to download the trial version from Adobe, kick the tires and check the seats for comfort. I'm sure you will find this to be a robust and full featured page layout application that will make your production time, well, MORE PRODUCTIVE. Stay tuned for our full review of this fine product from Adobe.
email – MyMac Magazine – Twitter – Advertise – Reviews Archive – Podcast