iStopMotion 2
Company: Boinx Software
Price: $49 (Home); $99 (Express); $499 (Pro)
http://www.boinx.com/istopmotion/overview/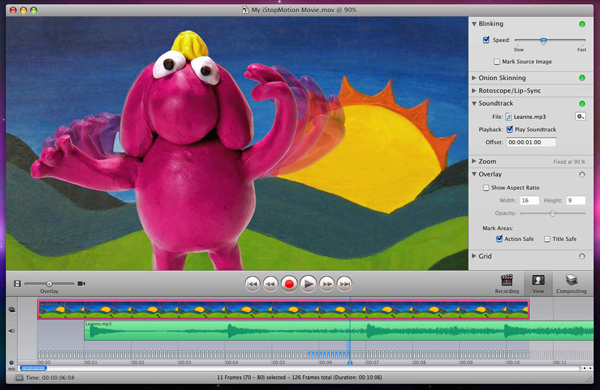 I vividly recall my excitement as a kid when the holiday season approached and my favorite Rankin-Bass holiday classics would once again make a fleeting appearance that helped fuel my anticipation for Christmas morning. What kid could tire of "Rudolph the Red-Nosed Reindeer," or "Santa Claus is Coming to Town?" I was mesmerized by the claymation techniques the animators employed to create these holiday classics. These days, the ability to imitate their art form is just a click away with the purchase of Boinx Software's iStopMotion 2.
iStopMotion 2 allows people of all ages to easily create amazing stop-motion animations right at home. As an educator, I foresee any number of ways to employ this software in helping my students grasp important scientific concepts. With my Earth science classes, I'm going to try the built-in time lapse feature to create videos of processes that occur too slowly in real-time to see clearly. Blooming flowers, the motions of insects and earthworms for behavioral studies and the motions of the Sun are all projects I'm considering. iStopMotion is so easy to use, I'm certain the kids will be creating these types of videos all by themselves with little instruction from me.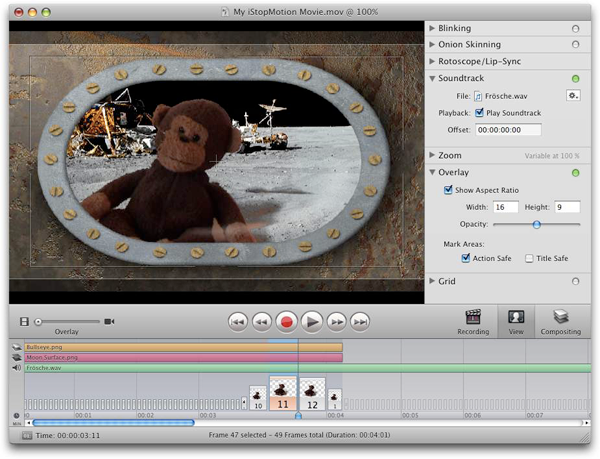 The user interface is simple to use. After starting a new project and setting your video size and frame rate, you can begin creating videos by simply pressing a large red button near the center of the screen, capturing a single frame at a time. A ghost image (Live Video Overlay) of your previous frame remains on the screen to help align your object for the next frame's capture. This is really helpful in maintaining the desired smooth motions and even speeds of your objects being filmed.
Since I'm teaching a unit on meteorology, I've decided to run some test footage with iStopMotion 2 to get a feel for some of the software's capabilities. For the test, I've set up a Canon ZR950 MiniDV camera on a tripod at my lab's window. I have pointed the camera at the roof-mounted weather station and set iStopMotion 2 to run a time-lapse recording of the clouds passing overhead. I used a frame rate of 10 fps, which isn't ideal for the smoothest video, but works very well for the lessons I want my students to learn from the video. At a capture rate of one frame every ten seconds, I have created a way to capture the motions of clouds as they pass over my high school that are not easily perceived in real time.
With a single click, iStopMotion turns nearly one hour of real time footage into 30 seconds of time-lapse video. The resulting cloud motions are impressive and my students think it's amazing. I have posted the footage on YouTube here (and below) My students are now bugging me to try more techniques out using some of the other features in iStopMotion 2. I can't say that I'm complaining – I managed to get a bunch of 15-year-olds to WANT to learn about science!
When creating stop-motion video, iStopMotion 2 offers an extremely useful Live Video Overlay feature that uses a slider to control how much of the last frame and how much of the live frame you can see on your screen. This makes it easier to gauge how much you need to move your subject for the next frame's capture.
Onion skinning is another great feature for animators. Onion skinning allows you to superimpose up to five previous frames on your screen to get a better feel for how your animated creation is going to look. It allows you to move the object of your animation and to then compare how its motion looks in real time. It helps keep your object's movement even and steady. A very useful feature!
If you prefer not to have ghost images confusing your composition as you set up each frame, you can utilize the Blinking feature. Blinking allows you to select any time interval for your screen to blink between the previous frame and the current frame to allow you to get a better feel for how your animation is progressing.
For those of you working solo and prefer not to run back and forth between your computer and your scene, iStopMotion also has a Voice-Activation feature. You can trigger the next frame capture audibly, saving you a tremendous amount of time.
You can purchase one of several different versions of iStopMotion, depending upon your needs or financial situation. iStopMotion 2 Home is $49 for a single user and $89 for a five-license family pack. It offers fewer high-end features, but will suit the needs of most people very well. iStopMotion 2 Express offers several more features such as rotoscoping and soundtracking at a cost of $99 for a single license and $179 for a five-license family pack. iStopMotion 2 Pro is fairly pricey at $499, but it offers everything professional animators could possibly need, including Final Cut Pro integration and HD support.
Overall, iStopMotion 2 offers users an amazing new venue for creativity. It's a fun way for educators to bring new methods of learning into their classrooms and it offers families way to become closer and create lasting memories. I can't wait to continue using the software over the years to come. Simply put, I love it.
Hardware requirements:
Computers vary a great deal, but you want as much RAM as possible. A good graphics card is important as well.
iSight camera or digital still camera
Other supported cameras
A tripod would be a VERY good idea
Software requirements:
Mac OS 10.4 Tiger or later
Quicktime 7.1 or higher
Universal application — works on PowerPC or Intel Macs
MyMac.com review rating: 9 out of 10
email – MyMac Magazine – Twitter – Advertise – Reviews Archive – Podcast