Eos Converge Wireless Audio Transmitter, Receivers, and Speakers
Company: IntelliTouch
Price: $100 to $150 per component, with bundle discounts available
http://www.eoswireless.com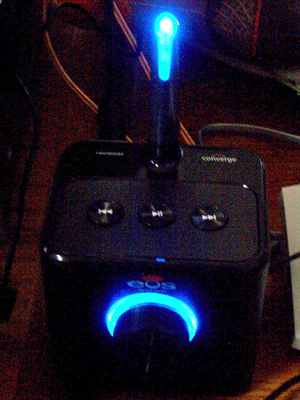 Converge components work via a source and target system. The Eos $100 Transmitter can be powered via USB or AC, with all cables and plugs included. It transmits the source audio signal from a computer, iPod, iPhone, MP3 player, or other music device. IntelliTouch advises: "To avoid signal swamping from WiFi to Eos Wireless we provide a 6' USB cable."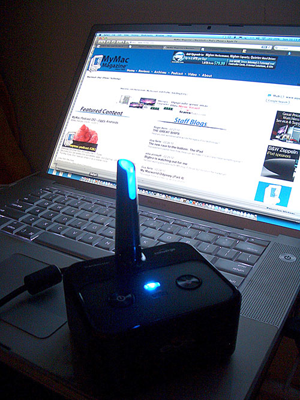 When an Eos Transmitter is powered, its blue antenna lights up. The Transmitter has a Source button that you push to tell it whether your audio signal originates from a USB connection or the auxiliary port. There is no step two. The company claims a 150 foot broadcast range for up to four receivers, but in our MyMac tests the audio began to break up after 50 feet through multiple interior and exterior walls at standard transmission range, which has best audio quality. You can learn much more about IntelliTouch's custom GigaWave wireless technology at the extensive product web site.
Very good printed documentation is included with each Eos Converge component. Toll-free USA phone tech support is available, in addition to email and web contact methods. A risk-free 30-day money back guarantee is offered, as is free shipping to the contiguous 48 United States, with no sales tax charged on shipments worldwide.
The simplest way to listen to IntelliTouch's Converge wireless audio is with the company's dedicated $130 powered speaker, the Eos Portable Stereo Wireless Speaker/Receiver, with its built-in matching GigaWave technology. This indoor-outdoor AC powered speaker is extremely versatile. It can reside on any horizontal surface when the power supply is removed from its tucked-in position, or hang from a wall power outlet, if the latter is high enough off the ground.
IntelliTouch's representative tells MyMac: "The enclosure is weather proof and works very well in outdoor environments. Just keep it away from direct exposure to water. I have an Eos portable speaker/receiver that lives outside. Just last night I left it plugged in outside during a rain storm. It's still working this morning."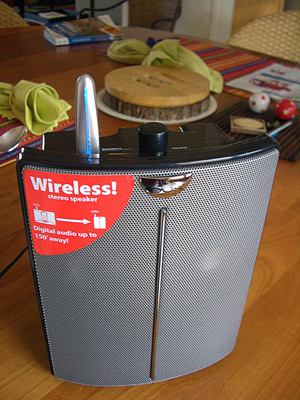 Sound delivery is good for general listening situations from the two frontal tweeters and one rear firing woofer. The company is aware that customers request two additional options: battery power and improved audio quality, either of which will add substantially to this speaker's modest price.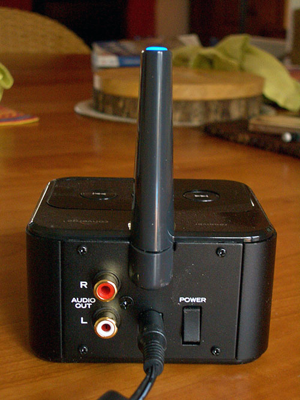 Two Eos Converge Receivers are available: one for powered speakers and one for traditional speakers. For powered speakers, audio systems, or a television audio input, the $100 Eos Converge Receiver can connect both to left/right RCA audio jacks and single input 3.5mm stereo mini jacks, thanks to a versatile included Y-cable. This company tries to think of everything its consumers will need, in advance.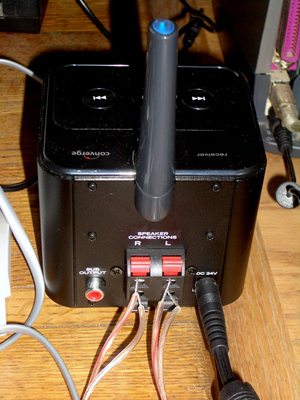 IntelliTouch's $150 Eos Converge Amplified Receiver has a digital amp and rear panel cable spring terminals for left and right bare speaker wire strands, plus an RCA output for an amplified subwoofer that the user can provide. On the front is a large rotating on/off/volume knob, plus a mini stereo input. As with all Eos transmitters and receivers, blue LED antennas confirm connections are made, typically within a second or two.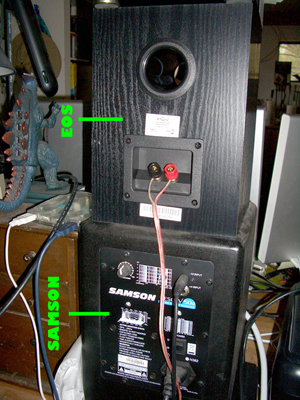 Attractive, compact, and affordable $100 Eos Loudspeakers are acoustically matched to the Converge Amplified Receiver. One woofer and one tweeter are in each black ash enclosure. Audio performance is powerful, with neutral "reference" inherent equalization. You will NEED to fine tune your bass-midrange-treble settings for an enjoyable listening experience. These speakers compare favorably to to the much more powerful and expensive Resolv 50a Active Powered Small Studio Monitor Speakers from Samson Audio, reviewed here, notwithstanding the need for an Eos amplifier.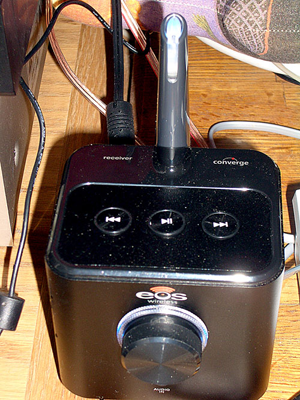 Top deck controls enable play/pause and forward/reverse tracking for many common audio devices, when used in conjunction with Eos components. Apple's free Remote iApp includes the same features, plus several more, for iPhone and iPod touch.
Eos Converge products have won one major industry award, and have many favorable reviews from consumer and tech media. A brief explanation of IntelliTouch's GigaWave technology is in the Quick Links area, upper right, at the company's web site, along with FAQ and Support material. MyMac applauds the many ways consumers are the top priority at this innovative company.
Prior to using and testing Converge equipment, I was skeptical that Eos gear would be cheap junk covered by oodles of hype. Not true. Quality of technology and manufacturing is high, with abundant documentation and customer support. I keep finding new uses in my house and studio/office for these products, and my wife is a good sport each time I'm testing a different player-transmitter-receiver-speaker combination.
My favorite everyday Eos audio setup has my MacBook Pro streaming Netflix instant play sound content via a powered Converge Transmitter, through my house from a DSL wireless modem/router to the computer to a Converge Receiver, which has a cable running to HDMI audio input on my Panasonic HDTV. (Apple DVI to HDMI video doesn't carry an audio signal.) Seems complicated, but it's darn simple, and requires less than a minute to begin streaming a Netflix program.
Some reduction in AirPort signal or MacBook Pro processor strength has been experienced using USB power with Converge during Netflix streaming, so if you have a similar problem, power your Eos Transmitter with electric current from its built-in power brick plug.
IntelliTouch's claims of Eos signal quality are not overstated. Your individual physical situation will determine optimum distances for wireless performance. There is a sweet spot for each indoor and outdoor placement of Eos components, whether at standard or extended transmission range.
Recommended, with a MyMac Review Rating of 8 out of 10.
email – MyMac Magazine – Twitter – Advertise – Reviews Archive – Podcast