ArtStudio
Company: Lucky Clan
Price: $3.99
iTunes Link
I have tried a bunch of art apps for the iPod Touch/iPhone. I have even reviewed quite a few. Most recently, I was given the opportunity to try out a new kid on the block called ArtStudio. After playing with ArtStudio (and I mean playing, because it is fun) for many days I have to say this is the best drawing/painting app I have tried for my iPod Touch. It is FANTASTIC! and probably the closest thing to Painter or ArtRage for the Mac desktop.
Let's take a step back. ArtStudio is a full featured paint/drawing program for the iPod Touch and iPhone. It is packed with features from layers, to multiple undos, to a smudge tool, to drawing an painting media like a pencil, paintbrush, and airbrush. It has a color mixer and an eyedropper tool. It has all of the features I would want in an art program.
All of these tools and features are great, but they have to be implemented well and ArtStudio does this in the best way I have seen. First, for drawing it is great. The entire drawing/painting process was smooth and responsive. I could not stop using this when I installed it. I was having that much fun with it.
What makes the program such a great experience is the interface. Everything from brush size, to tools, to layers, to colors, etc can all be seen on one screen while you work in little popup menus. No need to click an icon and go back and forth between screens to make your selection (which drives me crazy in other apps). ArtStudio has it all on the main screen for you. The brush size is visible at the top of the screen while you work.
You can also zoom in to your painting and move around the screen as you work so you have a bigger canvas. There are many multitouch commands that are easily viewable through one of the menus.
If you want to change settings to a tool just tap and hold the tool for settings.
Did I mention ArtStudio has layers. I think I did, but it is worth mentioning again. An art program is so much better with layers.
My favorite tool to this point is the blend tool. Blending works great and I could not stop blending my painting.
I almost forgot to mention the in-app art lessons. Some of the lessons include drawing in perspective, drawing a person, and drawing animals. A real nice addition to a packed app!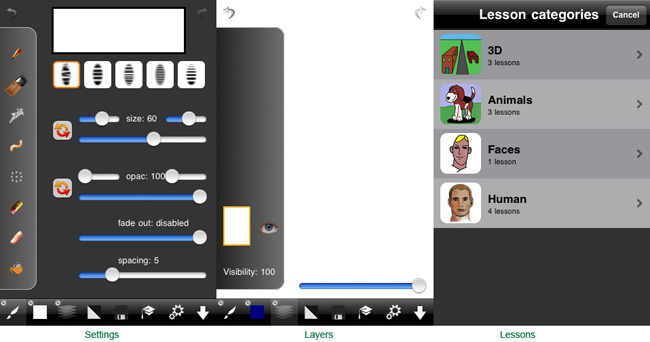 My only complaint about ArtStudio is exporting images. You can export images in many different ways to get them off of your iPod or iPhone. However, the quality is no greater than 4×6 at 72dpi. If I paint a fantastic painting in the app I want to be able to make it bigger than 4×6, especially if I want to print it.
With that said, here are a few paintings I did in ArtStudio (with my finger). Once I finished I kept playing and added a second layer.
Overall, ArtStudio is on my must have app list and has a permanent space on my iPod Touch (and hopefully iPad when it comes out- I would love an iPad version). If exported image quality was better this would be an easy 10 out of 10, but I have to take off a point for that.
Coming soon to MyMac.com- an interview with iphone artist Corliss Blakely (www.artistinvermont.com) who use ArtStudio create some fantastic paintings with her iPhone! She even painted the splash screen for ArtStudio.
email – MyMac Magazine – Twitter – Advertise – Reviews Archive – Podcast