Moderna MS-400 Folding Headphones
Company: Phiaton
Price: $249
https://www.phiaton.com/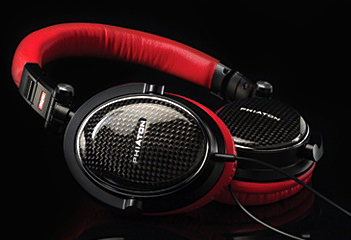 MS-400 are the best compact, folding, DJ-style headphones we have reviewed at MyMac. Personal listening is their purpose, and they can be used in a DJ or studio environment with an extension audio cable.
The first things you notice about the MS-400 Moderna over-ear headphones is they are remarkably comfortable. Their light weight and anatomically correct design allow them to fit well even when you are wearing glasses. The next feature that captures your attention is the powerful but not overpowering bass. There is more punch and clarity at the low end than you ever have experienced.
Next you will wonder if there is something missing in midrange and treble delivery. Did you make a mistake spending $249 on a colorful dud with fabulous bass and not much more? Don't worry! Play the Phiaton 'phones in your sock drawer for a couple of days at a 70 percent volume level on your iPod, to open up the sophisticated speaker drivers and liberate the dormant midrange and higher frequencies. Here is an Internet discussion on breaking in headphones.
MS-400 resides and travels in a snug, zippered case. Earcups are clearly marked for left and right ears. They fold and pivot for storage, and extend to fit small or large heads for listening. The audio cable is shorter than it should be, so you may decide to purchase an extension cable, depending upon your listening situation. A 1/4″ audio plug is screwed over the smaller iPod-size 1/8″ mini audio plug that most of us use. Unscrew the larger plug, and store it safely in the mesh pocket within the carrying case.
The company recommends slight treble equalization boost for the most balanced listening experience. You can tweak your EQ settings in iTunes, or on your home or car stereo system to your specifications. With an iPod or iPhone, I recommend the TrebleBooster setting, located by following this route: Settings > EQ > Treble Booster.
If you commute via public transportation, or use your headphones in risky public places, these strikingly colorful headphones shout out "Steal me!" It is best to confine your wearing of Phiaton's Modernas to locations where you are safe from roving hands.
Passive ambient noise reduction is good to very good, depending upon the offending volume and frequency range. For most listeners in most noisy situations, including commercial aircraft, you will hear a whole lot of what you want to hear. Music and speech come through clearly, instead of what is happening beyond the well-sealed earcups.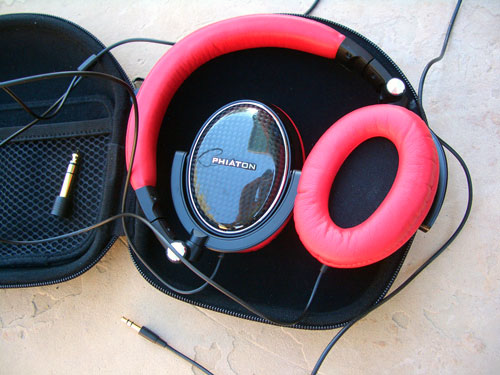 After the break-in period for the earpiece speaker drivers, you will gradually become accustomed to MS-400's unusual sonic spectrum. Bass response is consistently satisfying, with its punchy presence, and midrange through treble blend together with a slight dip in response centered on the human vocal range. This acoustical attribute encourages deeper listening, unlike most less-expensive headphones, with which you wish the vocals were not in-your-face.
MS-400 makes nice with your head while it plays loud with your music. As you turn up the volume on your iPod or other musical source, the experience becomes more and more immersive and enjoyable without distortion, again unlike most other headphones. Be careful to respect the long-term health and safety of your ears, because it is tempting to push these Phiaton 'phones beyond the sensible listening level.
As with most premium headphones, MS-400 is not forgiving of inferior recordings, independently of whether they are contemporary or older. Plenty of terrific music from the past was well-recorded, although much of it was not. The same holds true with recent recordings. Trust me on this one, because I listen to over fifty diversified tracks daily in controlled conditions.
MyMac recommends MS-400 primarily for serious fans of all varieties of popular music and jazz. Not everyone can afford $249 headphones, but listeners who groove on bass-rich tracks will be delighted. I am not much of a bass nutcase. The overall physical and audio experience is very pleasing to my spectacled head and well-tuned ears, and it justifies the price tag. Translation: the more I use them the more I like them and find I want to use them.
MS-400 are different, comfortable, colorful, and they are now my favorite sealed-earcup over-ear headphones. 8 out of 10 MyMac Review Rating.
* * * * * * * * * * * * * * * *
Addendum with headphone evaluation selections and comments
For this product review, I listened to the following rich and satisfying tracks, which gave me a good overview of musical styles and recording methods:
"Am I Blue" by Julie London
"Bach Lute Suite in G Minor (Prelude) BWV 995" by Elizabeth Farr
"Battle At Devil's Den" from Gettysburg
"Best of My Love" by the Eagles
"Cold, Cold Heart" by Faron Young
"Daddy's Little Girl" by the Mills Brothers
"Urge for Going" by Joni Mitchell
Midrange and treble registers appear more blended than articulated, similar to the sound from recording studio control room monitors.
The most exciting audio reproduction was when listening to these pop tracks:
"Love Struck" by V Factory
"Bulletproof" by La Roux
"Caribbean Queen" by Billy Ocean (which I have heard hundreds of times, but never as with these headphones)
* * * * * * * * * * * * * * * *
When you do a web search for "phiaton ms 400 review" (quotation marks not needed), you will be able to locate and read longer, eloquent reviews aimed at audiophiles and sonic gear-heads, in addition to the general public. MyMac received our evaluation MS-400 set after other online publications, but our comments are original. We don't need to restate what is freely available elsewhere, or compete with their excellent product photos.
email – MyMac Magazine – Twitter – Advertise – Reviews Archive – Podcast