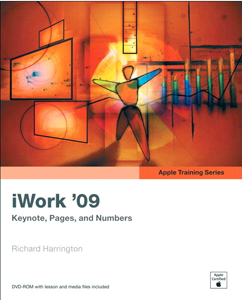 iWork '09 – Keynote, Pages, and Numbers – Apple Training Series
Company: Peachpit Press
Price: $39.99 US $47.99 Canada
http://www.peachpit.com/
Are you using iWork? I use Keynote and Pages quite a bit and I am still getting familiar with Numbers. I find that I like them much better than the MS Office Apps. Remarkably, they don't crash like the MS apps do.
I use Keynote for training presentations where I work. I have had attendees tell me I have "raised the bar" with regard to presentations. I find Keynote much more flexible than PowerPoint, easier to use, with better transitions. I use Pages for all of my word processing, and it is a great tool for page layouts, with many predefined templates. I have just begun working with Numbers, and I feel confident I will move over from Excel down the road.
If you use the iWork suite of software, or would like to use it more, the iWork '09 Apple Training Series book is a great tool that will help you learn how to use the various programs, or if you are familiar with iWork, help you to use them better.
The book itself is set up as a series of "Lessons." Lessons 1 through 7 revolve around Keynote, 8 through 12, Pages and lessons 13 through 16 are dedicated to Numbers. This book includes a DVD-ROM which contains all of the files you'll need to complete the lessons. In addition, you can sign up with Peachpit Press and gain searchable access to the book online for 45 days. I think this is a wonderful benefit, but I feel you should have access forever.
You can either work through the lessons or use the book as a reference tool. The included Keynote lessons help you understand how to choose themes, and explain how to work with master slides, and adding pictures and movies, to name just a few. Did you know you can even do a little photo enhancement within Keynote? The book also includes some great information about Keynote output. Keynote can output to a variety of formats including PowerPoint and even a QuickTime movie. Detailed instructions are included.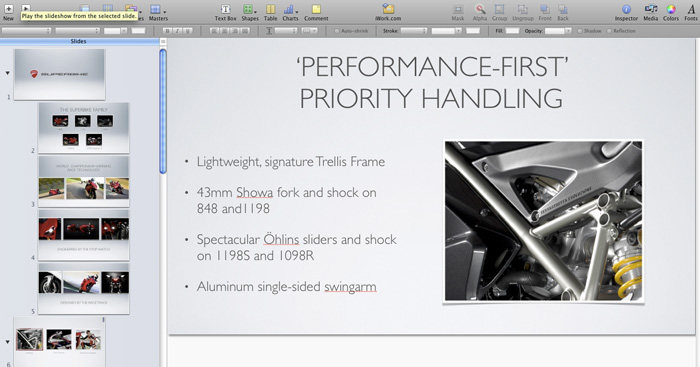 In the "Pages: Publishing Made Easy" section you will learn how to use Pages as a Word processor, or a page layout program. iWork '09 walks you through the various formatting options, how to add graphics and links, as well as how to use the templates included in the program. The lessons walk you through a page layout project.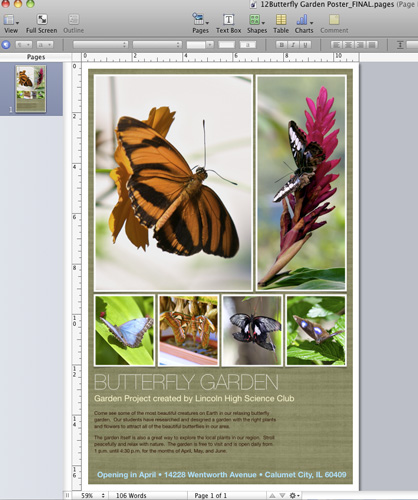 Finally, you get to spend some time with Numbers. I'm new to Numbers and I found the walkthroughs and lessons very helpful. In no time I was up and running with some charting projects I want to use on my weather website. Like the rest of the book, the lessons are very helpful and take away a problem I always have, which is where do I start? The lessons help you use pictures (take that, Excel!) within your spreadsheet, how to apply the various formulas, and using the great looking charts.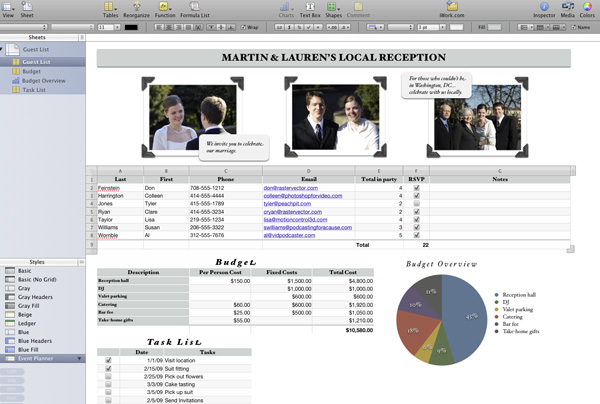 iWork '09 – Keynote, Pages, and Numbers, is a great book for beginners and old dogs like me who have been using the MS Office suite so long, we've almost forgotten how to be creative with a word processor or spreadsheet.
If you use iWork, or would like to, you must have this book.
email – MyMac Magazine – Twitter – Advertise – Reviews Archive – Podcast