Store 'n' Go USB Drive for Mac OS X – 8GB
Company: Verbatim
Price: $35 to $40 online
http://www.verbatim.com
The talented engineers at Verbatim devised a way for Mac users to have a secure, portable storage area alongside a generic storage volume, all on the same USB flash drive. Users decide how much space they need in the Private Zone, and the Public Zone fills the rest of the 8GB capacity. Password-protected access is available from any Mac running 10.4.11 or higher, including Snow Leopard; PowerPC Macs are also welcome to the party.
Since King Tut attended kindergarten, USB flash drives have been factory-formatted for Windows systems, with the expectation that Mac users are able to manage data in that "FAT" file structure. Bravo to Verbatim for providing Apple computer owners with a custom-designed device that addresses several solutions simultaneously.
I have never been a fan of slide-out USB plugs on jump drives, but I'm prepared to make an exception in this case. It's too easy accidentally to slide the tip out, but once extended, it stays in place until you gently depress the slider knob to release it from the locked open position. A generous V-shaped space at the other end is convenient for placing Store 'n' Go on a key ring. Don't lose it!
There is nothing written or etched on the exterior to identify this USB flash drive as anything other than boring and generic. If it falls into evil hands, no hacker will be able to unlock your encrypted Private Zone protected files (see below). The case feels insubstantial, but that may also be misleading, because Verbatim gear tends toward rugged standards, from prior experience.
* * * * * * * * * * * * * * * *
Upon initial insertion into a Mac's USB port, Store 'n' Go appears in your Sidebar's list of devices, and on your Desktop. Double click to access that volume, and you are introduced to the following screen: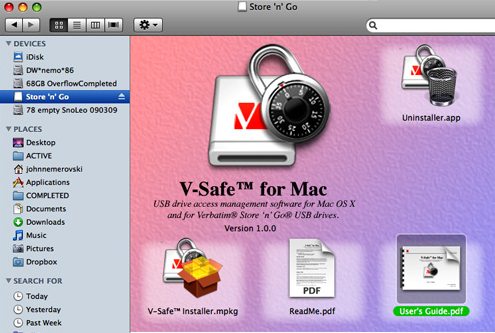 Please read the ReadMe.pdf, including this exhortation:
While Store 'n' Go will automatically be recognized by your system, we strongly suggest that you install the provided software, which supports the security features of your Store 'n' Go drive. To safely disconnect the Store 'n' Go drive from your computer, drag it's icon from the Desktop onto the Eject (Trash) icon, wait for the LED indicator to stop flashing, and then disconnect the Store 'n' Go.
Disregarding the misuse of "it's," instead of "its," the above is good advice.
Study the brief User's Guide.pdf. I drag-copied it to my Desktop to read it, in case it got lost somehow during installation of the V-Safe security software (it didn't). Note the toll free USA phone number and Web URL for tech support on page two of the PDF guide.
As instructed, double-click to launch the V-Safe installer "and follow the onscreen instructions." A typical Macintosh software license approval and installation sequence takes place. Don't "Customize." You'll need to restart your Mac after the application has been installed, which takes only a few seconds.
The Verbatim drive's icon has a new look. More important, according to the User Guide:
V-Safe consists of two major components.
1) A device driver which supports the Store 'n' Go drive. Without this driver, only the public zone of the Store 'n' Go drive can be accessed.
2) A utility application (V-Safe.app) which is used to manage your Store 'n' Go drive.
The V-Safe application folder is appropriately located in the Utilities folder within your Applications folder, accompanied by an Uninstaller.app and the aforementioned User's Guide, in English. Launch the V-Safe.app, and drag the Usage slider to set the size of your secure/unsecured zones, then click Format to complete the process. An important reminder in the guide is:
Note: Select the FAT format option for the public zone if you intend to interchange public zone data with a Windows PC.
I agree with this advice.
I split my Private and Public Zones into equal size, not yet knowing how much space I would need for either one, and hoping I could alter them in future, as needed (I can). Don't be alarmed that the total capacity somehow shrinks from 8GB to 7.5GB, because that is standard.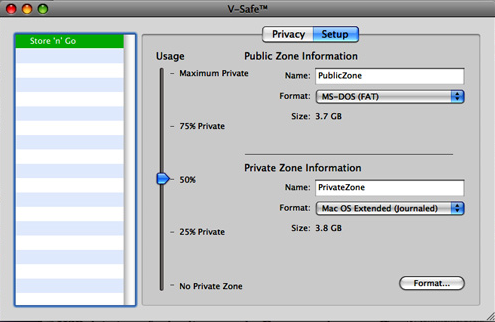 Click Format again when warned all your prior data will be erased. Create and verify your Store 'n' Go password, adding a hint. If you totally forget your password, you are sunk. That's not a technical term, but you know what it means.
Thirty seconds later you get the following screen, which is self-explanatory. I like that you can change the password, and that Write Protect is an option for additional data security. Hooray: the Setup tab allows you to change the format and size of your two zones after login.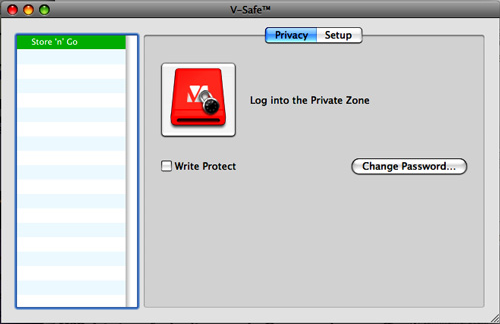 When in the Private Zone, it appears on your Mac's Desktop and in your Devices Sidebar; the Public Zone replaces it when logged out of Private Zone.
USB data transfer is ultra-speedy. For example, a 1.35GB folder containing 1,805 files and subfolders took 2:45 minutes to transfer, on my pre-Unibody MacBook Pro. A pleasant blue LED on the top of the Store 'n' Go's case blinks gently during the read/write process.
This is a fine product that deserves a hearty thank you to the company and a generous MyMac rating of 4.5 out of 5. Larger capacity drives will be embraced by the Mac community, I predict, as they become available, especially for protecting personal data on techies' flash drives. MyMac requests that Verbatim develop GUID Partition Map units, so Snow Leopard can be installed onto them.
email – MyMac Magazine – Twitter – Advertise – Reviews Archive – Podcast