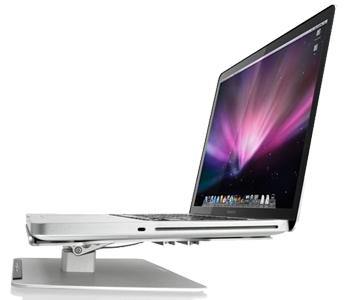 Laptop Lift L1
Company: LUXA2 / Thermaltake
Price: $71 to $97 at online merchants
http://www.luxa2.com/products/laptoplift/l1/design.html
LUXA2 values style and ingenuity at least as much as form and function. After you place your MacBook Pro or other portable computer on the Laptop Lift L1, you physically adjust the height and pitch of the stand's deck to suit your work environment. An impressive pressure spring keeps everything in place, although at first you expect it to catapult your precious computer across the room.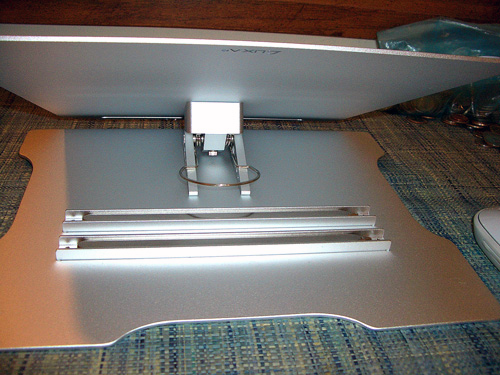 "How does the pressure spring work for height adjustment?" I asked the company representative. She replied:
Basically the hinge is connected to a spring which clicks into motion when pressure is applied. The spring can sustain up to three kilograms of weight, allowing your notebook/MacBook to be adjusted upward and/or downward until your desired viewing angle has been reached. You can also refer to an animated illustration of the mechanism in action here.
That video is slick and impressive, but it doesn't tell us much about L1's method of heat absorption. My next question was:
"How does the heat sink work, for temperature lowering?" Her reply is below.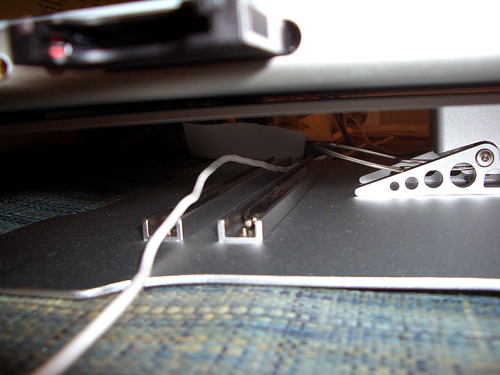 The parallel dual heat-pipes spread from one side of the L1 all the way to the other side, providing a long enough surface distance for ideal internal heat dissipation through vaporization. The heat-pipes are ideally located at the back end of the notebook where usually the hottest components are installed. See illustrations at our web site.
An additional description on the LUXA2 site states:
With dual heat-pipe integrated, L1 enhances superior heat dissipation by providing direct heat conduction path between laptop's bottom casing and L1's aluminum surface. L1 is a silent thermal solution that offers users a very comfortable computing experience.
There is no fan, so all heat transfer is passive. MacBook Pros get hot, and Laptop Lift 1 does an admirable job of moderating a computer's temperature. I have used it all day every day for three weeks, and it has earned a permanent spot on the dresser where I work for hours each day. Laptop elevation, angle, and temperature are now optimized for me.
One model of L1 is sized to accommodate any Mac laptop. I'm using a 15″ MacBook Pro, with much success.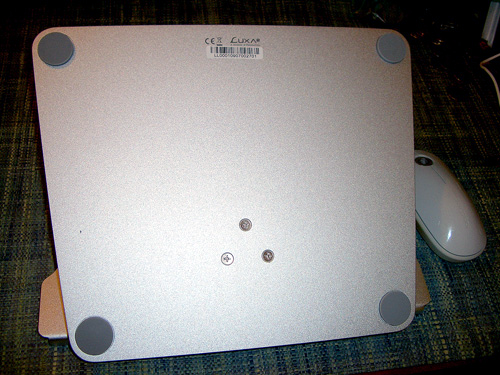 The brushed metal finish is splendid. I'm not sure about the significance of LUXA2 emphasizing that Swarovski crystals are used, or their location. With our without them, this is a gorgeous, versatile product that is easy to recommend for discriminating purchasers. Attractive photos are at the LUXA2 Gallery page.
email – MyMac Magazine – Twitter – Advertise – Reviews Archive – Podcast