OWC On-The-Go Pro 500GB 7200RPM FW800/FW400/USB 2.0 Storage Solution
Company: Other World Computing
Price: $229.99
http://www.macsales.com/
How does that old adage go? "You want good, fast and cheap? Pick two." OWC's new 500GB 7200RPM Mercury On-The-Go Pro portable drive certainly has the "good" and the "fast" covered, although at $229 list, I can't actually say this bus-powered, FireWire 400/800 and USB 1.1/2.0 drive is "cheap." Still, it's a remarkably reasonable price for this package, which includes connecting cables for all three interfaces and a handy carrying pouch, plus a software bundle for both Mac and Windows that contains backup and utility software along with nearly two gigabytes of Mac freeware, shareware, updates, icons and more.
As I've not yet encountered a portable (2.5″) drive with both a FireWire 800 interface and a 7200RPM drive mechanism, I conducted a fairly exhaustive search to determine if this new Mercury On-The-Go (MOTG) model has any competition when compared "apples to apples" (sorry, couldn't resist) with similar drives. The closest device I could find was LaCie's 500GB "Rugged All-Terrain" triple-interface portable drive, and although the LaCie also comes with three connecting cables and features a very rugged-looking, shock-resistant case, the drive mechanism is only 5400RPM with an 8MB cache, as compared to the MOTG's 7200RPM drive with its 16MB cache. So that puts the LaCie ($199.99 list; "street" pricing may be lower) at a decided disadvantage in terms of speed, at least based on personal experience working with and comparing the relative performance of 5400RPM to 7200RPM mechanisms.
Hey, I thought you said this was a triple-interface drive? Yes, even though this MOTG Pro sports only FireWire 800 and USB 2.0 interfaces, FW 800 supports both 800Mbps and 400Mbps connections, and the nice OWC folks were thoughtful enough to include a FireWire 800 to 400 converter cable. In fact, since the USB 2.0 port supports USB 1.1 as well, you could even say this was a quadruple interface drive.
While we're on the subject of mechanisms, this particular MOTG model uses the Seagate Momentus 7200.4 SATA drive, with its aforementioned 16MB cache—already one of, if not the fastest, 2.5″ SATA drives on the market today. Pair that with the FireWire 800 interface of this MOTG device, and you get an external drive that not only beats the pants off most other external portables, but rivals the performance of 7200RPM, 3.5″ desktop mechanisms. Using OWC's own QuickBench utility (thoughtfully provided on the included CD as part of the Intech SpeedTools package), I did some benchmarking and was very impressed with the read and write speeds of the MOTG, although I should note that I was unable to achieve the performance benchmarks posted on OWC's Web site.

OWC's published benchmarks show this MOTG Pro 7200RPM drive, when connected via FireWire 800, achieving read speeds of over 79MB/sec and write speeds on the near side of 77MB/sec. Although I was unable to match those benchmarks in my own testing, rest assured, folks—this drive is fast.
In my initial testing, with the drive connected via FireWire 800, QuickBench indicated that the MOTG 500GB was able to sustain an average read speed of 65MB/sec, and an average write of 53MB/sec, both quite remarkable for a bus-powered, 2.5″ external drive. When compared to my trusty NewerTech miniStack v3, equipped with a 3.5″ 7200RPM SATA mechanism and also connected via FireWire 800, I was even more impressed to discover that although the MOTG could not quite equal the performance of the miniStack's 3.5″ mechanism, it was certainly in the same ballpark in terms of both read and write speed (75MB/sec read and 59 MB/sec write for the miniStack, as compared to 65MB/sec read and 53MB/sec write for the MOTG).
As a final performance comparison, I elected to pit this MOTG against what I would consider a "typical" 2.5″ portable drive; in this case, a Western Digital 320GB, 5400RPM My Passport Essential drive connected via USB 2.0. As you might have already guessed, the MOTG 500GB blew the doors off the Passport, with the WD 5400 RPM mechanism and USB 2 interface able to achieve only a 12MB/sec read and 11MB/sec write speed, approximately 1/5 of the MOTG's benchmarked performance via FW 800. Even with the MOTG Pro connected via USB 2.0, it still easily bested the WD Passport, achieving 22MB/sec read and 18MB/sec write benchmarks.
At this point I think I've safely established that the drive is "fast," although not necessarily "cheap," so let's focus on the "good." In my experience, too many external drives listed as Mac-compatible come pre-formatted for Windows machines, and often without instructions on how to reformat them for your Mac. Not only does this MOTG Pro come with a printed owner's manual, it also includes
printed "cheat sheets" that describe how to format the drive for Windows users and how to determine whether to use an APM or GUID partition if you want to use it for booting your Mac. They even include a bundle of custom drive icons to match each style of drive they offer, a special treat for those anal-retentive like me who simply must have the icon of every mounted drive look precisely like the physical drive it represents.

How much bundled software does the OWC MOTG Pro 500GB actually ship with? Enough that the OWC folks needed to provide an index to help you sort through it all.
The bundled software accompanying externals is often Windows-only as well, or a poorly-executed port of a Windows program included on the disk seemingly as an afterthought. Not so with OWC drives; the MOTG Pro comes with two backup applications (DataBackup from Prosoft and Carbon Copy Cloner, both excellent backup utilities), the Intech Speed Tools noted above, and so much additional Mac software that the OWC folks felt compelled to provide an index to all the goodies contained on the disk. Three interface cables are also included; as the drive has two FW 800 ports but no FW 400 ports, one cable serves as a FW800 to 400 converter, and the drive and cables all fit neatly into the included carrying pouch.
While we're on the subject of cables, I should mention that I connected the MOTG Pro to two different laptops using both the FireWire 400 and USB 2.0 cables (still haven't sprung for that FW800 laptop) in order to confirm that the drive operates normally while on bus power only. I've never had issues with a portable FireWire drive, but I've encountered numerous problems where a USB portable either required the dreaded "two-headed" USB cable (one for connectivity and one for power) to spin up, or would not spin up at all—regardless of cable type—due to lack of power. OWC does sell an optional AC adapter for this drive, but based on my testing you'll never need it.
As I've gotten plenty of mileage out of the "Want it good/fast/cheap? Pick two" adage already, I'm going to segue into "the good, the bad and the ugly" for just a moment. We've clearly documented the "good," and there's really no "bad" to speak of with this device. But when it comes down to the clear acrylic enclosure itself, I think it's time to talk "ugly." Maybe it's just me, but I find it really unattractive, to the point where I wouldn't want it sitting on my desk. It forces me to look at the drive's innards, it doesn't complement any of my equipment, it looks "cheap," and it frankly gives the impression that this is a prototype of an external hard drive for which the developers haven't yet established the final case design.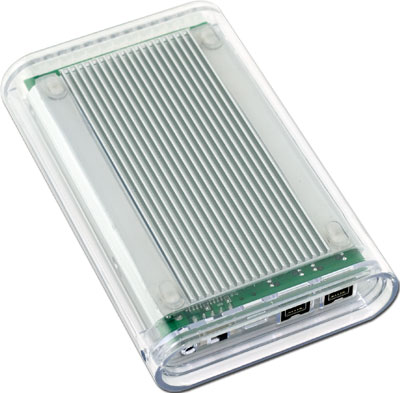 Bottom view of the MOTG Pro showing the metal heat-sink (7200RPM drives generate quite a bit more heat than their slower 5400 RPM brethren). Am I the only one out there who thinks clear acrylic cases that show all of a drive's innards are just plain ugly? In fact, with the sleek heat-sink obscuring all that nasty circuitry, I submit this drive actually looks better when turned upside-down.
But don't let my rarified aesthetics dissuade you from making this your next external hard drive purchase. At this price point, with a Seagate 7200RPM mechanism, 500GB of storage space, support for three interfaces including FireWire 800, and a comprehensive package with cables/carrying pouch and tons of software that's actually useful to Mac owners, this MOTG Pro is the only way to go if you're looking for the ultimate in portable storage.
Oh, and did I mention that it's fast?
MyMac.com Rating: 4.5 out of 5
email – MyMac Magazine – Twitter – Advertise – Reviews Archive – Podcast

Run Windows on your Mac without rebooting!

  Parallels Desktop 4.0 for Mac provides the complete suite of essentials to run Windows on Mac the easy, fast and powerful way.