easy VHS to DVD for Mac
Company: Roxio
Price: $79.95
http://www.roxio.com
This review could have gone very, very badly, had it not been for Roxio's excellent support website, and their intrepid PR person, who kept the dialog going when I was ready to wash my hands of the whole thing.
That said, the last thing I wanted to do was start yet another review with: "I really wanted to like this product, but…"
Over the last four months, when I unfortunately had a lot of time on my hands (a victim of the current economic unpleasantness, since resolved, and I am again very happily employed), I decided I needed to regain some storage space in my increasingly cramped townhouse. My collection of several hundred VHS tapes had to go. There were, however, 40-50 titles I wanted to keep and decided to put them on DVD. I had planned on doing this almost two years ago, and found a superior (and expensive!) analog to digital video converter, a Canopus ADVC-300, which I was able to find at a very acceptable price on eBay. I set up my VHS deck in my computer room, connected the video and audio outputs to the ADVC-300 inputs, and sent the output to my dual 2.0 GHz Mac G5 tower's Firewire port (still running Mac OSX 10.4), and into my copy of iMovie HD (from iLife '06). Each two hour tape took up 25 GB of disk space in the DV file format. I quickly trimmed unwanted video at the start and end, and inserted chapter markers when the tapes had multiple programs, or if I was putting two 1 hour tapes on a single two hour DVD. These chapter markers directly imported into iDVD where I picked a theme, edited the captions, and burned the final DVD. On my G5 tower, the process of rendering two hours of video before the DVD could be burned, took 4-6 hours.
I repeated this process on my black MacBook with a 2.0 GHz Core2Duo processor, and 3GB of RAM, and everything worked about the same, except the render time took a few hours less, thanks to the speedier processor.
Mostly, I started the recording process just before I went to bed. The next morning, I spent about 30-45 minutes editing the DV file, pushed it to iDVD, and let it render most of the day. By late afternoon, I had another DVD for my briefly empty shelves. It took about 6 weeks to finish the process and I was able to put all the gear away.
Enter MyMac.com's own John Nemerovski (that's Nemo to you…) who had heard about my project and thought he had a great review project that was right up my alley. Roxio had just released a Macintosh version of their popular easy VHS to DVD product and was looking for reviewers. In spite of my reputation for writing negative reviews on this site, he gave the job to me anyway…
I received the package, which contained a CD, Getting Started Guide, a Roxio Video Capture USB Device (the brains of this outfit), a short USB to USB extension cable, and a breakout cable with stereo audio, composite video, and S-Video connectors. The CD contained the easy VHS to DVD for Mac software, as well as a (very) limited-feature version of Toast 9.
The Roxio Video Capture USB Device looked suspiciously like something from Elgato, makers of a number of magical video products that bring video content into your Mac via the USB 2.0 port. The big difference, however, is the software. The Elgato-branded device outputs MPEG-4 video, while the Roxio device outputs MPEG-2 files (the same format as commercial DVDs).
I installed the easy VHS to DVD software on my G5 tower, connected the Roxio Video Capture USB Device to the front USB 2.0 port, and connected the audio/video breakout connecting cable to cables from the output of my VHS recorder. When I launched the software, I was immediately directed to Roxio's website to download and update the software, taking the revision level from version 1.0 to 1.0.1. I went through the easy setup procedure (more on that below), and tried to record some video. At the end of 2 hours, I clicked the stop button, and in the next window, clicked the "Send to iMovie" button. My Mac spent the next two or so hours converting the MPEG-2 file to an intermediate format, but instead of opening the file into iMovie as the instructions suggested they would, I got an error message stating the program could not find the iMovie program. Thinking I'd done something wrong, and tried it again (if I'd been just a little bit smarter, I'd have recorded five minutes of video, and not two hours!), and got the same results. After hunting around the hard drive, I found the MPEG-2 file in the Movies folder at the top level of my home directory. When I opened it in QuickTime Player, I immediately spotted a problem–a massive number of dropped frames. I then checked the size of the file–about 600k–it should have been somewhere around 5.4 GB!
I repeated the above step with my MacBook, and at least got a 5.4 GB MPEG-2 file with no evidence of dropped frames, but still got the iMovie error. I went to the Roxio support boards (excellent, by the way, with very responsive support people) and discovered many others were experiencing the same problem.
Thinking it was at least partly my fault, I bought an additional 2GB of RAM, and went to MegaMacs.com to buy a copy of iLife '08 (I'm still using MacOS X 10.4–Tiger, which is not compatible with iLife '09). I found a great deal for an OEM disk for around $40.00.
About a week later, another updater came out, version 1.0.2. Same problems with both issues: dropped frames on my G5, and no automatic opening of iMovie HD. Around this time, I was contacted by Roxio's intrepid PR guy, wanting to know how things were going. Boy, did I tell him! In a couple of days, I was granted access to a beta version of an upcoming patch. I downloaded and installed it, and viola√°! No more dropped frames (though still no automatic opening of iMovie HD)! It also opened iMovie '08 (part of the iLife '08 package), which only served to remind me how evil iMovie '08 really is. I had forgotten that Apple, in their infinite wisdom, eliminated the ability to enter chapter markers where you want to add them (since restored in iMovie '09).
Here's what I found from my research:
1. The easy VHS to DVD software is not compatible with iMovie HD. It will not automatically launch iMovie HD and load the finished movie into it. That function works fine on iMovie '08, and while I personally didn't have the chance to see it in action, it probably works equally well with iMovie '09.
2. The dropped frame problem was almost universal among dual processor G5 users.
3. The beta patch resolved the dropped frame problem on dual-processor G5 machines, and permitted automatic launching of iMovie 08 (and iMovie 09).
4. As a workaround, you can make iMovie HD process the MPEG-2 file by manually dragging it from your Movies folder directly into the iMovie HD application window. It will take fair amount of time for iMovie and QuickTime to convert the file into something that iMovie better understands.
5. Roxio's web support is very good. Their support staff monitors traffic on the message boards on a very regular basis.
I detailed this story to share my pain with the readers, knowing that most of you would not have had this much patience or persistence, and would likely have demanded your money back, weeks before I finally achieved success. But then again, I am a very tenacious problem solver, and tend not to give up easily.
Okay… Now that I've gotten that out of my system, I can tell you that with the latest beta release software, which will probably be finalized very soon and made available on their support site, it mostly works as advertised (other than the pesky iMovie HD issues).
Here's how it works: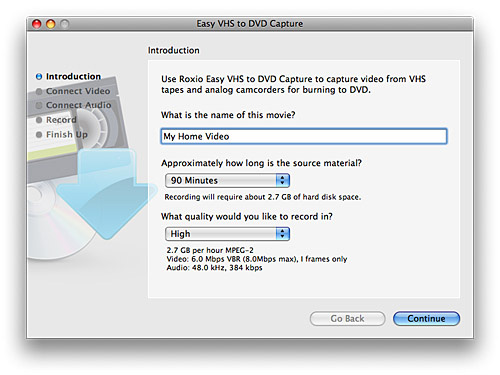 Launch the easy VHS to DVD for Mac software, and the first screen (above) is displayed. This is where you enter a name for your project, use a pull-down menu to set the approximate length of your video, and set the quality level for the file (standard or high) with another pull-down menu. When you click the Continue button, the next screen is displayed.
You are prompted to test your cabling to ensure your connections are functional. A small video monitor screen shows your video source (if everything is hooked up correctly). Click Continue.
The next screen repeats this process for audio, to ensure the software is decoding the audio from your source. Click Continue.
The overview screen continues previewing video and audio. If you don't see the picture, or if you can't hear anything coming out of your Mac's speaker, you get one final opportunity to go back and fix the problems. Once you are satisfied, start your tape rolling and click the Start Recording button. That same button is used to stop recording when you are ready to do so. If you are operating this product unattended, you might want to click the handy checkbox that automatically stops recording, based upon the recording time you set in the first screen. The benefit of doing this is that you won't totally fill your hard drive with garbage if you forget to come back and stop recording after an extended period of time. Remember, in the high quality mode, you are eating up disk space at the rate of 2.7GB per hour. In eight hours, you could wind up using over 20GB of disk space.
When you click the Stop Recording button, you are taken to the Finish Up screen, which gives you the option to automatically open Toast and begin the process of recording the video to DVD. The Edit with iMovie button starts a conversion process that takes an MPEG-2 video file into another intermediate file format before importing into iMovie '08 or iMovie '09. Send to QuickTime player converts the file to MPEG-4 format before opening the QuickTime player application. Note that the Edit with iMovie and Send to QuickTime Player functions require an additional hour or two to convert the video into compatible file formats.
Quality? In a word, it's great, at least with VHS tapes that didn't have a whole lot of quality to begin with. The better the source, the better the converted file will be. At $79.95 it beats the solution I had been using by many hundreds of dollars. This same product can be used nearly anywhere in the world, as it automatically detects and configures itself to output to the analog NTSC or PAL video standards.
This review could have gone a completely different way. Thank goodness it didn't. After a few weeks of troublesome operation, the last software release solved nearly all the problems I was experiencing. In all likelihood, the copy you buy today will include the latest updates and you should have a wonderful experience with easy VHS to DVD for Mac. As with any video project, the faster your computer's processor, the more RAM, and the more fast hard disk space, the more you will be satisfied with this and other video processing products. You will quickly learn that working with large video files requires a lot of patience while your computer, and I don't care how fast it is, plows its way through the file(s).
Even with all the other difficulties, I will say that the software was always stable–it never crashed in the several weeks I used it.
Pros:
Low price brings video conversion to the masses.
Easy setup.
Saving files in MPEG-2 format reduces final rendering time.
Can save in MPEG-2, MPEG-4 formats.
Great quality.
Cons:
Initial problems with very buggy software.
Toast 9 Basic has very limited feature set.
Incompatibilities with iMovie HD in spite of advertised claims.
Processing time is slow, slow, slow, though not really Roxio's fault. Video files are big and take a long time to process.
The final rating would have been higher had it not been for the problems I suffered through with the supplied software. I went through far more hoops than most customers would tolerate, even with the able assistance of Roxio's PR guy–someone most customers would not have access to. In the end, it was worth the effort, and easy VHS to DVD for Mac is now a solid product.
email – MyMac Magazine – Twitter – Advertise – Reviews Archive – Podcast

Run Windows on your Mac without rebooting!

  Parallels Desktop 4.0 for Mac provides the complete suite of essentials to run Windows on Mac the easy, fast and powerful way.