Wacom Intuos 4
Company: Wacom
Price: $229-$789 (depending on the size)
http://www.wacom.com/intuos/
I've said this before, and I'll say it again, when it comes to drawing tablets Wacom is what you want. I have had the opportunity to review the Bamboo Fun and the Intuos 3, and my students us the Graphire 4 tablets. Recently, Wacom released the Intuos 4 and along with the fantastic pen and drawing features you'd expect it comes with even more improvements.
First, let's start with the design. The pen has a pen holder, as before, but now the pen holder holds all of the spare pen nibs. Nine different pens nibs are included. The tablet itself is now black, and supports left and right handed users. The USB cable is removable and you can flip the tablet and install the cable in one of two plugs.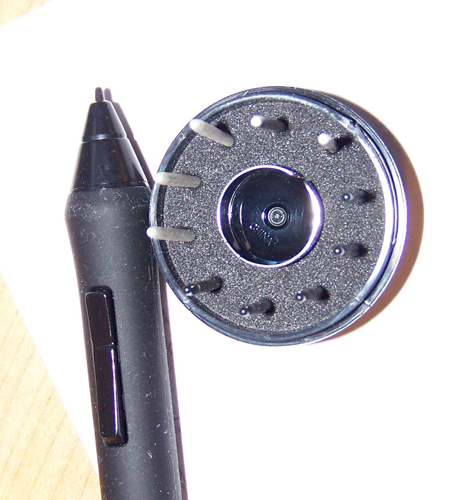 As with other Wacom tablets, buttons are on the tablet. The Intuos 4 has 9 programable buttons and an iPod like scroll wheel. As I said, the icons are programable and the corresponding key lights up next to the button (see above, but my photo does not do it justice) on the tablet. By default, the first button gives a display on your screen of the buttons and how they are programmed. Even the display is cool looking.
Of course, all of this is just eye candy if the tablet is not good. However, this is a Wacom tablet and it performs beautifully. Whether you are using Corel Painter or Adobe Photoshop, the tablet will not disappoint.
Also included in the package is a TON of extras. You get your pick of software to download which includes Corel Paint SketchBook, Adobe Photoshop Elements, and more. You also get a premium account at CafePress for free for 5 years! If you haven't tried CafePress, it is a great place to sell your art on products and make some extra money. Also included, as with any Wacom tablet, is the Wacom mouse. I have never found these mice to be useful, but they are a nice extra.
Overall, the new Intuos 4 is a fantastic tablet and a great step up from the Intuos 3. If you are in the market for a higher end tablet this is the one you want. If you want a less expensive tablet checkout Wacom's Bamboo Fun. Either way you will not be disappointed.
email – MyMac Magazine – Twitter – Advertise – Reviews Archive – Podcast