MYMAC: How did you and Ben Levy happen to create Rapid Repair, Aaron?
RAPID REPAIR: Ben had an original 1st Gen. 5GB iPod that he was messing around with it (because that's what tech curious guys do) and broke it. When he looked to see if there was someone who had parts or any other assistance for iPods all he found were other iPod owners in basically the same situation.  Since we both have a background in computers (worked in IT for a Fortune 500 company), Ben decided to collect and repair some.  I was living on his couch at the time (literally) and we realized that this need wasn't a one-shot deal, it was real consumer demand. In March of 2004 the first website, iPodMods.com, went online.  At the same time, we were lucky to land a repair contract for a large refurbished goods dealer and that cash flow, experience, and parts helped us launch in a big way.
MYMAC: Is it an asset or a liability to be located in the rust belt, near the cereal capital?
RAPID REPAIR: Michigan has a great public education system including one of the top five public universities in the country, so even though many of its major manufacturing employers have struggled my entire adult life, it has been a major producer and exporter of skilled workers.  That has actually made it pretty easy to attract and retain knowledge workers, who have the talent, but don't want to move out-of-state to use it.
Along the same lines, we don't have the opportunity to attract as much local or walk-in business as we would in a more modern metropolitan area such as New York, Chicago, or L.A., but the improvements in technology and infrastructure have made our business easily extend beyond the physical limits that applied even 15 years ago.
MYMAC: How do you obtain your parts and supplies to repair iPods and other hand held equipment?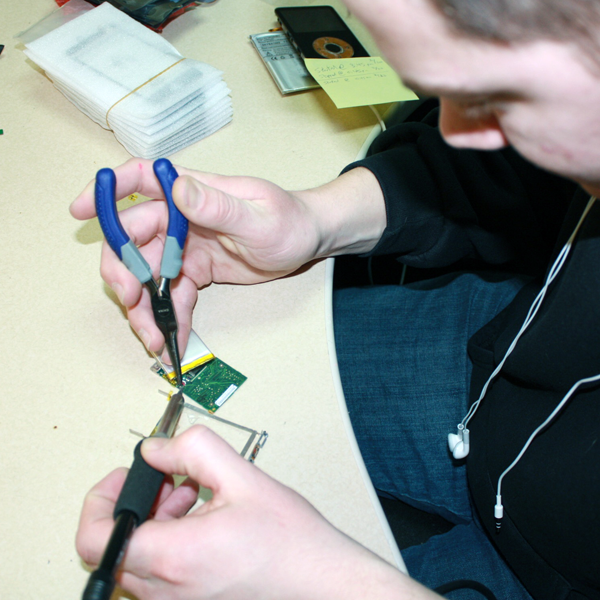 RAPID REPAIR: Apple does not officially endorse or supply for repair of customers' iPods, meaning we have to obtain our Apple OEM parts from array of third parties which and often includes de-manufactured new units.  Our refurbished iPods are built from tested and certified parts from used iPods which makes them the most environmentally friendly option because they just re-use goods that were previously manufactured.
MYMAC: What distinguishes Rapid Repair from your competitors?
RAPID REPAIR: Rapid Repair is the oldest and largest end-user electronics repair company who started with a focus on repairing iPods.  As such we have a keen focus and love of these devices.  While many of our smaller competitors have faltered with issues of customer service or other problems we have continued to be run as a professional organization with this important tenet guiding us:
The purpose of a business is to create value for its shareholders, employees, and customers.  If you fail on any of these, you can not succeed.
MYMAC: Who is your number one competitor?
RAPID REPAIR: This may sound evasive, but truthfully it's the trash bin!  It's a general sense from people that iPod repair doesn't exist, or it's too expensive, or it's too much effort to be worth it.  While we certainly have other companies in our line of business, our number one goal when devising marketing strategies is not to fight over the people who have decided to get their iPod repaired.  Instead we try to inform and attract the millions who will otherwise just throw this technology away.
MYMAC: Are you able to keep sufficient inventory in house to maintain a steady workflow for your customers?
RAPID REPAIR: This is the biggest area where much of our competition has failed, and we pride ourselves on being in-stock for over 95% of the items in our catalog.  In fact, this is often our deciding factor when considering whether to add support for a new device or model, "will we have the supply to fill our customer orders?"
MYMAC: Are your iPod and other device parts third party, or original factory equipment?
RAPID REPAIR: All but a few parts (most notably our eXtended Life Batteries) are original, but it is clearly stated in the product description if they are not.
MYMAC: How do Apple's new touch screen iPods and iPhones alter your business, internally and with your customer base?
RAPID REPAIR: For the most part, the devices we service have gotten more compact and complex ever since we started.  However device models including the iPod Classic (6th Gen. iPod), Nano 3rd Gen., Touch 1st Gen., iPhone, and all models since have really attained a new level of complexity in what it takes to service them.  As a result, we have gone to a specialization model where each technician only services 2-3 different devices for 6 months at a time.  This has allowed each to really be a true expert of their models improving efficiency and quality.
MYMAC: Is it possible to stay ahead of the incoming gear for repair, and still be profitable?
RAPID REPAIR: It's a perpetual challenge, but the day you wake up and don't look forward to it, is the day you're done.  At one point a basic iPod cost $400 and the most expensive model was $600 (iPod Photo 60GB, late 2004.)  During that time most repairs only took 10 minutes or less to complete and only moderate skill was required, and with 8-9 significant replaceable parts it was easy to make an economical repair out of almost anything.
Now, the iPod Nano starts at $150, can easily take 30 minutes just to service one, and the main board has all major system functions including storage integrated, so the cost of the part plus labor make extremely difficult to compete with just buying new.  Despite this, there is still ample opportunity to run a business that creates value for everyone as long as you are efficient and carefully balance all the ingredients.
MYMAC: What is your knowledge base? How do you figure out how to work on brand new technology?
RAPID REPAIR: Many of us have a background in computer repair, A+ certifications, have worked in desk-side service for corporations, and a general love of technology.  However, we have found the most important pre-requisite for a successful technician is a mechanical aptitude and desire.  Even with no experience, if you have the ability to analyze and understand how a machine works, then disassemble and put it back together, you have what it takes.  Typically, when we take apart a new device we are forging new territory, our success depends on people with this aptitude and innate sense of electronics — and often times we still break the first one! (Nobody said it was easy.)
MYMAC: What about game consoles? Are they easier or harder to work on than iPods/iPhones?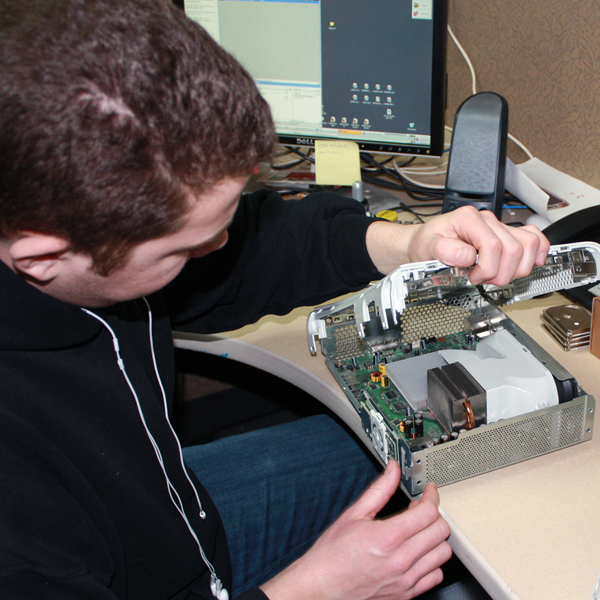 RAPID REPAIR: Different; more screws, more glue and more complex hardware, which occasionally lead to some really hard to solve problems.  On the other side there is also more space to work with and besides the occasional odd nut, the failures are usually easily recognized from a short list of 2-3 for each model.
MYMAC: What percentage of your customer repairs are iPhones, iPods, or other-ware?
RAPID REPAIR: When we started it was 100% iPods, currently, we are approximately 40% iPods, 20% iPhones, 20% Zunes, and 20% consoles.
MYMAC: Why should people repair used, old, broken iPods/iPhones, when they can buy new ones so easily and affordably?
RAPID REPAIR: Two good reasons, 1 – it's cheaper.  Yes, new ones may not break the bank, but most repairs cost between 25-60% of the cost of replacing the device and especially in tough times like these, $100 savings can be a lot. 2 – It makes sense socially and technologically.  Our business of reusing, repairing, and refurbishing saves over 10,000 pounds of (sometimes hazardous) electronics waste from hitting the landfill every year. Also, spending the short dollar now, to make your current device last 1-2 more years usually means that next time you'll buy something more advanced at a lower price.
MYMAC: Do you also sell refurbs? Are you mostly sales or repair, and where is the trend going?
RAPID REPAIR: We resisted for a long time, insisting that your device repair is a refurb.  But the customer is always right and building certified refurbished iPods makes better use of all the broken units that people sell to us.  At this point, we are about 90% repairs and 10% refurbs, but the needle definitely continues to move towards more refurbs.  In many ways this makes sense, because we can build up a stock of tested good devices which are ready to ship, and avoid the lead time in processing devices one-off.
MYMAC: What are your return, exchange, and warranty policies?
RAPID REPAIR: Basic synopsis is it's 90 days on parts and labor for all repairs we do.  We accept returns with no fee if something is wrong with the part/repair, and if you decide you want something different we will exchange for something else with 100% item credit in the first 30 days. For full details of our policies see, http://www.rapidrepair.com/policies.htm (with links to the most important along the top of that frame.)
email – MyMac Magazine – Twitter – Advertise – Reviews Archive – Podcast