Liquid AUX and LiquidAUX Deluxe
Company: Kensington
Price: LiquidAUX Deluxe – $79.95 MSRP. LiquidAUX – $59.95 MSRP.
http://www.kensington.com/ (select Country, and the look under "Play" and then "Auxiliary Car Kits")
There are many devices for iPods that transmit your music from the iPod to your car stereo over a hopefully empty FM channel . There are several problems with this. First, you need to find an FM station that is empty, and in larger cities, this can be difficult. Second, I have tried several, and some do not work well at all or cannot be heard on any FM channel. Lastly, this is a radio channel, so it will be subject to interference and noise, and the music is limited to the bandwidth of the rather cheap FM transmitter, so sound quality typically suffers.
Sure, you can put on headphones, but that is actually illegal in many states as it blocks out surrounding noise which you might want to hear (like a siren for example), and is frankly, uncomfortable in my opinion. I hate the wire always getting in the way, getting caught on everything, and when you turn your head, you usually pull the iPod to the floor. Also, having to look down to find and control you iPod while driving is just outright dangerous.
You can solve the FM channel issue because more and more cars are now including an "AUX" input jack to let you connect your music player directly to your car stereo for excellent sound with no RF issues, but how to control the iPod?
These little gadgets from Kensington might just be the solution for you. Basically, these devices simply plug into any car power socket, like a cigarette lighter, and then have a wire that plugs into the aux audio input in your car. A small, wireless remote control then straps to your steering wheel and lets you control your iPod, giving you full control right at your fingertips, without having to remove your hands from the wheel or your eyes form the road. And while they paying your music, they are also charging your iPod or iPhone as well.
The first of these devices, the Kensington LiquidAUX Deluxe is very similar to the TuneFlex AUX with SmartClick, recently reviewed by Mark Rudd. Like TuneFlex, you plug this into the cigarette lighter socket and it has a flexible neck to hold the iPod at a convenient viewing angle. Also like the TuneFlex, this device includes a wireless remote control that can be strapped to the steering wheel to let you control your music.
But unlike the device Mark reviewed, the way this unit holds your iPod or iPhone in place is MUCH more simple, and seem a lot more secure. Here, there are no plastic sleeve adaptors to add or remove, no extra parts that you know will get lost. The Kensington device has a simple spring loaded, locking "clamp" jaw that holds the device snugly in place.
To insert your iPod, you press a button on the back of the clamp and the jaws snap open wide. You then insert your iPod, docking it to the connector on the bottom, and simply squeeze closed on the clamp to lock your iPod firmly in place.
To remove, simply press the button again and the jaws open for easy removal. Thankfully, it is very easy to install, because the included Instruction Guide is one of those books that uses only pictures, and might be confusing to some.
But their designers really need to find someone who owns a Prius and make a few small changes. The Prius was designed to accommodate just such a device in the center console. INSIDE the center console, there is a power outlet and an AUX port, an obvious place for this device. So, I plugged the LiquidAUX Deluxe into the power port, and its wire into the AUX port, and thought all would be really great. Except that the size of the console combined with the location of the power port (at the bottom edge) and the shortness and lack of real flexibility of the neck on the Kensington device make it almost impossible to turn and angle it so that the iPod correctly fits inside the box. In fact, it JUST barely fits, and sticks up slightly, meaning the cover of the console hits the iPod when you close it, and puts a lot of stress on the flexible neck as well. Like I said, it works great, but not in the one car that really seems to be made for it. However, if you have a dash cigarette lighter, and a nearby AUX port, this will work very well.
When I asked Kensington about my Prius issue, they responded, "Kensington offers two Auxiliary car kit models that are specifically designed for the aux ports in the dashboard or the center glove box/console. With a Prius, since the aux port is in the center console we would recommend using the Kensington LiquidAUX for iPhone and iPod SKU #33429US in place of the Deluxe edition. The first edition LiquidAUX does not feature the cradle that the Deluxe does which would make it easier to fit inside the center glove box. And you can keep it inside the glove box so you keep your car clutter free."
So, that brings us to product two, the LiquidAUX. As you would expect, it works EXACTLY like the LiquidAUX Deluxe but it eliminates the cradle, replacing it with a simple power plug and a cable and connector much like the iPod Sync cable to attach to your iPod. Now, simply plug this in to any power plug, attach it to your iPod, and place the player in any convenient location and you are ready to go. Perfect for a glove box or center console that has power.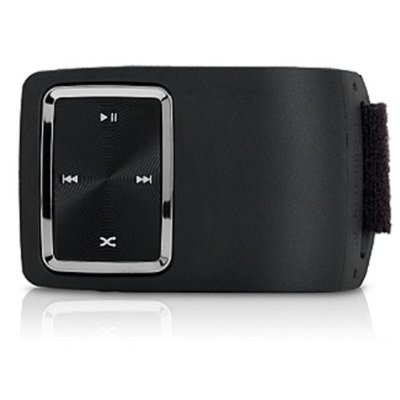 As for general operation, there is not much to it. Once either of these devices is installed, you then install the small remote and steering wheel adaptor (which can be removed from the steering wheel adaptor and carried in a pocket too) to your wheel, and you can then control you iPod. Controls let you pause, play, skip forward and back, and turn on and off shuffle mode right at your fingertips. And since the design of the remote allows it to be easily removed from the steering wheel adaptor, it makes it easy to mount the adaptor on either the left or right side of the wheel as well, and still have the iPod controls facing in the correct orientation. Simply pop it out of the adapter, move the strap to the other side of the wheel, rotate the remote 180 degrees, and pop it back in.
Control of the iPod was mostly flawless, however holding down on forward or back to enter fast scan mode did not always work so well, and often skipped to the next song rather than fast scan through the current music.
As for the audio quality, the music generally sounded great when the music was on louder passages. But on quieter passages, I was able to hear "noise" from my car, such as electric buzz, whine, and spark plug "ticking" coming through the audio of this device into my car stereo. I do not ever hear this same "noise" when using the car's built-in CD player or radio, nor do I hear those sounds if I unplug this device from the power, so I am fairly sure the source is this device's power supply. Noise was evident on both units I tried. Again, I asked Kensington what might cause this, or if the units were defective, and they said,
"It is most likely that your car model has a grounding issue with the power socket and therefore a car manufacturer issue. The best solution we can recommend to make our LiquidAUX product function to its optimal performance level would be to purchase an automotive "ground loop isolator" for your car. These can be purchased at any electronics store (i.e.. Radio Shack, Best Buy, Circuit City, etc.) for less than twenty dollars. You would also need to pick the proper connection cables so that it is compatible with a 3.5mm jack."
Well, OK, but I am not sure I accept that as the only problem. Not only is it a fairly new car (only a few years old) but also the power socket and AUX input were designed specifically to accommodate music players, so I would expect them to be connected properly. And, of course, adding that device means the Deluxe for sure no longer fits in my glove box. In any case, rather than having to spend an additional $20, a bit of filtering in THEIR power supply could have solved this problem easily. And just to be sure, I tested my Palm Treo and my Tom Tom navigator, both powered from the same power socket, and their audio out connected to the same audio in spot as the LiquidAUX. Neither device exhibited any noise here, again leading me to believe the car is not all at fault. To be fair, I used a fairly decent USB power charger to power up both devices, so perhaps it has decent filtering inside?
All that said, this noise issue is minor one at best, and hardly distracts from the overall usefulness of this device unless, maybe, you listen to a lot of Classical music. But with audio controls right at your fingertips on the wheel and the iPod safely tucked away either in the clamp or glove box, playing music in the car has never been so easy.
Lastly, I would have loved to see this device include a (optional?) microphone for the iPhone so that phone calls could be easily answered via the remote and heard through the car stereo as well for easy hands free talking, but maybe in the next version?
Pros: Holds iPod securely, wireless remote control, easy install
Cons: Needs better power supply filtering, neck needs to be more flexible, better manual.
NOTE: As I finished this article I also noticed there is now a Bluetooth version to these devices as well. If you car accepts Bluetooth input, now you can use that to control your iPhone as well.
email – MyMac Magazine – Twitter – Advertise – Reviews Archive – Podcast