Xtands for Apple MacBook Pro, MacBook, iPhone, and iPod Touch
Company: Just Mobile
Price for Just Mobile Xtand Pro: US$90
Price for Just Mobile Xtand: US$40
http://www.xtand.net/
These top quality brushed aluminum bases for computers, iPhones, and iPod Touches receive much praise and a little criticism from us. The Xtand Pro laptop riser comes with two sizes of columns so it can be used in two set positions. There are no intermediate adjustments, or any swivels or tilts. In contrast, the Xtand iPhone/iTouch riser has a fixed height and semi-permanent position. See photos below.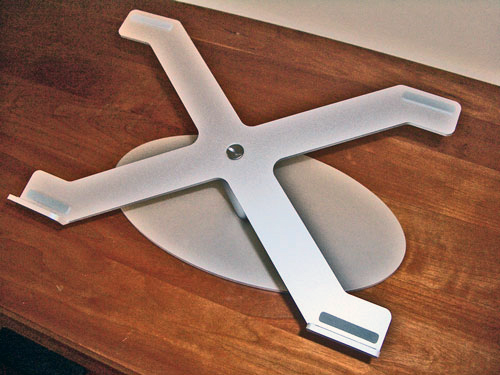 Xtand Pro is solid and stable with a MacBook or MacBook Pro in place, unless you give your computer an unintended push or whack at the top of the raised display, which can topple the computer backwards off the base. In normal use this won't be an issue. Just Mobile's manufacturing process created a stand that is a perfect match in color and finish to David's MacBook Pro. Aesthetically, they look splendid together.
Anti-skid pads on the upper surface of an Xtand Pro keep the laptop computer in place. A thirty degree angle lifts the computer's front edge roughly 3.5 inches above your table top or desk surface. The angled rear is elevated about 7.0 inches. These heights and angles are fixed, so you'll need to test drive an Xtand Pro with your body and eyes to determine if its position is compatible with yours for extended usage. David says, "It's great for me."
You'll need an external keyboard and mouse while using Xtand Pro in its tall mode. Your laptop is cooled naturally, with full air circulation from the raised positioning.
If you're only going to use an Xtand Pro in its lower position, the Incline Pro from Industrialized Nation is a better choice. Xtand Pro excels in high mode, when your body's dimensions are compatible with the stand's rigid height and angle. This product fills a small, specific niche, and does it with style.
Some assembly is required, and Just Mobile's all-graphics instructions are a little confusing. Eventually, you'll understand what they indicate.
Xtand for iPhone/iTouch has a fore-aft knurled knob to facilitate minor height adjustments and a 360 degree spin that won't be used very much, once a comfortable viewing position is determined. Just Mobile has good grippers to hold your player in place. David bravely held his iPhone upside down within the Xtand for a few seconds, before the phone became loose enough for him to revert to good judgment.
Side to side stability of the Xtand is good, as is its angle for viewing an iPhone/iTouch screen. Top-heavy instability is more of a problem than with the much heavier Xtand Pro. Our three words of advice concerning Xtand are DON'T BUMP IT! There is proportionally a lot of weight on a narrow base. We placed a decorative weight of vintage Arizona petrified wood on Xtand's bottom foot to improve the stability.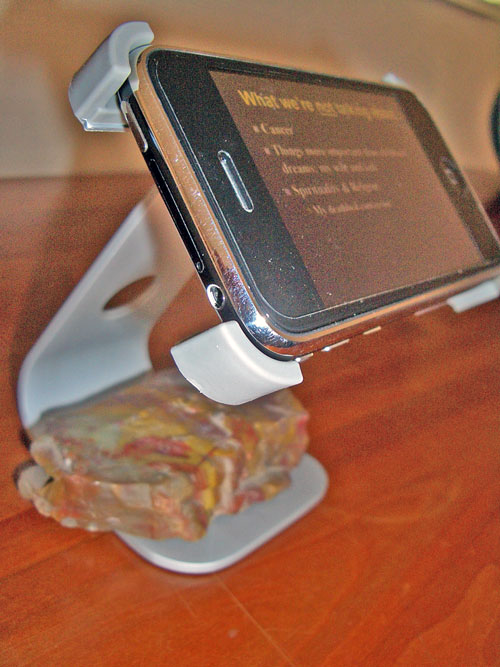 Graphical installation instructions are a bit easier to follow on this product than on the laptop stand. David calls Xtand "good, but nothing special," and John says it is "really nifty." Our overall rating is a 3.5 out of 5 MyMac recommendation.
– – – – – – – – – – – – – – – –
Chill Mat for Mac
Company: Targus
Price: $50
http://www.targus.com/us/formac/
David calls this innovative laptop base "a solution in need of a problem," but Nemo has a higher opinion of it. You place your laptop computer (any brand, any size) onto Targus' Chill Mat, then connect its USB to power cable to any available powered USB port. Press the Chill Mat's power button at the upper rear of the base, and blast off!
Not exactly. A quiet fan purrs gently, cooling the computer's hot bottom, in addition to the natural air circulation provided by the Chill Mat's design and structure. David made a wisecrack, "Why don't they provide a scented candle," after explaining that MacBooks "don't need forced air cooling, and certainly don't need to have a precious USB port tied up."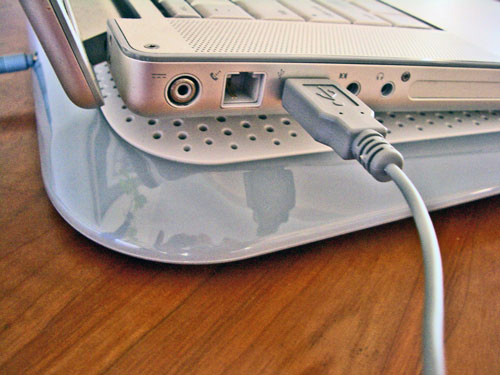 Four sets of gripping raised dots keep the computer in place, while at minimal pitch and elevation on the Targus base. Chill Mat is not comfortable resting on a person's lap for typing or screen viewing. This defect could easily be improved.
Even though David insists that laptop users "just need to get their computer's bottom off the table" for improved natural cooling, John likes the idea and the product well enough to recommend it in certain situations.
Being lead reviewer, David's 3 out of 5 MyMac score is our official one, with Nemo rating Targus' Chill Mat at 3.5 out of 5.
– – – – – – – – – – – – – – – –
Composite and Component Cables for iPod and iPhone
Company: Griffin Technology
Price $50
http://www.griffintechnology.com/products/a-v-cables
If you don't know the difference between composite and component video cables, you are in good company. Newer televisions have composite video ports, but may also have component video ports. My TV has both. Component video is usually part of a home theatre setup, but not always. If you're not sure which of these two similar products you should use, the company web site is helpful, as is a web search for either or both terms.
Considering composite/component cable solutions as a single approach, you can connect your iPod/iPhone via the cables to your televisions, then watch and listen to any video from the portable player. iPhones are not officially compatible, but they work identically to iPod Touch players. This is not guaranteed, but it was our experience, after seeing a nasty message warning of iPhone incompatibility.
Griffin's cable components are well-constructed, but the color coded red/white/yellow plugs need to be fully colored, and not just near the plug tips. Aside from that minor gripe, MyMac rates these products highly.
Step one: study diagram on package, then connect cables to television. Step two: connect 30-pin plug to iPod/iPhone. Step three: navigate your TV's input signal to VIDEO 2, or whatever ports are being used by the plugs. Step four: play your video from your portable device, and adjust picture and sound settings on the television's remote control. It works, and it's all good.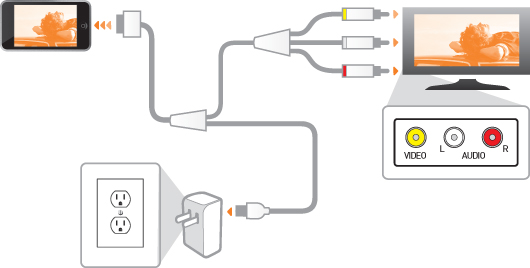 A detachable USB power adapter is plugged in the cable's USB plug to AC charge and/or power your playback, and is detached for USB iPod charging from a computer.
If you're looking for free video content already formatted for the iPod/iTouch/iPhone, Apple's iTunes store has free entertainment and informational videos. David can help you locate them, if you need assistance.
Links:
http://en.wikipedia.org/wiki/Composite_video
email – MyMac Magazine – Twitter – Advertise – Reviews Archive – Podcast