Photographic Multishot Techniques – High Dynamic Range, Super-Resolution, Extended Depth of Field, Stitching
by Juergen Gulbins and Rainer Gulbins
Rocky Nook
ISBN 978-1-933952-38-3, 227 pages softbound
$34.95 US and CN
This is a serious, high-energy book on a subject you've never considered: taking several photos of the same subject to end up with with a single image result that is sensational. The authors are precise and emphatic in their workflow instructions, so if you are sloppy or lazy, Photographic Multishot Techniques will exhaust your energy in its initial pages.
Dedicated readers will explore depth of field and "focus stacking" over 40 pages, yielding powerful visual results. Panoramic "stitching" of lateral images receives 35 pages, in one of the best units on this perplexing technique we've seen to date.
HDRI (high dynamic range images) is a new buzz term, and it can be accomplished via Photoshop or third party digital tools. (See review below of a full book on this subject.) Sixty colorful, instructive pages on HDRI are included.
Photographic Multishot Techniques concludes with a brief chapter on micro-contrast, followed by a valuable "References and Links" appendix.
Overall, this groundbreaking book will point certain photographers in directions they have imagined, but never knew how to proceed. This brief summary does not do justice to the authors and their tutorials. Buy this title for a friend, then borrow it for yourself when you see it collecting dust on his or her shelf. It's a winner.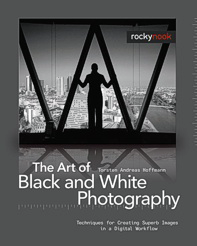 The Art of Black and White Photography – Techniques for Creating Superb Images in a Digital Workflow
by Torsten Andreas Hoffmann
Rocky Nook
ISBN 978-1-933952-27-7, 260 pages hardbound
$44.95 US and CN
Every class I conduct begins with my beginning digiphoto students asking me how they can set up their shiny new pocket digital still point and shoot cameras to take black and white pictures, instead of color. At first they are disappointed when I tell them "You can't." My next sentence, a long one, gives an overview of how to go from color original digital "negatives" to black and white final photos, either printed or for screen viewing. Perhaps I should skip the wisecracks, and hand each student a copy of this excellent Art of Black and White Photography title.
Once past writing about choosing your camera, learning a little about RAW mode, and an introduction on photo filters, the author immerses readers (and lookers) in exploring and developing your personal expression. This is the cruz of his words of accumulated wisdom. Hoffmann's included photographic examples are stunning, dramatic, and inspiring. They average over one per page, in highest quality printing.
Shooting topics include: moods, street photography, contemporary landscapes, architectural studies, graphic elements, visual poetry, abstracts, portraits, panoramas, and a few more. Composition and content are covered in detail over several chapters, before "The Digital Darkroom" wraps up The Art of Black and White Photography. Good news: Photoshop (professional) and Elements now have splendid color to black and white conversion features that were not available when this book was written.
Photographic expression, or "vision," can not be taught, but it can be learned. You can make photos that are as exciting and powerful as you'll see in this book. Slow down, absorb his words and images, and begin your quest for expressive black and white digital photographs. The writing and pictures are direct and accessible to all levels of readers.
Hoffmann's digital darkroom unit is too brief to be of much use, compared to the hundreds of dedicated Photoshop books with much greater tutorial material. MyMac rates The Art of Black and White Photography a strong 4 out of 5, with raves for the bulk of its pages on genres, concepts, and composition.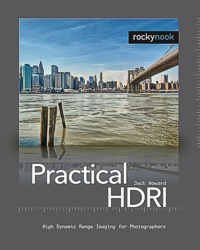 Practical HDRI – High Dynamic Range Imaging for Photographers
by Jack Howard
Rocky Nook
ISBN 978-1-933952-32-1, 170 pages softbound
$32.95 US and CN
If you have a digital single lens reflex (DSLR) camera that's loaded with a high capacity storage card, and that can do both auto exposure bracketing and burst mode, your equipment is ready to begin the HDRI process. Use a top quality tripod, and understand how to release the shutter "without ever having to touch the camera."
Plan to become an expert on "relative and absolute exposure values." Be prepared to consume umpteen zillions of JPGs and RAW image files during your learning months. Fine-tune your camera metering and your photo storage management database.
When you're halfway through Practical HDRI, you'll come across chapter headings such as "Deghosting with Smart Object Stacks and Each Exposure Value Level before HDR Merging." The author's writing style is easy to follow, but you'll be jumping head first into new material quickly, and often, throughout this book.
You'll possibly be spending more time using professional Photoshop or other image editing software then actually creating high dynamic range pictures. Itemized tutorials are provided, with good captions, to make the digital darkroom a little less intimidating.
Don't start hyperventilating when you turn the page and are confronted with "Ultrasaturation, Hyper-Vividity, and Gamut Warnings." These and other scary terms are explained clearly, as is Adobe Camera Raw, you new best friend. Practical HDRI was written when Adobe's Creative Suite 4 was not yet available, but the version 3 references apply to the newer release.
Seriously – this book is a good overview, with some precise guidance. You won't become an HDRI expert merely by carrying it in the trunk of your car when you're photographing the Grand Canyon. HDRI utilizes established and new tools and techniques, both traditional and cutting-edge, so when you take the plunge make sure you plan on taking plenty of time.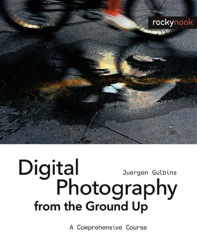 Digital Photography from the Ground Up
by Juergen Gulbins
Rocky Nook
ISBN 978-1-933952-17-8, 354 pages softbound
$34.95 US, $38.95 CN
Choose your equipment. Learn to use it. Be patient. Keep going. Familiarize yourself with camera terminology. Buy top quality accessories. Understand how cameras and computers are interlinked. Invest in appropriate hardware and software.
Study composition and design, both yours and other artists/photographers. Explore the various styles and genres of candid, casual, and formal photography. Try a variety of camera techniques, guided by experts, and by your own whims.
Set up a consistent image editing workflow. Learn thoroughly the tools, options, and menu items on your digiphoto software. Respect color management, and keep your sense of humor when print color is unmanageable. Convert color originals to black and white photos. Try wild and wacky experiments, remembering first to SAVE AS! Be prepared to migrate to RAW file format. Learn the wonders of nondestructive editing.
Don't fight with your printer. Use it optimally, and know when to have your photos printed elsewhere. Cook up calendars and greeting cards. Have fun making slideshows. Email photos to friends and enemies. Go crazy with your scanner.
Back up your digital data to multiple, redundant, secure offsite locations. Use a file naming and retrieval method that you can live with.
Deepen your photographic involvement. Buy this book. Read it thoroughly, making notes on relevant material. Embrace Digital Photography from the Ground Up.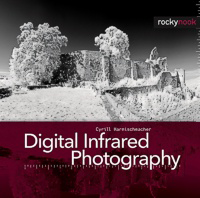 Digital Infrared Photography
by Cyrill Harnischmacher
Rocky Nook
ISBN 978-1-933952-35-2, 105 pages hardbound
$24.95 US and CN
Infrared pictures look weird, on purpose. They are usually black and white, but you can go wacko with color infrared if that suits your idiosyncratic visual sensibility.
Chapters on theory, equipment, and technique are interspersed with stunning examples, all printed on thick quality paper stock. Precise methods are critical when making in-camera infrared images, as opposed to using "ordinary" digital images that are subsequently enhanced via Photoshop to simulate true infrared.
If you are afraid or hesitant to alter or dedicate your camera to generate original infrared digital "negatives," stay away from Digital Infrared Photography. But if the author's fabulous photos inspire and motivate you, then this concise volume will have a prominent place on your bookshelf.
email – MyMac Magazine – Twitter – Advertise – Reviews Archive – Podcast