PED3 Auto Car Mount for iPhone
Company: Thought Out
Price: $50.00
http://www.thoughtout.biz
When the chance came up to take a look at Thought Out's latest iPhone 3G auto car mounting system, I couldn't refuse the chance. There is just something about the ongoing hunt for the perfect item that you're looking for that gets the blood going, no matter what that item may be.
To start off with, this is not Thought Out's first venture into car mounting systems. They build upon their previous versions and tweak each new version to meet the demands for the item that needs to be car mounted or just mounted, no matter where. The PED3 is built from a 5/16″ diameter by 5 inch vinyl-coated steel flexible neck that can be screwed into one of three angles in the base unit; 0 degrees, 45 degrees or 90 degrees, based upon your need and where exactly you are mounting the unit. The hard part of this procedure is figuring out how you want to mount the unit. The base unit can be mounted by inserting 4 suction cups onto the base and then positioning it on a clean, smooth surface, such as your window glass. If you can't mount in on the window due to state vehicle restrictions, then you have the option of utilizing the AdPad-VHB (Adhesive Pad) pad that comes with the unit or screwing the base unit into a solid location using the included screws. If none of these appeal to you, you can always drill a 1/4″ diameter hole into a surface 1/8″ or thinner and mount the flexible neck with a backing washer and a 1/4″ nut.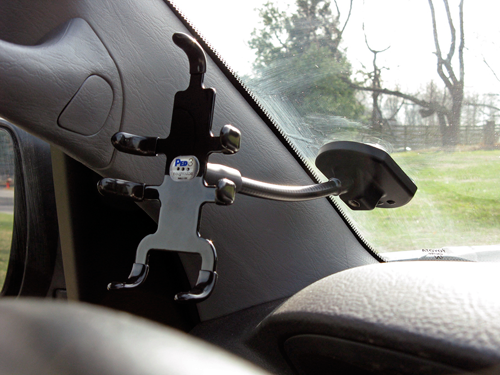 For my evaluation, I chose the suction cup method as otherwise my vehicle would be filled with screw holes or stuck-on adhesive pads from evaluations and reviews. The surface truly must be flat and clean for the suction cups to work, don't try mounting it on your dashboard, it just won't hold with the suction cups. Once you've decided how and where to mount, the next step is placing your iPhone into the mounting unit that holds it firmly in place. This unit, with 7 vinyl covered finger-like grips, holds your iPhone in place; it is not coming out unless you physically remove it. It really does hold onto your iPhone. As you can see by the pictures below, the unit does mount easily and stays in place once you have decided where to mount it. You can see the vinyl covered grips that will hold your iPhone in place. Once you have your iPhone in, it rotates very nicely and still maintains its grip.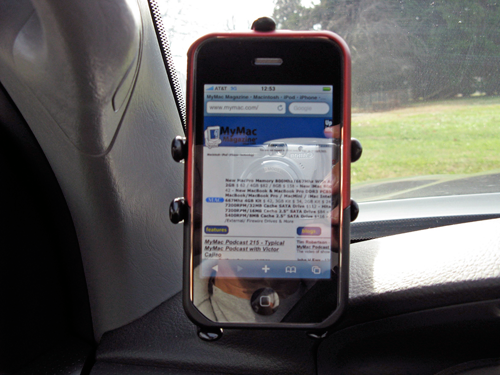 As I have stated in other reviews, placement of the unit is probably the most important aspect of the whole process. You want to be able to view your screen but you don't want to have to take your eyes off of the road or have the unit act as a blocking point for you to see out of your windshield. Depending on the method that you chose, your unit can be level with your view of the road, or if you're just planning on using it as your phone or music source, then placing it lower down in your vehicle can make sense. I would recommend that you sit in your vehicle and try a few different locations before you make a final decision. Once again, I selected a position to the left of my steering wheel and mounted the PED3 unit there. I've not had any problems with the unit coming off or moving. It has remained exactly where I placed it and tolerated my moving my iPhone 3G in and out of it, no problems. The PED3 unit can be tilted so your view is either landscape or portrait view and the flexible arm permits adjustment for viewing purposes.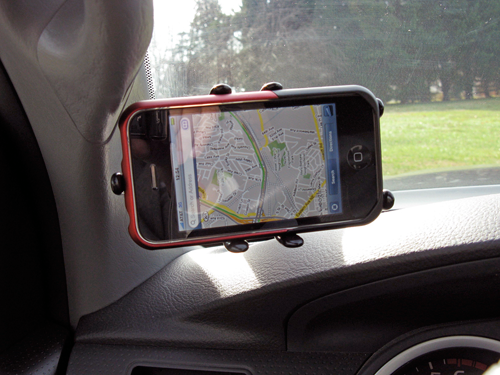 The one minus point with the PED3 is that while it does accept the iPhone 3G au natural or in a thin case, thicker cases are a problem. Now you can remove the vinyl covers off of the finger grips and even adjust the angle of the fingers, either by hand or by carefully using pliers, being careful not to mar the covers or the fingers. However, at least in my experience, thicker cases are a bit of problem, grip-wise, in keeping the iPhone in place. (OtterBox Defender)
A plus point in the PED3's favor is that the mounting options are not just limited to your car. Think desk, table, wall or counter as other options. Thought Out even advises that they will soon have a cup holder system that will allow you to mount the base plate to the unit and then just insert it into a cup holder with no muss or fuss. Additionally they are planning on a flexible extension neck for the PED3, giving it a bit more reach and providing some more flexibility.

So to review:
Pro: Well designed, provides a stable platform for the iPhone. Pricing is very reasonable for what you get in the box, considering the different ways you can attach the unit. The unit tilts for landscape or portrait viewing capability. Does exactly what it is supposed to do, hold your iPhone in place.
Cons: For those users who have their iPhone in a thick, protective case, this may be a problem, depending on the thickness of the case. The 5 inch length of the arm may restrict some capabilities.
Still highly recommended!
email – MyMac Magazine – Twitter – Advertise – Reviews Archive – Podcast