Stationery Pack 2
Company: equinux
Price: $49.95
www.equinux.com
Back in January I reviewed Equinux's Stationery Pack software which adds over 100 stationery templates to Apple's Mail program. Well, Equinux has recently released Stationery Pack 2, and if you are hooked on stationery in your email, and Stationery Pack 1 is not enough for you, Stationery Pack 2 might be worth checking out.
Stationery Pack 2 adds another 122 templates to mail. Within these 122 templates are variations on most templates bring the total to 660! Some templates have over 80 variations. The templates might vary in color, or the imagery might change. Below is a bowling template with its four variations.
To pick a variation you can click the icon for the template in mail, or you can use the Stationery Pack program. In the program you can choose the template and use the Quicklook interface to go through the variations, and then click the icon to compose an email. The Quicklook interface is fantastic and it is the first time I've seen a program take advantage of Quicklook.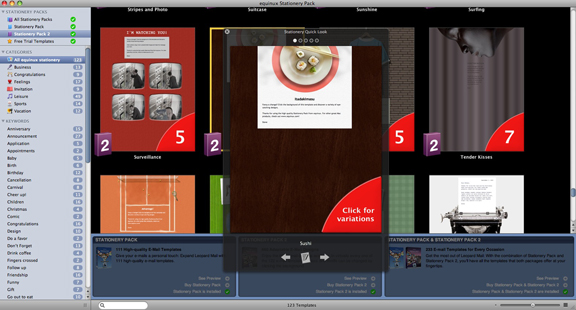 As in the previous version templates cover all types of categories. There are birthdays, sports, vacation, invitations, and more!
Previous owners of Stationery Pack 1 will have both version installed on top of each other in one Stationery Pack program. This is great. No need to open two programs to find the template you need. Also, as before, the templates can be installed in Apple mail right alongside the OSX templates.
My only complaint about the product is the price. You do get a lot for $49.95, but I would like to see a price between $30 and $40. $49.95 would make me think twice about purchasing.
With that said- If you are an email Stationery addict, and the $49.95 price is not a problem, you definitely want to try out Stationery Pack 2. It will give you a stationery fix for a long time to come.
email – MyMac Magazine – Twitter – Advertise – Reviews Archive – Podcast