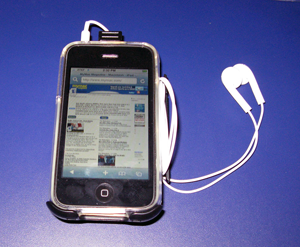 Sidewinder Deluxe for iPhone 3G
Company: Marware
Price: $39.95
http://www.marware.com
If you've just purchased a new iPhone 3G and you're considering a case, you may just want to wander on over to Mareware's website and take a look at the new Sidewinder Deluxe for the iPhone 3G.
If you're like most people, you have a tendency to forget where you left your earphones for your iPhone, at least I know that I have. Marware's Sidewinder Deluxe solves that problem for you by including a retractable side arm that you can wrap your earphones around and carry it with you wherever you go. Sporty and light, you just take your iPhone and place it into Marware's Flexi-Shell case, then just snap it into the black plastic holster, place it on your belt with the clip and go.
When I first got the case, and checked it out, the first thing that hit my mind was that when I sat down in my car the retractable side arm would retract and there goes my earphones… but it didn't happen. I had absolutely no problems whatsoever with the retractable arm retracting unexpectedly on me. Now I understand that not everyone is going to want to schlep their earphones around with them, but this case provides a good reason to have them handy. I don't know how many times I'm trying to have a phone conversation and either the volume out of the iPhone is too low for whatever reason or the background noise where I am simply drowns out the conversation. Now I no longer have any excuse not to hear what's going on. Besides, when I'm listening to my music on my iPhone, not everyone has my same eclectic music tastes and may not enjoy listening to my idea of good music. As long as you place your earphones securely on the retractable arm, they're not going anywhere.
When I evaluate a product, I put it through the process of trying to see if anything pops up that can be considered a red light in utilizing the product. I had no issues with the Sidewinder Deluxe at all. As I've said in other reviews for iPhone products, it may be just me but I just feel a bit uneasy about having the iPhone face out. At least with the Sidewinder Deluxe, you can face your iPhone in towards your body and it will be held by the belt holster.
Now Marware may wish to consider a turnable belt clip for those iPhone users who may still be leery of hanging their earphone on the side as one could then rotate the case to the horizontal and have the earphones on the top side. Overall, a very nice case that is lightweight, stylish and offers just a bit more that other cases. I had no issues with utilizing any of the buttons/switches on my iPhone, listening to music and no issue with taking any pictures.
So to review:
Pro: Lightweight, stylish. Retractable side arm allows you to bring your earphones along for the ride, as it were. Belt clip does not slip, holster keeps a secure grip on the iPhone. Included in the package is a microfiber cloth and screen protector. Flexi-Shell case prevents scratches on the back of the iPhone.
Cons: Belt clip does not rotate for those who may wish to carry their iPhone horizontally.
Highly recommended!
email – MyMac Magazine – Twitter – Advertise – Reviews Archive – Podcast