PowerDock2 Charging Station
Company: Griffin Technology
Price: $49.99 USD
http://www.drbott.com
An era of technology has metamorphosed our homes into a brimming mass of cords and assorted gadgets. How can you organize such chaos? Griffin Technology's PowerDock2 will calm the obsessive-compulsive organizer in you. A charging station that conveniently charges two iPod or iPhone devices at once using universal docking wells with easy-to-use adapters.
Designed to adapt to multiple versions of iPods and iPhones (See compatible list at end of review) the PowerDock2 offers distinction and efficiency in a humble package. The brushed aluminum design allows the PowerDock2 to compliment a corner of your office to a breakfast nook in the kitchen. A slim design, allows the charger to discretely blend in with its surroundings or spotlight itself when on its own. Included with the charger is a power supply cable (6') and six plastic dock adapters. Each adapter has a corresponding number, which you match with a provided table to allow your device to seat properly.
The PowerDock2 was designed for myriad of lifestyles, from singles to couples. Large families should review versions of the PowerDock that allow for up to four devices to be charged at once. To assist with those 'forgetful' days, placing the charging station in a bedroom can help ensure you never go to sleep without charging your iPhone. My iPhone and iPod nano(3rd generation) are always charged and readily available without the need to turn on/off a computer system.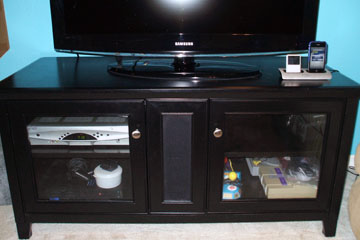 Alas, the PowerDock 2 is only a charging station and does not offer the ability to sync your files, which may deter many due to the price. Certain cases may need to be removed prior to charging, as access to the USB hub is required. Each adaptor fits very securely and may require a tool (small screwdriver, paperclip, etc.) to be removed when switching between different device versions.
Pro:
*Compact and ready to travel
*Rubber base keeps unit secure
*Ability to charge more than one device
Cons:
*No sync capability
*Device cases may need to be removed
NOTE: Initial shipping units do not have a iPhone 3G dock adapter included. Griffin offers the ability to purchase one for $1.99, however, shipping costs will greatly increase that figure. Griffin Technology did confirm that the initial units are 3G compatible, even though their box does not state so. (I bypassed this by using the iPod Touch adaptor, and have had no concerns).
email – MyMac Magazine – Twitter – Advertise – Reviews Archive – Podcast