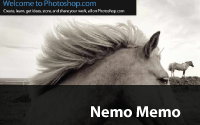 The Best Thing about Adobe's New Photoshop.com is remarkable toll-free live person phone support
Web site: http://www.photoshop.com/
Cost: Free
Photoshop.com is Adobe's new free Internet venue for uploading, editing, and sharing digital photos. Photoshop Elements 7 (Windows only) is being sold with aggressive promotion of Photoshop.com.
Photoshop Express (PEx) is a web-based amateur version of Photoshop, sort of a Photoshop Elements Lite. I signed up and test drove PEx during the summer, when it was released. I logged in a couple of times since then, but I didn't do anything important on my personal Photoshop.com site in PEx's Library.
Yesterday I attempted to log into PEx, and was advised I needed to reset my Photoshop.com password. Following the onscreen instructions using Apple's Safari web browser, I kept getting kicked back to the same password change screen, in a ridiculous and pointless loopdeedoo.
Clicking on the FORGOT PASSWORD? link, I entered my official Adobe registration email address, and was sent the following email message:
Hi John,
Resetting your password is a snap. Just click the link below or copy and paste the URL into your browser. Then enter your Adobe ID and your new password.
https://storage.adobe.com/reset_password.html?key=blahblahblah
If you need help, call Adobe Customer Service at 800-833-6687.
Thanks!
The Photoshop Team
When that technique didn't work, I called the 800 number, pressed appropriate buttons to navigate Adobe's caller routing, and within three minutes I was talking to a knowledgeable, experience, unflappable phone agent who was probably in the Philippines. Simultaneously, I was sent the following email message:
Dear John Nemerovski,
To reset your Adobe.com Membership password, please click on the link below or copy and paste the link into an already open browser window.
Once you're on the web page, you will be instructed to re-enter your Adobe ID and re-set your new password.
https://www.adobe.com/cfusion/entitlement/index.cfm?moreblahblahblah
Please note: For security purposes, this link will expire 24 hours from the time it was sent.
Some browsers and email applications may insert invalid characters or spaces into the link. If this happens you will receive an error page. Please copy and paste the link into your browser and try again.
If you need additional support, please contact us at:
U.S. and Canada: http://www.adobe.com/support/service/
Outside the U.S. and Canada: http://www.adobe.com/international/support/
Adobe Support: http://www.adobe.com/support/
Adobe Privacy: http://www.adobe.com/misc/privacy.html
You may update your communication preferences by visiting: https://www.adobe.com/membership/
Thank you for visiting Adobe.com
The phone agent and I agreed Firefox web browser could possibly be more effective than Safari. He told me to go to a different Adobe login page using Firefox, where I was able to reset and confirm my password. What is remarkable about this entire script?
• My original Photoshop.com / Photoshop Express password was inaccessible, for no apparent reason.
• Safari is incompatible with resetting a Photoshop.com password using the default screen process.
• I was able to obtain speedy, effective phone support to resolve my dilemma.
• A different Adobe.com web site for resetting passwords, and a different web browser, were required.
Many of us at MyMac Magazine and Podcast are huge fans, admirers, and users of Adobe products. Live phone support for free software, by a company of this size, is literally unbelievable in today's world. I applaud Adobe for putting so many resources into Adobe.com and Photoshop Express. In spite of my great phone support experience, if my original password and login had remained intact, and if Safari could be used to reset errant passwords, we wouldn't have known about Adobes tip-top-telephone-techies.
CONCLUSIONS:
1. Sign up today for free Photoshop.com. Try Photoshop Express. Keep track of your login and password.
2. Make sure that if Safari is your primary web browser, you also have Firefox installed, updated, and ready for action when needed.
3. Stick with Adobe. This company is certainly sticking with us, putting its money and mouth right where we need them to be.
email – MyMac Magazine – Twitter – Advertise – Reviews Archive – Podcast