Aluminum Unibody 15" MacBook Pro
First Look by Robert Hazelrigg
http://www.apple.com/macbookpro/
Suggested Retail Price Starts at: $1,999.00
Before I start with my critique, let me give you a little background. I'm a graphic professional that also provides IT help desk support for a large publishing company. I bought this Mac with the specific task of providing tech support and general surfing. When it comes do doing design work I'm still a desktop kind of guy. That said, this is not my first portable Mac. Prior to this 15" MacBook Pro I've been a proud owner of two 12" iBooks. The reason for the timing for this new purchase is because my last iBook didn't survive the return flight from Anaheim, California last month.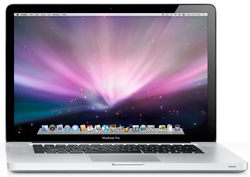 I am a tried and true Apple fanboy but I do have more than a few issues with the new MacBook Pro. To start, it feels heavy to me. I'm not sure if it's actually lighter then my old iBook or not but this is a minor issue even if it is true. However, I can't help think Apple could have made the Mac much lighter if they used plastic instead of glass on the monitor. The glass not only adds weight to the unit; it also ads glare. I've heard more then a few tech writers says that the glare doesn't really bother them. I'm perplexed at how it could not.
Even as I write this article in my dimly lit den I am distracted by the twinkling of vague reflections. For the most part the majority of the reflections are on the black bezel outside the screen area. The glare usually gets worse when I'm working in a brighter environments. Although I would never use the computer to do photo retouching, I have to say the screen is beautiful. And even though I have issues with the glass glare, the screen is sexy. The colors are gorgeous and saturated. Moreover, the monitor is also very bright. And unlike my old iBook, I can actually work on the monitor outside in the bright sunlight.
One serious complaint I haven't heard anyone else speak of is the screen hinge seems very loose to me. Maybe this is due to the weight of the glass. I'm not sure, but when held in certain positions the lid just closes. This issue reminds me of the issue the G4 (table lamp) iMac had. I hope that Apple develops a way to adjust the tension in the hinge soon. I would like the lid to stay put when I move.
Then we have battery life when in High Performance mode. Unlike any other Apple laptop ever made, this MacBook Pro allows you to turn off the high performance video chip set to conserve battery life. I understand why Apple gives you this option. My four year old iBook holds a charge longer then the MacBook Pro in Higher Performance mode. I wasn't doing any heavy processing last night and want to say I had less than two hours before I needed to recharge.
My last complaint with the new MacBook Pro is the sharp edges near the track pad. The edges aren't sharp enough to cut or scratch you, but when I work with the Mac on my lap my palm is rested on this sharp edge. And after working on the computer for any length of time my palm feels sore. Moreover the pain lasts for several hours after working on the Mac. This is an issue I've never had with any other laptop. I hope some 3rd party vendor creates a thin gel filled wrist pad to solve this problem.
Although it seems I have a lot of complaints about this Mac I have to say I love it. The all-in-one unibody design make this laptop feel stronger then any laptop I've ever used. The keyboard is as beautiful as the monitor. The keys are quick and responsive. The backlit keys are ideal for working in darker environments. And although I said I would never use this Mac for photo retouching it's not because the CPU isn't capable enough. This Mac is very fast and you can not deny its power. The new larger track pad is very nice and offers several new finger gestures including an option to right click by clicking in the user designated area of the track pad. Moreover I have yet to come across the unresponsive click issue others have complained about.
If asked I would recommend this MacBook Pro. However if the cheaper 13" MacBook came with FireWire I think I would have been happier with that for my needs. It's smaller, lighter, and has better battery life.
email – MyMac Magazine – Twitter – Advertise – Reviews Archive – Podcast