Supertooth 3
Blue Ant
Price: $99.99
http://myblueant.com
I was tired of holding my cell phone up to my ear during long business calls, especially while driving. I started researching Bluetooth headsets, but found that the really good headsets are expensive. Quite frankly, I don't like those over the ear type headsets either. I can never remember where the buttons are or what they do since I can't see them.
Take a deep breath and think about it for a minute, how exactly was I going to use a headset? Was I one of those people I see walking around talking into space while connected to my cell phone using the over the ear type headset? No. Did I need to be ready to answer those phone calls at a moment's notice by walking around with a headset connected, just in case? No. So what was I looking for?
After paying close attention to my cell phone usage, I realized that it was while driving that I most needed a solution to holding the phone to my ear. Honestly, driving with one hand is really a dangerous way to drive.
So what was the solution to my dilemma? The solution was Blue Ant's Supertooth 3 Bluetooth hands free speaker phone. The Supertooth 3 (ST3) is a rectangular device that mounts to your auto's sun visor with a magnetic clip. This is important (and convenient) because you wouldn't want to leave the unit in the car, and you need to charge the device now and then. This mounting system makes both of these very easy to accomplish.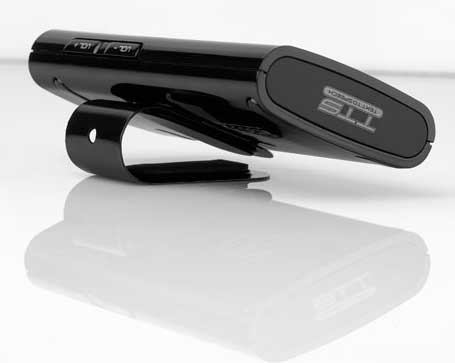 The unit itself has only two buttons on the flat, speaker side, and two buttons along the edge for volume. Almost all of the buttons have secondary functionality. Blue Ant gives you a great "Quick Start Guide" that gets the device up and working fast. After pairing your Bluetooth enabled phone with the ST3 you can begin using the unit immediately.
This is how it works: A call comes in and the unit announces that a call is coming in plus the phone number. If you have a phone that is capable of uploading your address book, the phone will announce who is calling by name. After the unit beeps you simply say one of four commands, "Accept Call, Accept, Answer, or OK" and the ST3 answers the call.
Then all you have to do is talk. Can it get any easier than this? I will admit I missed the fact that you need to wait for the beep and found myself frantically yelling "answer" over and over waiting for the call to be picked up. I must have looked like some crazy guy yelling into his visor on the highway. You can also press the "answer" button on the unit.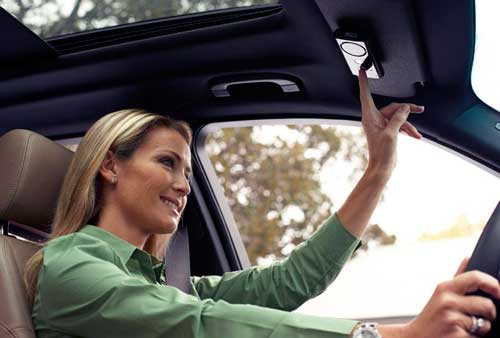 The people I spoke with, using the ST3, said the sound quality is pretty good though a few mentioned it sounded like I was in a "cave." In fact, one caller, who has a built in phone answering system in his Cadillac, said the sound was no better or worse than the built in system.
Voice dialing capability works as well. With my phone, I had to hit an external button on my cell which placed it into voice dialing mode, and then I just needed to speak the name of the person I wanted to call and the ST3 would confirm this by asking, "Call John?" Another cool feature is the redial button. Lose a call (something that happens to me far too often) and you simply press the redial button on the ST3 and your call is redialed. Nice feature.
You do have to remember that the ST3 is connected to your phone. After I got home from work one night I grabbed my phone and walked in the house. A call came in and I picked up my phone and could not hear anything? Then I realized I was still connected to the ST3 and ran out to the garage to hear a friend's voice coming through the device on my visor. You need to remember this little point.
The ST3 is jam packed with functionality, but what you can access depends on the cell phone you have. At a minimum, you can make and get calls with the ST3. However, the ST3 offers much more, voice dialing, six different languages, you can set up to eight different phones. That last option allows you to set up the ST3 with another phone and use the unit in another automobile. It's that versatile.
Here are some of the other features of the Supertooth 3 from Blue Ant:
•Language Support: English, Spanish, French, Italian, German, & British English
•Supports multi-pairing of up to eight devices
•Includes wall and auto charging adapters
•Provides up to 15 hours of talk time, with 800 hrs of standby time (not tested by me)
•The range is excellent
On the downside: The computer voice sounds very mechanical. There are no other voices to choose from. You have to hold the power button down for at least 8-10 seconds to shut the unit down. When connected to your cell via Bluetooth, a small blue LED on the unit flashes every few seconds. I had this light in my field of vision and thought I was being pulled over several times. Moving the unit to the other side of my visor reduced this problem.
I really like this device. It makes answering calls in the car very easy and much safer than trying to do the one hand turn.
If you talk on your cell phone while you are in your car, do us all a favor and buy the Supertooth 3 and concentrate on your driving instead of your call.
This device is well worth the money.
email – MyMac Magazine – Twitter – Advertise – Reviews Archive – Podcast