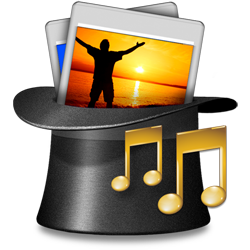 I just completed a professional quality dynamic slide show using FotoMagico 2.2 from Boinx Software. The client is thrilled. She raved about the visual dissolves, transitions, fades, zooms, and twirls. She adored the customized integration of audio with images. She demanded and expected the best, and the result exceeded her goals.
FotoMagico software went gone through four incremental version upgrades since we first discussed it over two years ago. While I was using version 2.2, a newer free 2.5 upgrade was released. Developer Peter Baumgartner is working day and night on version 3, which will allow users to pull in movies for the first time.
Every numbered FotoMagico iteration works essentially the same way. Upgrades take the application from good to very good to outstanding to excellent to amazing, but the core functionality remains: individualized slide show creation and presentation.
There are few problems or bugs in this software. When you come across a glitch, you email Boinx tech support, and your issue is addressed quickly and honestly. Usually you are given a hidden-in-plain-sight tip to get you out of your impasse, and sometimes you are told the error is a known issue that is being addressed for the next release. Suggestions are welcomed, and they are handed to Peter for consideration.
One concern remains. Documentation is not thorough enough. Boinx staff are working to remedy this shortcoming. The year 2009 will have a breakthrough, I predict.
Your existing computer may or may not be adequate to work in FotoMagico. It requires a lot of graphics card and processor muscle, especially in version 2.5 and later. New Macs are up to the task, but "old" machines from two or three years ago very possibly will crash the application. Always take a test drive first, with this and all other new graphical software.
My friend and client Nancy has continued to use FotoMagico for very elaborate slide presentations since I first wrote about her and FotoMagico. Her most recent 40 minute show has over 400 rotating and zooming photos, parts of over 35 songs, and several dozen embedded titles. I helped her solve a few technical issues, and Boinx support actively assisted her a bunch of times.
Preparing my own professional slide show, I became proficient at a steady pace that would have been faster with more detailed Help menu, FAQ, and/or reference book. Give yourself plenty of time to become comfortable with FotoMagico, and allocate at least one hour of production for every minute's duration in the final project. Having this pro show completed, I'm ready and willing to take on any subsequent assignments without one drop of anxiety.
Exporting to DVD is now joined by sharing options to all popular media and devices. My professional DVD used iDVD for the last step, which crashed my PowerBook. An intrepid Apple Genius advised me to reinstall iDVD '08, which solved the problem. FotoMagico was not the culprit, and it exported flawlessly once my Apple software was in good shape.
Go to fotomagico.com. Read all about the software, and its Apple Design Award. Do a web search for "fotomagico" (without the quotes) and read numerous reviews and tutorials. If you are a serious photographer (or not) who wants to be a high-end (or not) slide show creator, look no further. iPhoto and iMovie make nice amateur and intermediate quality slide shows, but they are no match for FotoMagico when only the best is acceptable.
Boinx is a small company with a handful of stellar applications. FotoMagico is the dedicated project of a single developer plus a small team of support staff. MyMac continues to recommend this company and its software. I'll need to get a new computer to use versions 2.5, 3, and up. If ever a single application warrants a major hardware upgrade, FotoMagico is it.
LINKS:
http://boinx.com/fotomagico/overview/
https://www.mymac.com/showarticle.php?id=2537
ADDITIONAL INFO PROVIDED BY BOINX TO MYMAC:
The new 2.6 version, just being released, of FotoMagico Pro will support Adobe Lightroom 2 libraries and comes with a free plug-in for Aperture ("FotoMagico Plug-in for Aperture"), enabling photographers to select their photos from within Aperture and to export them directly to FotoMagico.
Regarding your concerns about the lack of documentation, we are selling FotoMagico Tutorials on DVD of Rick Rosen (who is a well-know wedding photographer) in the Boinx Kagi Store.
[MyMac will be evaluating Rick Rosen's FotoMagico tutorials in 2009.]
email – MyMac Magazine – Twitter – Advertise – Reviews Archive – Podcast