Kensington Ci95m Wireless Mouse w/ Nano Receiver
Price: $39.99
Company: Kensington
http://us.kensington.com
I have tried a number of wireless mice, most of them Bluetooth. Unfortunately, I fund that my PowerBook battery drains faster with Bluetooth turned on, and as much as I want to like Bluetooth, I find it does not always work well. Often it does not find the mouse after sleep, and I have to "discover" it again. Sometimes it simply stops working, or drops out and reconnects from time to time. I thought this was my computer's fault, but I have seen this problem on 4 Mac laptops now, so I suspect this is just a Bluetooth thing. I also find Bluetooth mice burn through batteries quite fast.
So, when looking for a new wireless mouse, I was rather intrigued by Kensington's Ci95 m Wireless Mouse with Nano receiver. Right out of the box, there is a lot to like, and I have not even turned it on yet. The mouse comes in one color combination: silver and dark gray, and looks good. The mouse itself is fairly small, sitting at less than 1" tall, and fits comfortably into your hand at just 6" long by 2.5" wide, and weighing about 4 ounces with batteries installed (and just 1.5 oz without!) It also comes with a VERY TINY "nano" radio receiver, so this is not a Bluetooth mouse, but rather a 2.6 GHz wireless mouse that emulates a wired three-button mouse.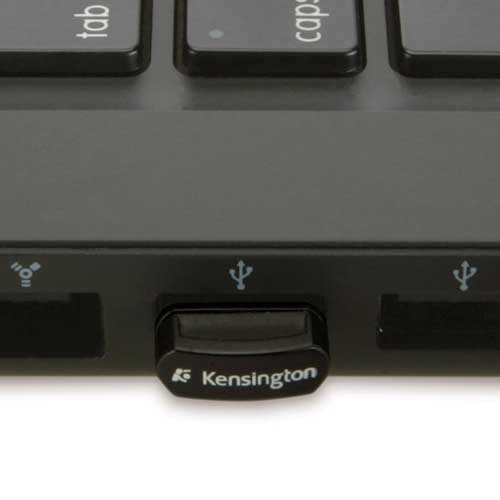 The "nano" receiver is so small, when traveling, you could easily loose it, but the bright people at Kensington have solved that issue in two ways. First, given its tiny size, you could simply leave it plugged into a USB port on the computer. When plugged in to the computer, it sticks out just a quarter of an inch, almost invisible, and becomes part of the machine. But if you want to carry the mouse elsewhere, simply hide the receiver inside the mouse!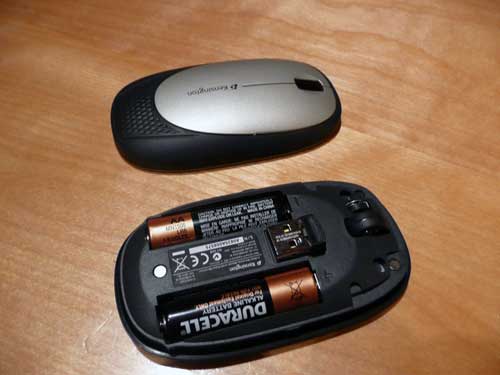 The top of the Ci95m is held onto the bottom by three small, powerful magnets, and easily "splits" opens to reveal two easily replaceable AA batteries, and a small 'parking space' for the nano receiver. The 'parking space' also has a powerful magnet that holds the receiver securely in place inside the mouse when not in use.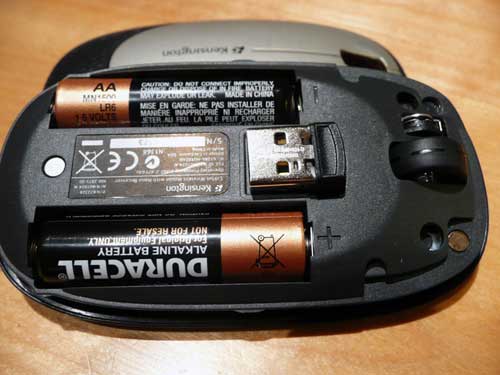 But how does it work as a mouse? Installing it was simple, as there really was no install needed, it works right out of the box. Simply open the mouse, remove the receiver and plug it into any USB port. Insert two AA batteries into the mouse, replace the top, and you are ready to go. To prevent battery drain when not in use, the mouse has a small slide on the bottom that covers the laser and turns off the mouse. Slide this open to reveal the laser and turn on the mouse, and you should be working. The mouse also shuts itself off if not used for a while, and can be woken by simply pressing any mouse button. With these power saving features, Kensington says you should get about 6 months of use from a new set of batteries. I have only been using it regularly for about 5 weeks now on the first set of batteries, so I will have to let you know, but so far, this is already much longer than many Bluetooth mice I have tried.
There is nothing special about this mouse when it comes to controls; it has a left and right mouse button, and a clickable scroll wheel. While the left and right buttons works as expected for any mouse, clicking the scroll wheel did nothing on my Mac at first. And because there is no software driver installed, there was also no way to assign this button to a specific function. Changes to the Mouse Preference Panel affect this mouse as they would any wired mouse, but there is no "middle button" control there. However, in the Expose Preference panel, you can assign some of the Expose functions to a second or middle mouse button, but that's it on the Mac. The scroll wheel itself worked fine in Finder windows and documents, scrolling up and down as expected, and scrolling speed can be adjusted in the Mouse System Preference as well.
As with most optical mice, it should work on most surfaces, and I tested this mouse on a number of different surfaces with no problems at all. I tried a carpet, a shiny wood table, a manila file folder, a white piece of paper, a magazine, and many other surfaces as well. Like all optical mice, it does not work on glass or any clear surface, and trying it on a glass coffee table did not work at all, as expected. If you have a glass desk, a mouse pad will solve this problem.
Kensington markets this as a travel mouse and given the rather flat shape, easily slipped into my travel bag taking up very little space. But this will also work well at home too. Simply plug in the nano receiver and forget it, and you have a great home wireless mouse as well.
My only minor complaint on this mouse was that I could not configure the buttons. I really wanted to be able to assign the center button to something I wanted, and not just an Expose function (I choose Show Desktop.) But not having to install a special driver to use the mouse seems like a great trade off. In fact, this mouse easily moved from one machine to another, from Mac to PC and back as easy as any wired mouse with no drivers to install anywhere, and that I found very useful and convenient.
So if a flexible, small, lightweight, comfortable, travel wireless mouse is what you need, this is a great mouse at a very reasonable price. If you need configurable or more than three buttons, or do not like that it is not Bluetooth (a plus in my view) then this is not the mouse for you and you should look elsewhere.
Pros
Great battery saving technology, VERY small receiver; reasonably priced.
Cons
Cannot assign button functions.
MyMac rating: 4.5 out of 5

email – MyMac Magazine – Twitter – Advertise – Reviews Archive – Podcast