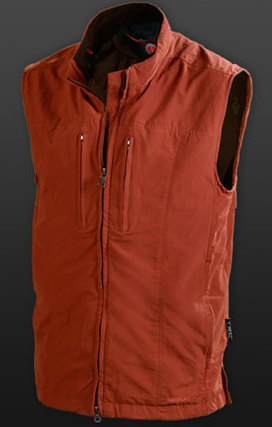 Travel Vest "Technology Enabled Clothing"
Company: SCOTTEVEST
Price: $100
http://www.scottevest.com
Available in Black Lava, Desert Sand, or Red Rock; sizes are S-XXXLT (no tall in Red Rock)
My birthday present arrived a few days early last month, as a review item from Scott Jordan at SCOTTEVEST (or SeV), in Ketchum, Idaho. I loaded the "Red Rock" vest with as much gear as I could fit. I was in San Francisco, where the high temperature in Fogland was 61°F, so the vest was useful for warmth and wind protection, in addition to packing techie toys.
Since that day, I've worn this precious vest nearly every waking hour. My family and friends roll their eyes listening to my constant raving about Scott's sensational vest. I can't keep my big trap shut about this life-altering garment. It's the single best article of functional clothing I have ever worn.
Every guy with even a moderate amount of geekiness will immediately bond with this vest, wishing he had two, so when one is in the wash he won't be vestless. Yes, this vest is a bit of a guy thing, but please take a look through the company's full catalog, complete with an extensive range of garments for women and men. SeV's Classic Travel Vest for women "is a much cuter version of the men's — nipped in waist and hitting below the hips," from company literature.
MyMac first learned about Scott Jordan when Sam Levin and David Cohen praised to the skies SeV's Essential Jacket during multiple podcasts several months ago. Then Gil Poulsen did a web site review of the jacket. Gil's evaluation is is one of the most interesting articles ever posted at MyMac.com.
The key features of the SCOTTEVEST Travel Vest are:
• Headphone access from most pockets, via special internal channels, including neckline tabs to keep cables conveniently in place. Scott calls it "PAN," for Personal Area Network, "including new QuickRelease Method."
• Balance and weighting design, so full pockets maintain a lean overall appearance, without obvious bulges. Company names for this are "Weight Management System" and "No Bulge Pockets." The pockets are designed to spread out your devices so they never overlap in the garment. Scott tells MyMac: "This is something that really sets us apart from every other manufacturer of clothing in the world. We've put more thought into the design of pockets than anyone has in the past 300 years!"
• Ability to operate an iPod without removing it from an internal pocket, thanks to special fabric that facilitates hands-on controls.
• Amazing placement of external and internal pockets, zippers, snaps, magnets, clips, and velcro so all your digital devices and personal effects can be carried for secure storage and efficient usage. A total of 22 pockets and compartments are in the Travel Vest! I'm not sure I've located all of them yet, so I've asked Scott to provide a schematic diagram. One should be included with every shipment.
• Small numbered descriptive cards are included in every pocket, suggesting optimum use, such as iPod, camera, or phone. Keep them in place (you have been warned) until you absolutely know what is supposed to go where. It's tempting to remove them, but don't. I did, and I wish I hadn't done so.
• Comprehensive "Get Wired" carrying for iPods, cameras, phones, cables, cases, adapters, hard drives, flash drives, eyeglasses, water bottles, snacks, hankies, and even a laptop computer, all in a single vest. I can't wait until the next time I stroll through airport security, knowing all my electronic equipment is breezing through the x-ray equipment in one inconspicuous garment that doubles as a bonus carry-on, without airport fees.
• Total customer support by the people who work day and night at this small company with a hands-on approach. They design, wear, and believe strongly in their custom garments. If the zippers snag or your vest is defective, a replacement is on its way the following day. SeV offers a 30 day money back guarantee on every item, but I doubt you'll be sending your garment back.
• Business, leisure, and outdoors styling and color choices: black, tan, and red, in attractive, soft material. The vest is surprisingly light. Its fabric is 65% cotton and 35% nylon, treated with Teflon, and with a silky interior lining that is strong enough to supports several large and small pockets.
• "Gear Management Clothing" Bonuses: "BudBuckets" to hold earbuds, "Eyeglass Chamois with Versatile Clip," bottle holder and "Water Hydrdation System" pocket for water bottle or larger athletic water bag, "Extendible, removable Key Holder," and several more I'm still investigating. The company has many patents and trademarks for their product range.
Order your vest one size larger than your actual size, to allow for ample fit and minimum equipment bulge. I'm a size small for shirts and jackets, and the medium Travel Vest fits perfectly. What size should Guy Serle order, being B I G and T A L L ? We'll find out, and get Guy a vest or jacket as soon as possible.
I'm sitting in my office in Tucson, Arizona, wearing the Red Rock vest over a T-shirt. It's approaching 100°F outdoors, but I'm cool and collected indoors. Digital camera is in left exterior breast pocket, cellular phone is in right exterior breast pocket, iPod is in special touch-friendly interior left breast pocket, glasses case is in dedicated left interior breast pocket that has clip and chamois, earphones and case are in right interior breast pocket, keys and water bottle are in right exterior waist pocket, hankie and extra cash are in left exterior waist pocket (that has a zippered secret pocket for the cash), portable digital recorder is in right interior waist pocket, and hat plus pad of paper plus PostIt notes are in enormous left interior waist pocket.
A small adjacent interior pocket carries my USB flash drive, extra camera storage cards, camera card reader with cable, and pair of AA batteries. I haven't yet used the gigantic rear pocket, suitable for a laptop computer or three-course lunch. Check back with me next January at Macworld Expo to see how I'm using this rear space. I'll probably have Ethernet, FireWire, and USB cables galore there.
SCOTTEVEST's included card states "This pocket is designed to hang freely so it is not obvious from the outside what you have inside. You can use this pocket to hold a Camelbak [athletic drinking pouch], routing the straw tube through the holes at the bottom up to the collar area." As in most of SeV's zippered or snapped pockets, earphone cables can connect to iPod via special channels and velcro holders that are easier to demonstrate than explain, but they work.
LINKS:
SCOTTEVEST's excellent web site
Thanks for asking! Next birthday please send me Scott's Tactical Jacket, with 35 pockets. This jacket is used by undercover agents "who demand the ultimate in functionality and concealment." It's waterproof and windproof, with removable sleeves and hood, and an optional fleece interior for Secret Service types who do their mischief in cold climates. Total price? A hot deal at $300 for the concealing combo.
Whoops! Scott just told me that "our Tactical Jacket in your catalog has been discontinued, John. I would suggest that Gil and your readers might also appreciate our new Quantum Jacket, debuting next week. It's not a direct replacement for the Tactical, but it is taking its place in the line and has been getting some RAVE advance reviews.  Our Fleece 5.0 (presented on our homepage, is also a great product if you're in 'spy mode.' ;-)"
email – MyMac Magazine – Twitter – Advertise – Reviews Archive – Podcast