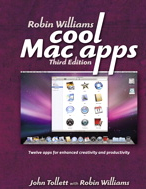 Robin Williams Cool Mac Apps, Third Edition
by John Tollett with Robin Williams
Peachpit Press
ISBN 978-0-321-50896-6, 511 pages
$24.99 US, $26.99 CN, £17.99 UK (many online discounts)
Cool Mac Apps is the best book for understanding how to use the creativity and productivity software that Apple includes on all Macs: iPhoto, iMovie, iDVD, iTunes, Mail, Address Book, iChat, Bonjour, Safari, iCal, Dashboard, Photo Booth, and Time Machine. In one substantial, affordable volume, readers learn what's what, so they can fully use as many of these fine applications as they want or need to.
Chapter lengths vary depending upon how important John and Robin consider the different apps to be, and how much you can actually do with them. Their iPhoto opening chapter is a book in itself that is worth most of the modest price of the entire assemblage. The same can be said for the units on iMovie, iDVD, iTunes, and Mail. Whatever your interest, you'll agree that "just right" is the number of pages, screen shots, and tutorials devoted per application.
Book Bytes rates Cool Mac Apps, Third Edition very highly, at a 4.5 out of 5. I knew a lot about these common applications, yet I learned something new, and important, in every chapter. You should see the number of page folds in my copy, indicating places I need to return and study so I can be as smart a Mac user as our world class authors, Robin Williams and John Tollett.
Here is our interview with John. It's revealing, and very candid.
MYMAC: How did you decide how much space to devote to each application?
TOLLETT: We usually start with the intention of allowing as many pages as necessary to throughly cover each application. This approach, however, has become increasingly difficult, since each application includes multiple new features with each new version released, requiring many more pages than the previous edition. One subtle effect is that we end up being as brief as possible and sometimes crowd a little more information on a page than usual.
We really didn't want to go through certain chapters and delete information, because the simple, basic tip that's deleted is always the one thing that some readers would find useful. So we just tried to cover everything, within reason. There's always some geeky thing that we figure most users won't care about. In most cases, if it's a tip that's beyond the usefulness of our everyday Mac experience (or put another way, if you have to open Terminal and type commands), we figure there are other books out there for that audience.
Because the book was getting so fat (and late), we decided to eliminate the .Mac section, GarageBand, and iWeb. Obviously, it's OK that we dumped the .Mac section since MobileMe has replaced that service.
As for GarageBand, it's supercool and relatively popular, but most people we know have never even opened it. We're continuously stunned and amazed by how many Mac users have never even opened iMovie or iDVD, much less GarageBand. While I'm on the subject of being stunned and amazed, we have friends that never would have upgraded to Leopard or used iChat (and Screen Sharing) if we hadn't threatened to stop giving them tech support without it. The point is, there's probably no more than a handful of readers who care that GarageBand got left out. And for them, there's an extensive Help file built in.
The same argument was used for dropping iWeb. It's definitely a Cool Mac App, and I use it, but if some apps had to go, we decided that's one them.
MYMAC: How did you determine what details to include for any given app?
TOLLETT: We really try to include just about everything we've learned about an app. Of course, occasionally we learn something about an app after the book has gone to press. Or, sometimes, working as fast as possible, something just accidently gets left out because a note gets misplaced. I don't think that's happened much, but it's always a fear that lingers in the air while the project is ongoing.
MYMAC: Would you say there is a substantial majority of basic info versus hidden tips or power user material?
TOLLETT: Yes, most of the information is structured around using the application's basic features, getting familiar with the app's interface, etc. My take on Mac has always been that almost nothing is harder to do than clicking a button. You just need someone to tell you what the app can do, and where to find the right button to click. I think each chapter has it's fair share of power user tips, some hidden, most just based on user experience.
MYMAC: How much stuff in this book are you actually using yourselves, as opposed to presenting only for your readers?
TOLLETT: Without a doubt, at least 90% of this stuff we use everyday, all day, and half the night. The only apps in this book I don't use every single day are Photo Booth and iDVD. Photo Booth is the one app I don't use much at all, but lots of people do. And even though I don't use iDVD everyday, I do love it and probably use it for a project every couple of months. Instead of burning DVDs of my iMovie projects, I usually upload them to my MobileMe Gallery. It's much easier than burning DVDs and shipping them to people, the quality is good, and there's always that advantage of instant gratification.
Just a couple of days ago, Robin and I attended her sister's wedding in the San Francisco Bay area. The bride had asked me to shoot photos, but "Please, no video." Ignoring that request, I took along a Flip video camera that's a little smaller than a mobile phone ($155). The day after the wedding, we flew home to Santa Fe, and the next day I uploaded a 14 minute, edited iMovie of the event to my MobileMe Web Gallery. The movie included both video and still photos. Some of the still photos were single frame video captures. Within minutes of uploading, the newlywed couple watched the movie and passed the web address along to all the wedding guests, friends, and relatives. So, not only are we actually using this stuff, we can't live without it.
MYMAC: Have you compared your longer chapters with other books that concentrate on just one application, such as iPhoto or iTunes?
TOLLETT: Yes, and I think it compares favorably for the vast majority of readers. It's quite challenging and time-consuming to include so many apps in one book. For instance, to write many parts of the iChat chapter I had to have  three computers within a few feet of my office chair. And I needed three or four different .Mac accounts.
MYMAC: What are some of your greatest application revelations learned while working on this book?
TOLLETT: My biggest revelation was how indispensable Time Machine can be. Several times during and after this book project, Time Machine saved my digital life, or at least changed a catastrophic blunder into a minor inconvenience. At one point, I was able to completely restore the System from Time Machine, which totally solved a password issue that was preventing me from installing software update. And there's the huge factor of having peace of mind, knowing your important files are backed up.
Another revelation was how my attitude towards iMovie changed from negative (or at least lukewarm) to enthusiastically positive. This new version isn't yet as versatile (fewer transitions and title styles, no effects), and its interface is a totally new paradigm for video editing, making it extremely unfamiliar to people who've used iMovie before. I've used it a lot now (even after having to use it to write about it), and for certain projects it's wonderful. And fast. Its integration with iPhoto, iTunes, Web Gallery (for MobileMe members), and YouTube are fantastic. Best of all, there are easy to use color correction controls that make unusable video clips look anywhere between usable and great.
One other cool feature of iMovie is worth mentioning. Your iMovie projects and clips are listed in the iMovie sidebar, making it easy to open and edit, or use clips from one project in any other project.
I still use Final Cut or iMovie HD if I want to edit video clips precisely timed with the beat of a soundtrack, or to create special effects that require multiple video layers, but if I want to create a project quickly and upload it to a MobileMe Web Gallery or YouTube, I use the new iMovie.
As a side-note, last January, as I was using the new iMovie for the first time, I edited a short movie of our new MaltiPoo puppy so I could learn how to upload the movie to YouTube (click a button. Ha!). I tagged the video with the keywords "MaltiPoo" and "Dogs." The video on YouTube has a viewer rating of 5 stars and has been viewed more than 13,000 times in a little over 8 months. That's not much by some YouTube standards, but it's 12,990 more views than I ever expected.
MYMAC: Which method(s) of Leopard screen sharing are your personal favorites, and why?
TOLLETT: Screen Sharing through iChat is the method we use 99% of the time, because we're usually using it to give tech support or instructions to a friend or relative who's connected through the Internet. The local computers we use most are within a few steps of each other, so we don't usually need to use a local network Screen Sharing technique, such as Bonjour. If Robin wants to show me something on her screen, she uses RobinVoice Pro 10.5 ("Honey, could you look at this?")
MYMAC: What are the Dashboard widgets you and Robin use most frequently, that you can't live without?
TOLLETT: On an almost-everyday basis, I'd say the Weather widget and Dictionary. Although sometimes the Weather widget on my Mac and on Robin's (on the opposite side of the room), show slightly different temperatures and weather predictions. My favorite widgets, however, are Package Tracker and Delivery Status for tracking UPS and FedEx deliveries. For tracking airline flights, I love Flight Tracker. Finally, I really love Corporate Ipsum. It's an automatic text generator for creating fake text, similar to Greeking. For many years, designers have used "Greeking" (fake Greek) to fill in the text areas of layouts with copy that doesn't really say anything. Corporate Ipsum does the same thing, but uses corporate double-speak instead of fake Greek. It looks and sounds more realistic than Greeking, and you can set a slider to determine how many paragraphs of text you want. Very cool.
MYMAC: How much of the overall content is JOHN, and how much is ROBIN?
TOLLETT: Mail and Address Book are mostly Robin, based on her Leopard book. All other chapters are mostly me, not counting her contributions of layout and design, editing, organizational advice, InDesign template creation, InDesign tech support and Style Sheet creation, and huge assistance with Table of Contents creation and Index creation and editing. She also provided input, sage advice, and help in countless other ways. In short, I'd hate to think about writing a book without having her constantly very nearby.
MYMAC: Is there a way in future printings or editions you can make the screen shots brighter, because they are a little dark?
TOLLETT: Possibly. Three things are affecting this problem.
One: a couple of the application interfaces are very dark (Time Machine and iMovie). I could lighten them in Photoshop, but I'm concerned about misrepresenting the look of the app.
Two: the book is printed on paper stock that doesn't help the problem. There are budget reasons for the paper choice, I'm sure.
Three: We actually designed and produced this book to be in full color. That turned out to be a misunderstanding (all my fault), and it was printed in black and white.
At one point, after seeing some color PDFs, our editor said "Is this book in color?" I ignored that comment, continuing in color until I heard otherwise. I didn't hear otherwise until the final files were uploaded to the Peachpit FTP site.
If it had been printed in color, a higher quality paper would have been used and the screen shots would have looked much better. When the original color files were converted to grayscale by Peachpit at the last minute, perhaps the batched grayscale conversion didn't quite do justice to the screenshots. The Section divider pages were actually very nice looking in color. In grayscale they're semi-horrible at best, but fortunately there's enough contrast to make them readable. So yeah, that part is very disappointing.
MYMAC: Are you concerned the new iTunes makes some of your chapter out of date?
TOLLETT: Yes, but what can you do? I comfort myself with the fact that not everyone updates their software instantly like some of us do. Robin and I probably update our hardware more often than most people update their software, so maybe the chapter isn't a total loss. And there's the fact that the new iTunes isn't so different that it makes the chapter useless.
MYMAC: Do you really use iTunes' Visualizer? Which module(s) are your favorite(s)?
TOLLETT: I don't use it every day, but at once a week, late at night, I'll take a break, open iTunes, play something fantastic like Trans-Siberian Orchestra, and watch the visualizer go crazy. On the previous version of iTunes, I used to tap the R key to the beat of the music to randomly change the colors and patterns on the screen. But I haven't found how to do that yet in this new version.
MYMAC: What are your favorite iTunes freebies, available from the Store?
TOLLETT: I like some of the free tutorial Podcasts (Photoshop User TV, Photoshop Killer Tips, Adobe Creative Suite Video Podcasts). I have an iPhone and for the first time in my life, I love a phone. So I really love some of the free apps that are available in the iTunes App Store. Most notably, Twitterific (for blogging with 140 words or less), Movies (for finding movies near you), WhitePage mobile (for people or business searches, identify unknown phone numbers with Reverse Phone feature), MLB.com At Bat (baseball scores, highlights, and more), AOL Radio (Internet radio on your iPhone), and SportsTap (for scores of all kinds).
I often spend lots of time just browsing around the iTunes store, listening to the 30-second music samples. When I'm working on a movie project, I often spend more time listening and searching for just the right song than I spend actually editing the movie.
MYMAC: Thank you, John Tollett. The books you and Robin Williams co-author are consistent favorites of Book Bytes here at MyMac Magazine. Keep 'em coming!
email – MyMac Magazine – Twitter – Advertise – Reviews Archive – Podcast