There is art in nature, and there is nature in art. Making successful photos of art/nature requires being there completely, with your psyche and camera.
All the images in this tutorial are full frame; no cropping was done. Photos were taken with Casio and Fuji digital still consumer cameras in AUTO mode.
Adobe Photoshop Elements 6's QUICK FIX adjustments were used, as indicated below every photo. Versions 3, 4, and 5 of Photoshop Elements also have Quick Fix available, but version 6 is more robust and responsive. iPhoto's ADJUST editing panel is comparable, in versions 4, 5, 6, and 7, but Adobe's Quick Fix in Elements 6 is the very best.
This is an "after-only" tutorial. I'll explain what settings I used to improve the original pictures into what you see here. The goal is to inspire you to make a lot from a little, with a few minutes of intense digital image editing using affordable software containing powerful, simple slider tools.
* * * * *
1 – RUSHIN' RIVER
We stopped at Yosemite National Park on our way from Arizona to San Francisco. Snow melt from higher elevations cascaded down to roaring torrents on the valley floor. The original photo was in color, so I moved the SATURATION slider all the way to the left to convert the photo to black and white. Then I LIGHTENED SHADOWS 20 percent, boosted MIDTONE CONTRAST 10 percent, and moved TEMPERATURE to the right 5 percent.
This location in the forest was very dark. I needed to preserve that feeling, and give the black and white final photo enough dynamic range of light to represent the experience I had standing above the boulders and spray.
* * * * *
2 – HIGH ON SKY
Five percent each plus of LIGHTEN SHADOWS and MIDTONE CONTRAST added emphasis and energy to the clouds and waves at Baker Beach. We had glorious weather during the first few days in San Francisco, but then the famous fog rolled in. Mid-summer twilight in central California lingers into the evening, when this image was made.
* * * * *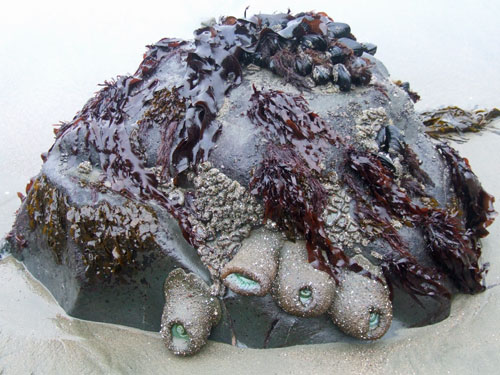 3 – TIDAL MOUND
Adding 25 percent SMART FIX plus 10 percent MIDTONE CONTRAST gave life to these undersea forms exposed during a rare summer low tide. The hour was very early, the weather was lousy, and all my other images were horrible. Walking beyond China Beach where the Pacific Ocean normally resides is always an amazing hour.
* * * * *
4 – DANCING REFLECTIONS
Sunny, windy Chrissy Field Beach is two miles east of foggy Baker Beach. A small sand spit is suitable for hopping and dodging shallow incoming waves. When the light is right, reflections are plentiful. Take a bunch of photos, hoping for a winner, or time your snap precisely to catch your subjects in blissful positions. The original image was good enough that only a tiny 5 percent plus of MIDTONE CONTRAST added sparkle to the highlights.
* * * * *
5 – MYSTERIOUS PYRAMID
Back at Baker Beach on a rare sunny afternoon, revelers wondered who made the amazing sand pyramid. Have you ever tried to build one? Good luck! This photo is our transition from the aquatic/nature theme to our art theme.
Great original lighting enablers the image to be posted here without any tweaks, which is atypical. The sunshine was so bright that I didn't realize until days afterward how well the tall piece of wood carries the viewer's eye from mid-photo through the Golden Gate Bridge to the very top of the frame. Pure dumb luck, infused with fifty years of photographic experience.
* * * * *
6 – FOUND SCULPTURE, FULL OF BEANS
Not to be outdone by tidal anemone mounds or pyramids of sand, the afternoon kitchen shift at a neighborhood restaurant piled a thousand beans on the rear table, destined for the thousand degree wok. Our lunch waiter looked at this spontaneous sculpture without passion, as he attacked his three course meal reward. A 50 percent SMART FIX improved color balance.
* * * * *
7 – WOW!
A very different restaurant graces the Palm Court of the Palace Hotel on Market Street in downtown San Francisco. Afternoon tea for two will set you back over a hundred dollars. I wonder if the food is as good as the setting, because the entrance is as far as I ventured.
The color balance was a little peculiar, so in addition to 75 percent SMART FIX I added 25 percent each to LIGHTEN SHADOWS and DARKEN HIGHLIGHTS. That did the trick, without requiring any adjustments from the three color sliders in Adobe Photoshop Elements 6.
* * * * *
8 – WEIRD STAIRCASE
The Fine Arts de Young Museum hosts special exhibitions in the lower level gallery. Heavy overcast lighting offered a reflective glass wall instead of a view of the artsy atrium. One quick snap was all I could grab of Mr. X in descent. At first I wanted to realign and straighten the frame, but I decided the photo has more energy being tilted.
All of the lighting adjustments wrecked the mood of the original image, so I left it alone. Viewers can form their own opinions of the subject, composition, and motives of the photographer.
You can't see it in this reduction, but in the original 36 x 48 inch 72 resolution photo there are a lot of intriguing details that would have been appropriate for the 1966 movie "Blowup." Rent it if you've never seen it, or again if you have seen it.
* * * * *
9 – COLORFUL GLASS CEILING
Glass master Dale Chihuly has a retrospective exhibit in that de Young Museum lower gallery. One room's display is overhead, lit from above, with countless glass creations resting on a clear interior roof. This image is a small segment from the overwhelming experience.
I boosted SATURATION by 25 percent, and MIDTONE CONTRAST by 10 percent. I could play with this photo for a week and cook up infinite variations, from sublime to bizarre.
* * * * *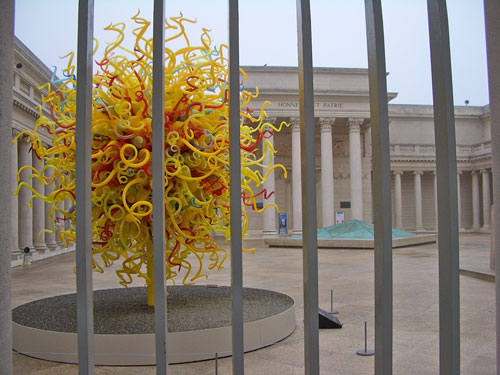 10 – ART BEHIND BARS
Across town at Fine Arts Legion of Honor Museum, deep in the fog belt, a massive Dale Chihuly outdoor installation awaits the art-seeking crowds. Judicious cropping might improve this photo, but I'm leaving the composition alone for the tutorial.
Boosting LIGHTEN SHADOWS by 25 percent was as much as I could stand. Anything else altered the balance between gloom, visual tension, and colorful expression.
* * * * *
BONUS – "Please Do Not Lean Against the Sneeze Guard"
AUTO SMART FIX, boost MIDTONE CONTRAST by 25 percent, and pass the mustard.
* * * * *
LINKS
Previous Ten Point Tutorials
Low Tide Photo Essay
Adobe Photoshop Elements 6 for Mac, including free trial>
San Francisco Fine Arts Museums
San Francisco Area beaches and natural amenities
Dale Chihuly
email – MyMac Magazine – Twitter – Advertise – Reviews Archive – Podcast