Toon Boom Studio 4.0
Company: Toon Boom
$399.99
www.toonboom.com
There are many animation programs for the Mac and the problem is figuring out which one is right for you. Toon Boom Studio is one of these programs, and if you are looking for a full featured 2D animation program that gives you the professional animation experience this is for you.
Be warned, Toon Boom is not for the timid. It is a "heavy duty" animation program. In fact, the main interface can be intimidating even for the seasoned animator/digital artist. However, there are a ton of quick-start tutorials and an electronic manual that will help you get started. Once you start getting acclimated to the software you will really enjoy it. A lighter version called Toon Boom Express is available for $149.99. I did not have the opportunity to review this program, but a comparison chart can be found here.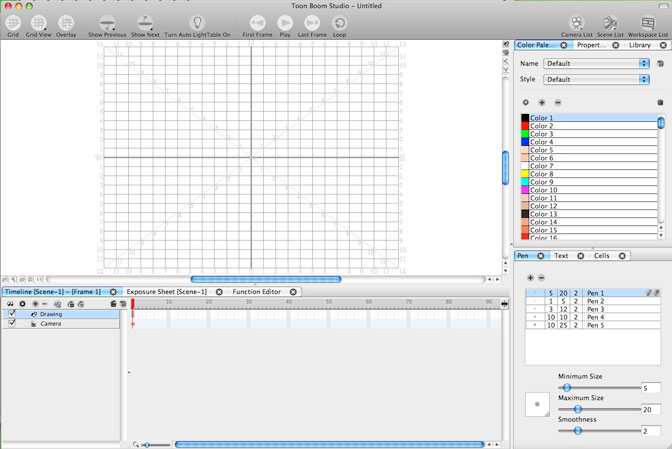 You can simplify the interface to make it less intimidating by focussing on one area at a time. For example, you can make the drawing window fill the screen, so you can focus on drawing.
If you have used other programs like Adobe Flash, Toon Boom will come a little easier to you. Like Flash, Toon Boom animations are "old fashioned" cell animations, and not digital 3D "Pixar" animations. A lot of the terminology is different between Flash and Toon Boom, but the animation process is the same. You make keyframes for the motions and you create the animation drawing by drawing. In addition to the keyframe features, all of the standard features for an animation program are present. Tweening, onion skinning/light table, basic drawing tools, exposure sheet, etc. You can even create a multi-plane camera.
One of the coolest features in Toon Boom is the method for applying a soundtrack. You make your vice recording and import it into the program. Next, you use the lip sync tool which analyzes the speech and applies a generic face and mouth movements to the speech. Finally, you use the generic lip positions to add the lip positions to your characters.
I was very skeptical about how this feature works, but it is amazing! I first tried it with the tutorial files, it it was great. Next, thinking the tutorial files would be "ideal" conditions I took a clip from a podcast and analyzed that. The lip positions were just as good.
This feature could be its own program. It is that good, and I would be willing to buy it individually.
Another great feature, which I have seen in other great programs is something called rigging. I have also seen it called "bones." With rigging you can turn your characters into puppets and have the body parts connected by "pegs." This allows for a more natural movement of your character. When you move one connected part, the other connected part moves with it. Pegs is a big part of Toon Boom and creating your animations.
As I said the program is not easy. It took me about an hour to grasp how to figure out how to make a simple animation. However, the more I work with it the more I like it, and the included tutorials and instructions are easy to understand and are a huge help. I would not suggest using this program without running through the tutorials.
Toon Boom is packed with other animation features. Too many features to list here. One of the reasons for this is that the software is made by animators. Who better to make animation software? For a complete list of features and sample animations visit www.toonboom.com.
Overall, if you are looking for a professional animation program for your computer Toon Boom Studio 4 is worth checking out.
email – MyMac Magazine – Twitter – Advertise – Reviews Archive – Podcast