FS100 Digital Video Camera
Company: Canon
Price: $323.23 (Amazon.com)
http://www.usa.canon.com
I've been avoiding buying a new camcorder to replace the 8 year old DVC tape unit for awhile now. There were plenty of tempting offerings, but none matched the feature set and price point that I was looking for until I happened upon Canon's FS100 model at an Apple Store. While giving it a once over there, I liked the light weight, the responsive and variable zoom, the microphone input, and that at $399, it was still very much reasonable in price. I almost bought it right there at the Apple Store, but resolved to sleep on it first and check out what other people were saying about it. I'm glad I did, and afterwards I almost gave it a miss but decided that no other camcorder available currently in the this price range would meet my needs.
Let me say what I liked about it first. As said before, It's lightweight and small enough to fit in most pants pockets (or are you just happy to see me?) without making you walk funny. The unit measures 2.3-inches wide, 2.4-inches high, and 4.9-inches deep. It weighs about 9.2 ounces. It starts up almost instantly and is ready to record within a few seconds. It has a large 2.7-inch LCD display that is clear. It has a relatively easy menu system for setting up some of the various built-in features all of which a clearly displayed on the LCD. It has a variable zoom that can be as fast or as slow as the user might wish and there are some settings in the menu that allow you to adjust this even more. The battery lasted almost 2 hours of near continuous use for me (your usage will vary dependent on a number of factors). In it's highest video resolution mode, you can get nearly 2 hours of video from an 8GB SDHC memory card, though Canon states that you can get over 5 hours of video from the same card at a lower resolution. Keep in mind that while this camcorder does record in either 4:3 or 16:9, it isn't true high definition and if that's something you must have in a camcorder, keep on looking.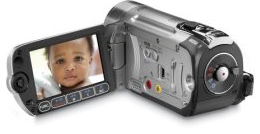 There are a number of effects available from the FS100's menus, like fade-in/fade-out, Sepia, and Black and white recording modes, Mosaic, and a few others of varying effectiveness. Most of these probably sound like nice additions, but I doubt you'll use them more than once. There are a number of Automatic Exposure settings as well (AE in the menu) including TV, Portrait, Sports, Night, Snow, Fireworks, etc. Chances are unless you have specific needs, the Auto setting will work just fine in most conditions. You can manually set the White Balance as well as the unit having Auto, Daylight, and Tungsten presets.
Canon does not supply any memory for this camera (though essentially the same camera models FS10 and FS11 has 8GB and 16GB built-in respectively for a higher price), so an SD (preferable an SDHC card) will be required. I put in an 8GB SDHC card from Transcend that cost roughly about $31 and if even more storage is needed the camcorder accepts 16GB cards as well.
One of the main reasons I bought this camcorder was that it had a microphone input. The input uses an industry standard 3.5mm jack (there are adapters available for other sized inputs from places like Radio Shack) and as long as Phantom power is not required, the FS100 should be able to use nearly any non-XLR microphone. The built-in microphone is very sensitive and does a pretty good job, but is subject to some wind noise as most built-in microphones are.
Now some of the things I don't like about this camcorder. The image sensor is only a little more than 1 megapixel. Still images look a little washed out and with both video and still images. The FS100 also does not do so well in low-light situations. I've used it now under some different lighting conditions and have had varied results. Fireworks seemed OK. The FS100 quickly adjusted itself from almost total darkness to bright bursts withe little effort. Also the FS100 had little trouble with typical stadium lighting, but any constant low-light situation was not that great.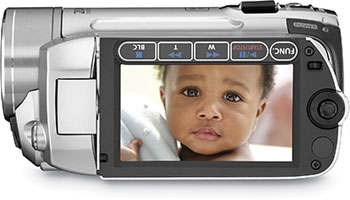 The FS100 does take still pictures as well as video and it can shoot up to 5 frames a second. The image sensor as I said is only 1 megapixel so this is more like a stop-gap convergence answer for digital photography than a dedicated point and shoot. If your main focus is taking pictures and you want them to scale well in various sizes, the FS100 is not the answer for you.
The included software seemed next to useless to me or most likely any other Mac user that already has iPhoto for digital images. Once you have the camera plugged into a USB port and it mounts on your desktop, iPhoto should (depending on your settings) automatically start up. Downloading your still images using iPhoto is pretty straight forward like most digital cameras.
OK, let's talk about what this kind of stuff this unit is really meant for: video. Honestly, even with the complaining I've done (and I'm not through yet), I liked the video this camera put out. While low-light certainly isn't a strong point, it does pretty well in every other situation and I liked what I saw. Here's what I didn't like though, .MOD files. Know what those are? Apparently they're some kind of modified mpeg-2 format that Canon uses. iMovie 06 and QuickTime 7 had no idea what to do with these files and it took a little research to find a solution.
A company called Squared5 makes a software converter called MPEG Steamclip that is an absolute free download and that will take those .MOD files and make them QuickTime compatible files (in a variety of formats). Also iMovie 08 will import them as well.
One other minor complaint is that if you want to download the content off the camera, you'll either need to remove the card and put it in a reader or connect the camera via USB. No big deal in itself, but if you connect the camera directly, you MUST have the power cable connected and supplying power as well. If you're out and about, that may not be easy. You might be better of having a few other memory cards to use until you offload them later. Also no battery charger is included so the only way to charge the batter right out of the box is to have it inside the camera and connected to power.
I really like this camera even with all the complaining I've done and it will be my main family shooter for at least a few years. I can live with its shortcomings as it is light, easy to use, takes great non-HD video and it has an external microphone connection.
email – MyMac Magazine – Twitter – Advertise – Reviews Archive – Podcast