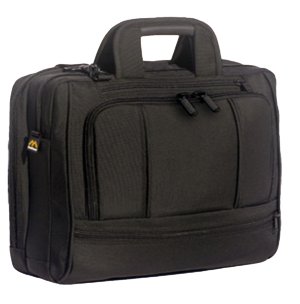 Brenthaven Prolite 1 Computer Bag
Company: Brenthaven
Price: $99.95
Available from Dr. Bott
When I bought my MacBook I got a free bag. I thought this was great, since I wouldn't have to spend more money on yet another accessory. I've been using this bag for the better part of a year now, and I must say, it is the worst piece of crap I've ever owned. I've hated this bag since day one and recently at a business meeting, the flap opened up and the bag "threw up" all over a conference table. I had reached the limits of my patience.
I started researching computer bags and quickly realized there are somewhere near one bazillion of them for sale. Even worse, going to an Apple Store, Best Buy, or any computer store only gave me access to about four or five different brands. That left one bazillion minus five left to look at. This was not going to be easy.
At this point I started visiting Amazon and other sites, reading reviews that others had posted, and asking anyone that had a bag over their shoulder what they thought of it. Funny how I found that most of the people I asked hated their bags as well. Someone should really do a study on computer bag compatibility, "How much do you hate your bag?" on a sliding scale.
However, there was one standout, Brenthaven bags. Brenthaven bags have this legendary reputation for style, protection, and comfort. The problem was finding one I could touch? I searched PC stores in my area as well as independent shops. No luck. So I decided to just order a bag from the Dr. Bott online store.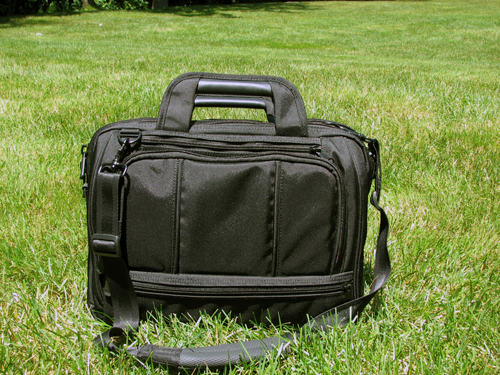 This Brenthaven bag for the MacBook, the Prolite 1 (P1), is made of "ballistic" nylon. What exactly is "ballistic" nylon? Whenever I hear that term I think of Intercontinental Ballistic Missiles which compelled me to do a web search on ballistic nylon just to make sure there would not be any plutonium in my bag when it arrived.
As it turns out, Wikipedia had a good description of this material, "Ballistic nylon is a thick, tough, synthetic nylon fabric used for a variety of applications. Ballistic nylon was originally developed by the DuPont corporation as a material for flak jackets to be worn by World War II airmen. The term ballistic nylon takes its name from the fact that it was intended to protect its wearers from flying debris and shrapnel caused by bullet or artillery shell impacts. It was not an effective defense against most pistol or rifle rounds. Ballistic nylon was succeeded by Kevlar and other, more effective, bullet resistant fabrics.
Modern applications of ballistic nylon include luggage, cave packs, tool belts, police duty belts, motorcycle jackets, and skin-on-frame kayaks."
This is pretty tough stuff and Brenthaven backs this up by offering a lifetime guarantee if you are not satisfied at anytime during the life of the product. The bag feels substantial and tough, but it is not heavy or bulky. Unless you plan on stopping bullets, the P1 should survive just about anything you can throw at it. I was looking for a bag that had many compartments and the P1 does not disappoint.
Let's look at some of the features:
The front organizer panel has a dedicated iPod pocket and lots of other pockets for cell phones, mice, cameras and just about anything else you can think of.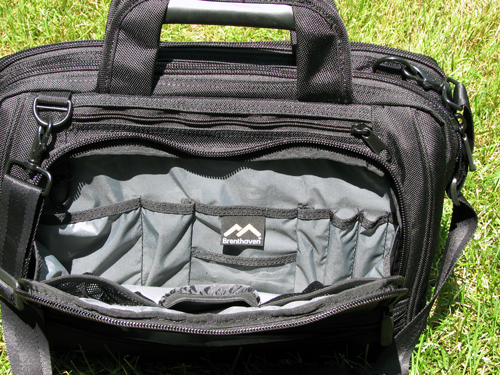 There is a felt lined quick access pocket that you can slip your sunglasses, pocket change, and any other metal objects into before you get to the security line at the airport.
The computer compartment features five sided foam protection and really offers a snug protective envelope for your computer.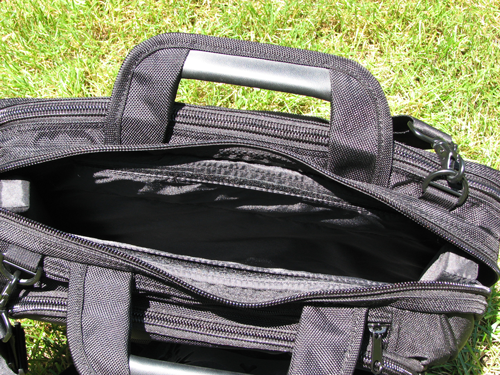 I really like the dedicated AC adapter pocket in the front of the bag. This is a great place to keep other cables as well. I wish it was a tad deeper though.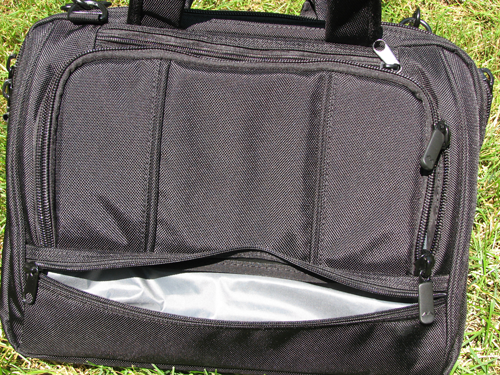 Overall, this bag is light and compact and has ample storage room for all of the junk I need to carry. I wish the power-cord compartment was a bit deeper, and it would have been nice to be able to velcro the handles together. I'd also like a water-bottle holder on the outside somewhere. It feels plenty tough and I'm sure it will last a long time. Big plus, no plutonium!
The Prolite series of bags fits laptops from 13" all the way to the 17" MacBook Pro.
I highly recommend this bag.
MyMac Rating: A solid 4 out of 5
email – MyMac Magazine – Twitter – Advertise – Reviews Archive – Podcast